The first Clinton Global Initiative Mediterranean Conference will take place in Athens, Greece in June of 2015. The meeting will bring together leaders from business, government, civil society, and philanthropy to address economic and social challenges facing the region.
The announcement was made at the 10th Clinton Global Initiative (CGI) Annual Meeting. President Bill Clinton, Former Secretary of State Hillary Rodham Clinton, and Chelsea Clinton announced the preliminary details of the CGI Mediterranean meeting.
"The CGI Mediterranean meeting will bring leaders together to address critical regional challenges such as youth unemployment and social and economic volatility through new Commitments to Action, and to showcase the region's enormous potential for growth," said President Bill Clinton.
Ambassador Gianna Angelopoulos, former head of the Athens 2004 Olympic Organizing Committee and former Greek member of parliament was instrumental in bringing this conference to Athens.
"I've been honored to serve as a CGI convening sponsor for the past five years. I love the CGI ethos of turning ideas into action. That's why, today, I am proud to announce I will sponsor the first CGI Mediterranean event to bring the Clinton Global Initiative legacy of leadership and action to my own country," said Angelopoulos, who joined President Clinton for the announcement and is the founding sponsor of CGI Mediterranean.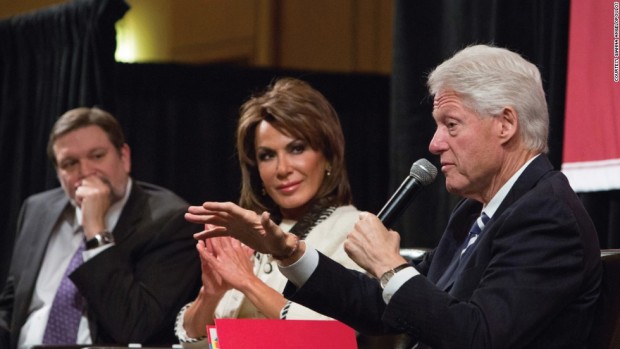 In addition to the CGI Annual Meeting in September, CGI hosts a number of conferences throughout the year, including CGI America and CGI University. For the past two years, Ambassador Angelopoulos has encouraged Greek students to submit proposals to CGI University, and funded their projects after launch. CGI has also brought its model of commitment-making to international settings, as well as hosting issue-focused meetings to create partnerships and develop new Commitments to Action on a global challenge.
In 2013, Angelopoulos invited Greek university students to submit ideas for Commitments to Action for CGI U. Out of a pool of 200 students who submitted entries, a panel of distinguished academics and Angelopoulos selected 12 students who went on to participate at CGI U 2013 in St. Louis, Missouri. She then funded their projects as they launched them in Greece. One student developed the largest database of free opportunities for youth in the world. Another has helped to increase productivity on Greek farms with GPS maps and advanced soil tests. Another has developed a project to deliver hundreds of portions of extra food from restaurants and institutions to needy Greeks.
CGI Mediterranean continues that tradition. Participants will develop solutions for long-term economic growth and competitiveness for countries in the Mediterranean region by generating commitments in areas such as youth employment, economic development, job creation, and green growth.
Established in 2005 by President Bill Clinton, the Clinton Global Initiative (CGI), an initiative of the Clinton Foundation, convenes global leaders to create and implement solutions to the world's most pressing challenges. CGI Annual Meetings have brought together more than 180 heads of state, 20 Nobel Prize laureates, and hundreds of leading CEOs, heads of foundations and NGOs, major philanthropists, and members of the media. To date, members of the CGI community have made more than 3,100 commitments, which are already improving the lives of more than 430 million people in over 180 countries. CGI also convenes CGI America, a meeting focused on collaborative solutions to economic recovery in the United States, and CGI University (CGI U), which brings together undergraduate and graduate students to address pressing challenges in their community or around the world.
Ambassador Angelopoulos is the author of the New York Times bestseller MY GREEK DRAMA: Life, Love and One Woman's Olympic Effort to Bring Glory to Her Country (May 2013). The book is a revealing account of her remarkable life growing up on the island of Crete and rising to become an international thought leader. Gianna also explores the paths Greece might follow in its efforts to solve the nation's pressing economic and social upheavals. She is an Ambassador of the Greek State, an active member of the Clinton Global Initiative and Vice Chairperson of the Dean's Council of Harvard's John F. Kennedy School of Government. She served with distinction as President of the Greek Bidding and Organizing Committees for the 2004 Summer Olympic Games in Athens. Ambassador Angelopoulos was also elected a Member of Parliament from Athens in 1989 and won re-election the following year.