He is the Greek bank robber and kidnapper who reportedly steals from the rich to give to the poor. When he escaped from Korydallos prison in a helicopter in 2009— for the second time— he became a folk hero.
Now Vassilis Paleokostas is the subject of a longform article on the BBC News Magazine website, out today.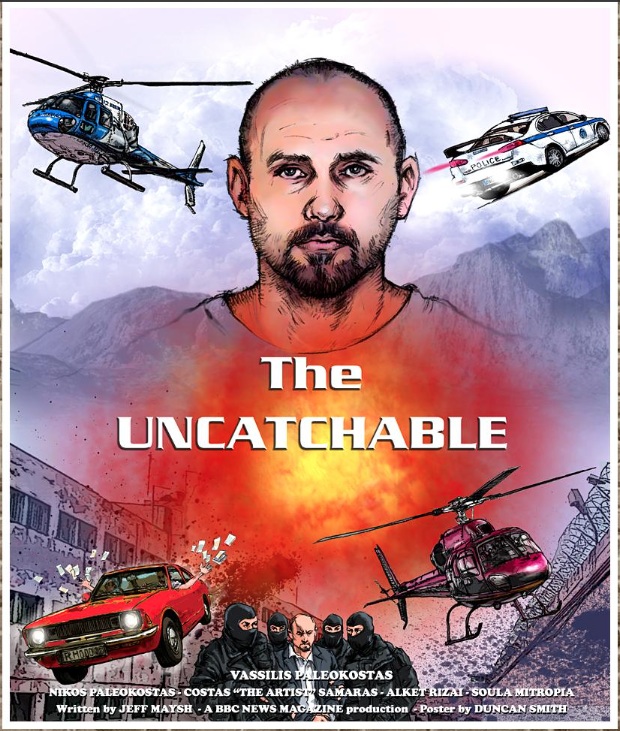 In a remarkable series of prison interviews, criminal associates of the notorious bandit have lifted the lid on the life of 'Robin Hood', as he is known.
Journalist Jeff Maysh interviewed Alket Rizai, the convicted hit-man who helped Paleokostas escape in his legendary escapes. Rizai, who was later recaptured, told the BBC from prison: "We considered hiring a pilot, but a scared pilot is better… The ultimate aim in a jailbreak is to leave nice and pretty, and to say, 'Cheers' and 'Bravo' as you leave!" Rizai is also famous for taking five prison guards hostage in 2013.
The famous Paleokostas prison escapes left Greek officials red-faced, as it was the second time the pair had flown to freedom in a helicopter. Maysh also ventured inside Korydallos prison, near Athens, for a face-to-face interview with Costas Samaras, the bank robber who was a mentor to Paleokostas. Interviews with Paleokostas' father, his priest, and various associates are included in the piece, which paints a picture of the robber's early life in Greece.
"The story traces the life of Paleokostas from a tiny village in the mountains near Trikala, to life as a fugitive on the run as one of Greece's most wanted criminals," Maysh tells the Pappas Post. "Most importantly, I tried to find out about his motivations. Apart from his open letters, little is known about Paleokostas."
The article also suggests that Paleokostas is still in Greece, despite rumors that he is in hiding abroad. To read more, see the BBC story here.