Director/writer Richard Ledes completed his latest film— Foreclosure— a ghost film about a man whose economic distress drives him to insane acts when he falls victim to ancient curses in a haunted house. Released this month, Foreclosure is now available by Digital Download and DVD from Virgil Films.
Foreclosure is written and directed by Ledes (awarded "Best in NY" at Tribeca in 2008 for his noir thriller The Caller ).
Bill Landopolous (Michael Imperioli, The Sopranos and Goodfellas), his son Steven (Spencer List, Black Dog, Red Dog) and his father-in-law Ray (Bill Raymond, Damages, Michael Clayton) move into the Queens, New York, home of their recently deceased relative Cal, who took his own life.
The three hope to put their cares behind them and start afresh but ominous premonitions start when a local police officer (Matt Servitto, The Sopranos) points out all the numerous foreclosures, bank-owned properties and short sales that have depopulated the once-attractive neighborhood he patrols.
Bill tries to hide from his son a postcard of a lynching that they find in the basement. Virgil Paxton (Wendell Pierce, Selma, The Wire), an out-of-work history teacher, drops by with new information about past events connected to a tree beside the house. Will Bill and his family be able to survive the influence of the horrible events of the past?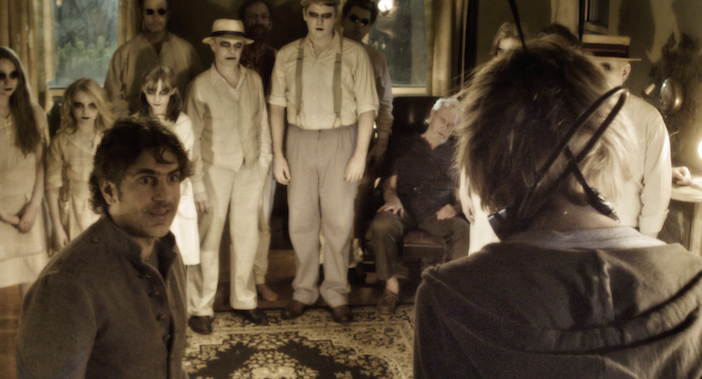 "The economic crisis of 2008 unleashes a virulent and violent resurrection of racism." says Ledes about his film.
Set on a neighborhood block in Queens, NY in which nearly every house sits vacant and bank-owned, Ledes' screenplay was inspired by the global crisis of capitalism but is also infused with a dark sense of the distinctly American socioeconomic history of race. Foreclosure was photographed by Frederic Fasano, who has served as cinematographer on recent features by Italian horror master Dario Argento.
The film is powered by a ghost story that transfigures traumas around race that interact throughout American history –in particular the fluidity of racial identity experienced by groups of European immigrants to the U.S. in its relation to racially motivated violence against blacks.
Ledes adds: "The racism that haunts the world of the film eventually possesses the protagonist, Bill Lindopoulos who decides he must lynch his son to prove he is white."
Here you can watch a selected clip from the film where David Costabile (Breaking Bad) as a mad doctor uses "scientific racism" to explain to Bill (Michael Imperioli) why he must kill his son.
"As a Greek-American myself," Ledes notes "I was particularly interested in how Southern-Europeans such as Greeks often experienced immigration to the United States in the late 19th and first half of the 20th century as a struggle to be identified as white. This was especially true during the period when they were being targeted by groups such as the Ku Klux Klan for reputedly diluting the purity of the "Nordic race" with an admixture of the "Mediterranean race."
"I wrote the film before the recent paroxysm of police violence against blacks and before the European campaign of austerity that has decimated Greece. Can we see these historical phenomena as involving ghosts? The film has only gained in relevance as these terrible forces have reappeared. The neighborhood in Queens where we shot Foreclosure was replete with foreclosed housing and there is no doubt that those empty houses helped inspire us. After all, ghosts don't move out."
Foreclosure trailer:
Learn more: about Foreclosure by visiting the director's website. It provides a glimpse into the intertextuality of the director's filmmaking process–including magazine articles, paintings, books, films, music and other forms of media–with a homepage that continuously regenerates itself into a hyper textual field of allusions and intertextuality.