Miscellaneous press about my projects and work, as well as the efforts of the organizations I am involved with or affiliated with. (Most recent first)
7/13/2015 – CCTV-America interview about the Greek debt crisis and the results of the deal the Greek prime minister Alexis Tsipras made with the creditors in Brussels.
My story in People Magazine (Greek edition) about my experiences at the White House when I attended President Obama's Greek Independence Day reception.
11/23/14 – People Magazine (Greece edition) interviewed me about my work with the Greek America Foundation, my new film company and upcoming film projects and other matters of importance to me. Read the full story (in Greek) here.
8/15/14 – Greek daily newspaper ETHNOS about Olympia Undefined, a documentary about the life of Oscar winner Olympia Dukakis. "A Cypriot director, two Greek producers and, a diva…" Incidentally, I love when Greek newspapers refuse to write my real Greek name (ΓΡΗΓΟΡΗΣ ΠΑΠΠΑΣ) and instead opt for the Gringlish version (Γκρέγκορι Πάπας).
7/28/14 – The US Embassy in Athens Greeks Gone West video series is a 20-part series of Greeks and Greek Americans selected to share their stories about their work and life in the United States. I was honored to be a part of such a legendary group of people featured, including personal role models and friends like fashion icon Patricia Field, advertising genius George Lois and Greg Yaitanes, one of the most successful TV directors of our time. My interview is below:
7/7/2014 – Kathimerini (Greek edition) published an interview with Haim Konstantinis, a Greek Jewish Holocaust survivor from Tel Aviv, Israel, who is originally from Zakynthos. The story mentions the feature film and documentary that I'm producing about the topic.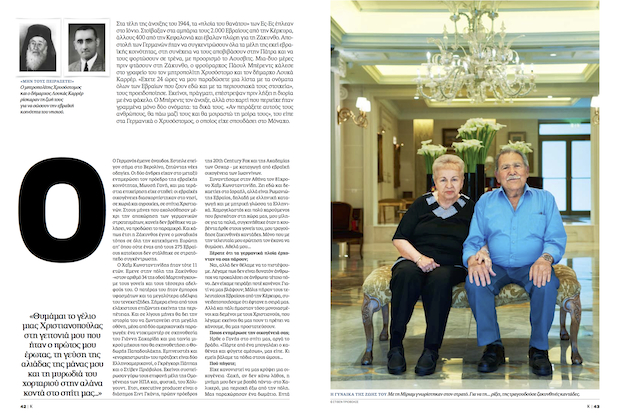 7/9/2014 – Kathimerini (English edition) published the same interview above, in English.
6/12/14 – The Washington Post published an editorial I penned about an incident that took place at my childhood parish in Pittsburgh.
1/26/14 – Proto Thema published a great story about "Schindler's Other List" about the feature film "No Man is an Island" and included photos from my visit to Israel, interviews with survivors and the visit to Yad Vashem.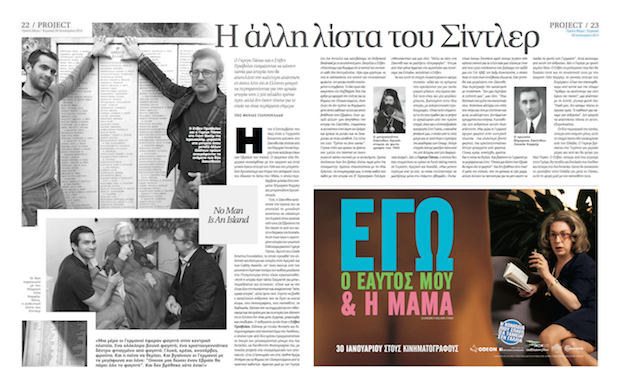 8/10/13 – Kathimerini (Greek edition) published an interview with me regarding the feature film I'm producing "No Man is an Island" about the survival of the Jewish community of the Greek island of Zakynthos.
5/18/2012 – The New York Times interview about the humanitarian crisis in Greece and whether or not Greek Americans were doing enough.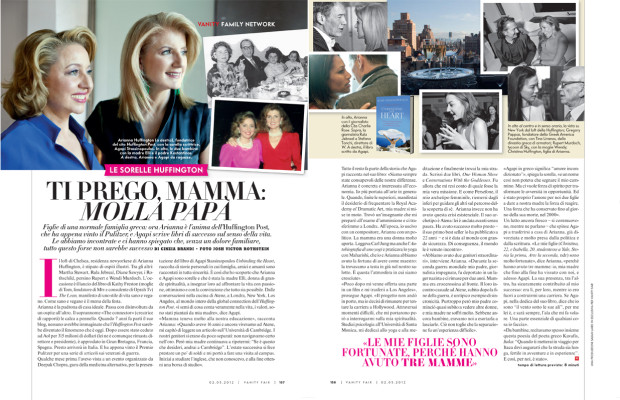 May 2012 – Italian Vanity Fair magazine featured in coverage of Arianna Huffington's house party in New York City with Tina Livanos (photo top right). OK, not so much substance here but it's quite cool being mentioned in this magazine for a little kid from Pittsburgh, PA.
10/24/12 – Kathimerini (English edition) story about Greeks in the diaspora helping Greece, following my speech at the International Herald Tribune's conference in Athens.
July 8, 2011 The Athens News featured a story about me and my work with the Greek America Foundation and our efforts to help those in need in Greece.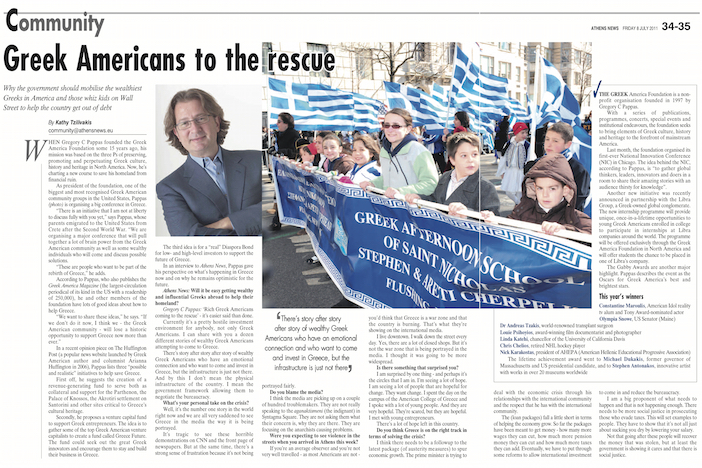 5/14/2010 – Take Away radio interview about the Greek debt crisis.