Greece's national soccer team released its official team jersey recently— just in time for its participation in the upcoming World Cup in Brazil. Unlike American sports, soccer teams change the style and color of their jerseys regularly. The jerseys are selling like hotcakes in Greece and throughout the world where fans of Team Greece exist.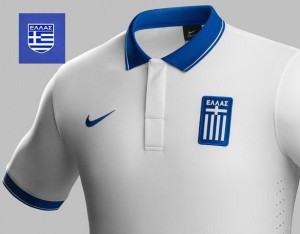 This year, Greece is one of the only teams with a full white jersey— with a bit of blue added to the collar and trim on the sleeves of the away jersey— and of course, the logo of the corporate sponsor, Nike. The home jersey is solid blue, with alternate white collar and trim and logo.
The design and orientation of the flag seemed to bother one Greek politician (photo inset shows previous flag design and orientation from previous years), drawing the ire of a member of Greek parliament, Terens Quick, who wrote a letter to his colleagues condemning the change and tweeted an angry message to the Greek soccer federation to respect the Greek flag.