Combadi, a Greek travel startup recently announced the establishment of a series of travel packages that go beyond the sun, sand and sea of the Greek Islands. This is "travel with a purpose" and has been dubbed "voluntourism" by the Combadi team– a consistent message for a company whose offerings promise the consumer meaningful travel experiences and an opportunity to "Come Back Different".
Voluntourism packages are aimed at the millions of Greeks who live abroad but want more from their holidays than dancing on tables and frolicking at the beach.
These are vacation and volunteer packages in Greece and opportunities to make a difference in people's lives and the lives of struggling communities.
In Athens, Combadi has teamed up with Boroume (We Can!), a non-profit whose mission is to distribute food to the needy and underprivileged. From donors to recipients, Boroume is in need of volunteers with basic Greek language skills that can help the organization expand its distribution network and handle the logistics of distributing 2,500 meals a day throughout Greece and helping to relieve the effects of the most unprecedented economic crisis in modern Greek history.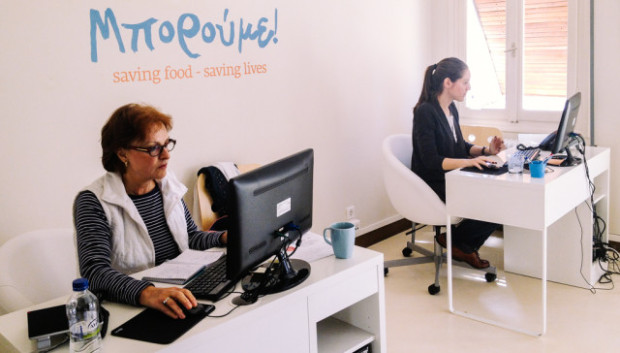 By expanding the non-profit's network by finding new donors, you'll do your part in supplying food to welfare institutions, soup-kitchens and municipal social services – food that would have otherwise been thrown away.
Combadi has also teamed up with the Emfasis Foundation, a dynamic non-profit involved with daily social street work activities, helping the homeless and disadvantaged people in the Athens. The Foundation accepts volunteers regardless of their language skills for both administrative roles and for on-hands street work.
With the collaboration with Emfasis, voluntourists will be giving administrative support to Emfasis' groups of social workers, psychologists, sociologists and medical personnel, saving them precious time they need to focus on providing humanitarian, psychological and financial support to the underprivileged.
Depending on their qualifications, volunteers will also be selected for on-hands experience in the organization's Athens and Piraeus street work. Emfasis' leading Social Street work programs require the establishment of a serious two way commitment with volunteers. Office duties involve providing general office administrative support as well as maintaining the Emfasis' online presence, researching/documenting activities, and being a first-point-contact for inquiries. The Emfasis Foundation is also in need of professionals with legal, financial, social and arts experience (like graphic artists, musicians, etc.)
During their 1-2 week minimum volunteering commitment, "voluntourists" will get to know contemporary Athens through a series of alternative themed tours and workshops organized by the Alternative Tours of Athens, a collective of architects and artists with a new Athens viewpoint.
Co-founders Lea Oljaca and Yiannis Koryalos shared their vision behind this new project and how it relates to the overall mission of Combadi.
"In selecting our travel destinations, Combadi's philosophy is that travelers need to come back different from their holidays– we feel so strongly about this, that we've made it our motto. Our first two Greek voluntourism holidays are only the beginning of a long-term mission redefine vacationing in Greece. We want to do our part so that everyone who visits (and helps) our beautiful country won't just have a great time, but will be destined to Come Back Different."