Amari Cellars, a boutique winery in Northern California, has its roots in the Amari Valley at the foothills of Psiloriti mountain on the Greek island of Crete where John Costouros, an orthopaedic surgeon and professor at Stanford University, would spend his childhood summers helping his grandparents harvest and stomp grapes.
This is where Costouros was exposed to the art of winemaking – the way his ancestors had been doing it for hundreds and hundreds of years in the Amari Valley region, which lies midway between the city of Rethymno and Agia Galini.
"It's a very fertile valley," says Costouros. "I believe it's been inhabited since the Minoan era. It is an absolutely spectacular area with rolling hills full of olive trees, vineyards, and orchards backed by a majestic snow-capped mountain. Psiloriti is the second highest peak in all of Greece, delivering mountain spring water to the surrounding villages and valley. My grandfather used to make olive oil and wine, living until the age of 104."
"He used to always tell me the vineyard would one day be mine," adds Costouros.
The making of a winery
People always ask Costouros, who is a specialist in shoulder disorders and sports medicine and also performs cutting edge research in arthritis, why he decided to open a winery.
"I think people are intrigued by the whole story, of how I became interested in the art of winemaking from a young age," he says. "For me, winemaking is a nice break from the routine of medicine, and a creative outlet.  Much like the practice of medicine, which is the union of both art and science, I find the practice of winemaking a similar union.  It's a beautiful thing."
While much of what Costouros knows about winemaking today has come from books, the internet, and other experts in the filed, he has greatly benefited from his chemistry and science background. A lot of it came naturally to him.
"I just started doing it in 2006 along with a close friend," he says. "There are other doctors in the area who have taken winemaking to the next level:  Dr. Thomas Fogarty and Dr. David Bruce are fellow physicians in the area who have had successful medical careers and have also created world-class wineries."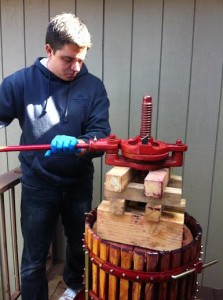 Costouros has turned his home in Los Gatos into a winery. "The house is on a slope," he says. "So, beneath the living space there's a temperature-controlled cave-like area where I house my tanks, barrels, and bottling equipment and where I do all of my fermentation, storage, and experimental analysis. I specialize in Bordeaux blends which have the capacity for a prolonged aging process."
Since Costouros does not grow his own grapes yet (though he hopes to start soon), he buys the grapes from farmers who sell to commercial wineries: Napa, Sonoma, the Central Coast of California. He actually harvests the fruit himself. "Then I do all the crushing, de-stemming, fermentation, barrel-aging, bottling, and everything else at Amari Cellars," he says.
To make his Bordeaux blends, Costouros uses a combination of classic European winemaking techniques and the latest technology found in the Silicon Valley.
A lot more than just a hobby
Even though winemaking in the United States has evolved into a popular hobby – akin to gardening, Costouros is not an amateur winemaker.
"It's not really a hobby," he says. "It's a business. Amari Cellars is a federally licensed and bonded winery. In order to produce wine for sale and distribution, you have to go through an extensive federal process that involves a site visit and documentation and consultation. The logo is also trademarked and I anticipate going to actual sales at some of the top restaurants probably in the next year or two.  The response to the quality of the wine so far has been remarkable and exceeded my expectations."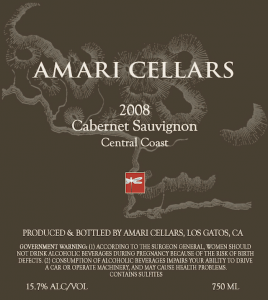 If all goes to plan, Amari Cellars will be a small boutique cult winery concept with a limited production. He currently produces less than 30 cases of wine each year.
Getting it perfect
As a winemaker, Costouros has encountered his fair share of unprecedented challenges. The weather is one of them.
"The first year I didn't have all the temperature controls built into my place," he says. "It was a late harvest that year and we had extreme cold weather where my primary fermentation actually got stuck. Sometimes when it's too cold, the yeast that converts sugar into alcohol is not able to act as it would normally and so you get a stuck fermentation. I had to go through some troubleshooting – there's ways to get around that and to restart the fermentation later and it all worked out."
"My wife and I recently opened a bottle of my 2006 vintage last night and it is pouring wonderfully," he adds.
Nothing is left to chance. Costouros is very scientific and meticulous about winemaking, especially when it comes to testing and sterility. After all, he is a surgeon.
The fruit of his labor is evident in the feedback he has received from both friends and wine experts. He has been encouraged to take it forward. "I think eventually I'm going to up the production, definitely," he says.