New York-based chef, author and restaurateur Mina Stone has made the New York Times' Best Cookbooks of 2021 list with her latest release, "Lemon, Love & Olive Oil."
Stone first made a splash as an author in 2015 with her cult-favorite cookbook "Cooking for Artists." Her new book serves as a follow-up to its predecessor and documents the recipes from "different avenues" of the chef's life.
"Lemon, Love and Olive Oil" weaves together more than 80 Mediterranean-style recipes, inspired by Stone's traditional Greek heritage and namesake restaurant, with the stories that inspired them. Recipes include appetizers, meats, fish, vegetables, salads, beans and lentils, rice, desserts and more.
The New York Times' review of the book reads as follows:
You don't need to be obsessed with lemons and olive oil to appreciate the fresh Greek-influenced dishes in Mina Stone's new cookbook, "Lemon, Love & Olive Oil" (Harper Collins). But if you are, you might fall head over heels. Ms. Stone gained a reputation for cooking creative yet unfussy meals for New York City artists and gallerists before opening a restaurant in MoMA's PS1 in 2019. The recipes in this collection hit that sweet spot between clever, chef-driven flourishes like pressing oregano sprigs into steaks before searing until fragrant, and the home-cooked practicality of a simple yet stellar pappardelle with chickpeas, walnuts and plenty of lemon. These lively weeknight-friendly staples are rounded out by traditional dishes she learned in Greece while visiting her grandmother: fried halloumi with lemon slices; spanakorizo (spinach rice with dill); and soutzoukakia, cumin scented meatballs with tomato sauce and, of course, loads of good olive oil.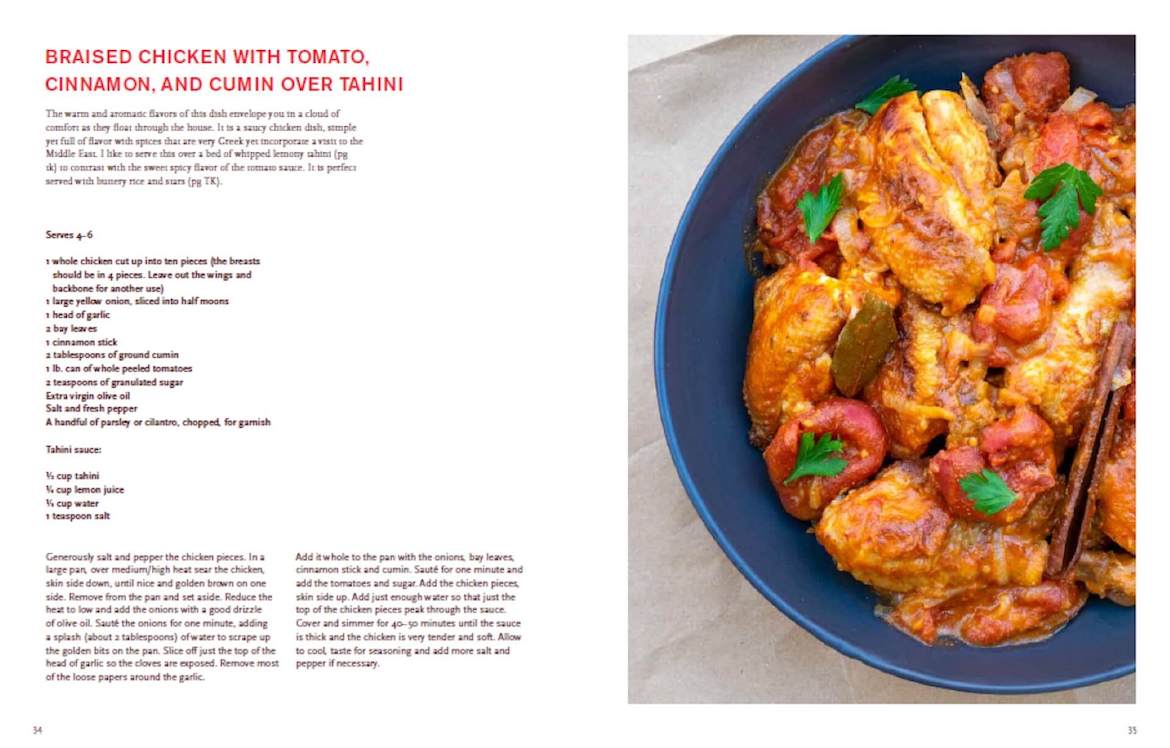 Stone is the owner of Mina's Café at MoMA PS1 in Long Island City, Queens, where she serves vibrant, Greek-inspired dishes in an all-white, minimalist dining room.
She began in the fashion world and for years cooked lunches at the Brooklyn studio of Swiss-born artist Urs Fischer. She also prepared gallery dinners for New York's art world. This eventually led her to open her own restaurant.
Since opening her eponymous café in 2019, the fashion-specialist turned chef has quickly become one of the Big Apple's most innovative and exciting names in the food industry.
Signed copies of Stone's latest book are available (in limited supply) through the New York-based Greek America Foundation. Click here for more details on how to receive a copy.
Pappas Post Publisher Gregory Pappas interviewed Stone in her MoMA PS1 kitchen during the 17th episode of "Live With Gregory Pappas" in November. The two discussed "Lemon, Love & Olive Oil" and how she transitioned from fashion to food.
Click here to read the New York Times' entire Best Cookbooks of 2021 list.
---
Is The Pappas Post worth $5 a month for all of the content you read? On any given month, we publish dozens of articles that educate, inform, entertain, inspire and enrich thousands who read The Pappas Post. I'm asking those who frequent the site to chip in and help keep the quality of our content high — and free. Click here and start your monthly or annual support today. If you choose to pay (a) $5/month or more or (b) $50/year or more then you will be able to browse our site completely ad-free!

Click here if you would like to subscribe to The Pappas Post Weekly News Update