Last month, the World Cup 2018 Qualifiers kicked off and Greece started their campaign by doing something they hadn't done in over two years – win a competitive match.
Sure, they won a Euro Cup qualifier back in 2015, but they were already eliminated by then and didn't have anything to play for. The last match the Greek National soccer team won with something on the line was the infamous World Cup match against Cote d'Ivoire, where national team veteran, Samaras, earned (and scored) a penalty kick in the 94th minute, advancing Greece to the Round of 16.
Heading into Match Days 2 and 3 of the World Cup Qualifiers, Greek fans are much more optimistic than they were just a few months ago. Greece earned 3 points by defeating Gibraltar 4-1 in their first qualifier – but that was expected, even with the match being played in Gibraltar.
With Gibraltar's recent induction into UEFA, they were added to Group H only a few months ago, making the World Cup Qualifiers their first eligible UEFA competition. With a population of only 30,000, it is by far the smallest country in confederation, and with no division 1 soccer players, the expectations for this team are not very high.
The positive take-away for Greece, however, is that they got a giant monkey off their back by scoring 3 goals. It's no secret that Greece struggles to score goals, so finding the back of the net 3 times in their opening match should build confidence. The 4th goal credited to Greece was an own-goal by Gibraltar.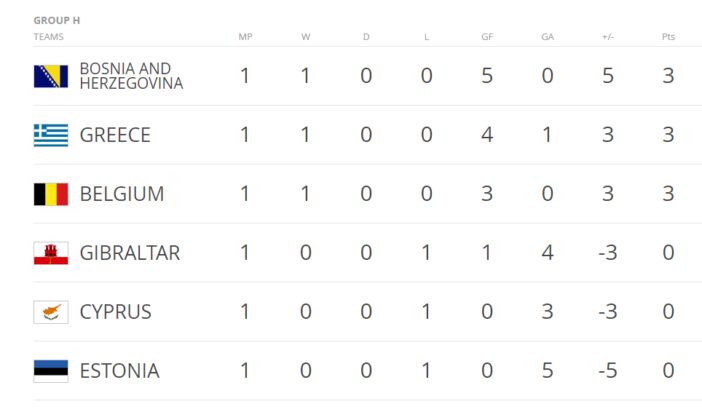 Greek fans are now hoping the national team can ride this wave momentum into their upcoming matches versus Cyprus on October 7 and Estonia on October 10. Cyprus is coming off a 0-3 loss at home, but that loss was against Belgium, the group favorite and #2 ranked team in the world. Estonia lost to Bosnia and Herzegovina 0-5 on the road.
It's my hope that Greece can come out of these two matches with at least a win and draw, but there's no reason to think they couldn't win both matches.
I believe the key to success for Greece will be the play of Fortounis and Mitroglou – will they show up and provide the offense we need? I think Greece will need to rely on these two more than ever with how thin they are in the midfield.
Having lost Samaris, our best midfielder, and Maniatis not being in true soccer shape since he's without a club, I'm worried they'll struggle dearly in the middle of the field. The good thing is, we can always count on our defense that is being held down with two world-class center backs in Papastathopoulos and Manolas.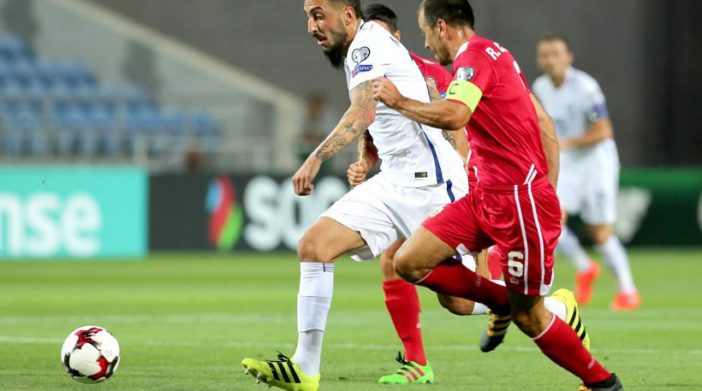 Greece skipper, Michael Skibbe, didn't surprise anyone with the players he called up. He's sticking to his guns with a "closed club", making only one change to the squad from both the Holland friendly and Gibraltar qualifier last month.
This is a good thing, as it builds team chemistry and has proven successful for Greece in the past. Andreas Samaris, who typically starts in the midfield, was left off the roster due to injury and was replaced by Tachtsidis, who saw some action in the Euro Qualifiers last year. Skibbe favors a 4-2-3-1 variation of a 4-5-1 for Greece, with the following players likely getting the starting nod.
Goal: Karnezis
Defense (4): Torosidis, Papastathopoulos, Manolas, Cholevas
Midfield (2): Maniatis; Tachtsidis
Midfield (3): Mantalos; Fortounis; Bakasetas
Striker (1): Mitroglou
Greece's schedule for the World Cup Qualifiers is as follows:
06-Sep-2016: at Gibraltar (W 4-1)
07-Oct-2016: vs Cyprus
10-Oct-2016: at Estonia
13-Nov-2016: vs. Bosnia-Herzegovina
25-Mar-2017: at Belgium
09-Jun-2017: at Bosnia-Herzegovina
31-Aug-2017: vs. Estonia
03-Sep-2017: vs. Belgium
07-Oct-2017: at Cyprus
10-Oct-2017: vs. Gibraltar
"Greek Soccer on TV" is reporting that the games will be available to watch in the following formats in the respective countries. Both games begin at 2:45 PM EST.
OTE Sport 1, SKAI TV (Greece)
Fox Soccer 2GO (USA) – vs. Cyrpus
ESPN3.com or WatchESPN App (USA) – vs Estonia only
Sportnet World Now (Canada)
RIK 1 (Cyprus)

ELLAS OLE!