This traditional chicken stew with potatoes and okra and is a healthy, one-pot dinner that will transfer you inside the warm and cozy kitchen of a Greek grandma.
This dish can also be made with rabbit, something that might make it even more appealing and traditional for some. But since chicken is much easier to find, that's what is used here.
However, no matter how you make it, this dish will give you such warmth and comfort that you'll feel like you're inside the kitchen of a Greek grandma!
In addition, it is a one-pot, healthy recipe that also happens to be gluten-free. And for those who are afraid of the slimy okra, the acidity of the tomatoes and the lemon juice doesn't let any sliminess develop.
In this recipe, the okra and the potatoes absorb all the flavor of the stewed chicken, resulting in a rich, comforting dish with great taste.
No garlic? No vinegar?
Some people like to use garlic in their stews, but here it can overpower some of the delicate flavors of this dish and thus is not really necessary. Also, you don't always have to use garlic!
Another thing that many okra recipes use is vinegar. Again, for this recipe, the lemon juice pairs really well with the okra and the chicken and gives the dish some freshness and a subtle tanginess that totally reflects the Mediterranean spirit. For the quantity of the lemon juice, you should start with 3-4 tablespoons and adjust it by tasting the stew.
SOME NOTES/TIPS:
If you can find baby okra, use it. Otherwise, use regular. If your okra is too large, cut it in half.
Don't let the okra cook for too long, because it can get mushy and slimy.
Instead of a whole chicken, you can use chicken thighs or drumsticks.
Keep in mind that the alcohol from the wine evaporates during cooking, so it's perfectly okay for your little ones.
After you add the okra to the pot, gently shake it instead of stirring the food. This way you won't traumatize the okra.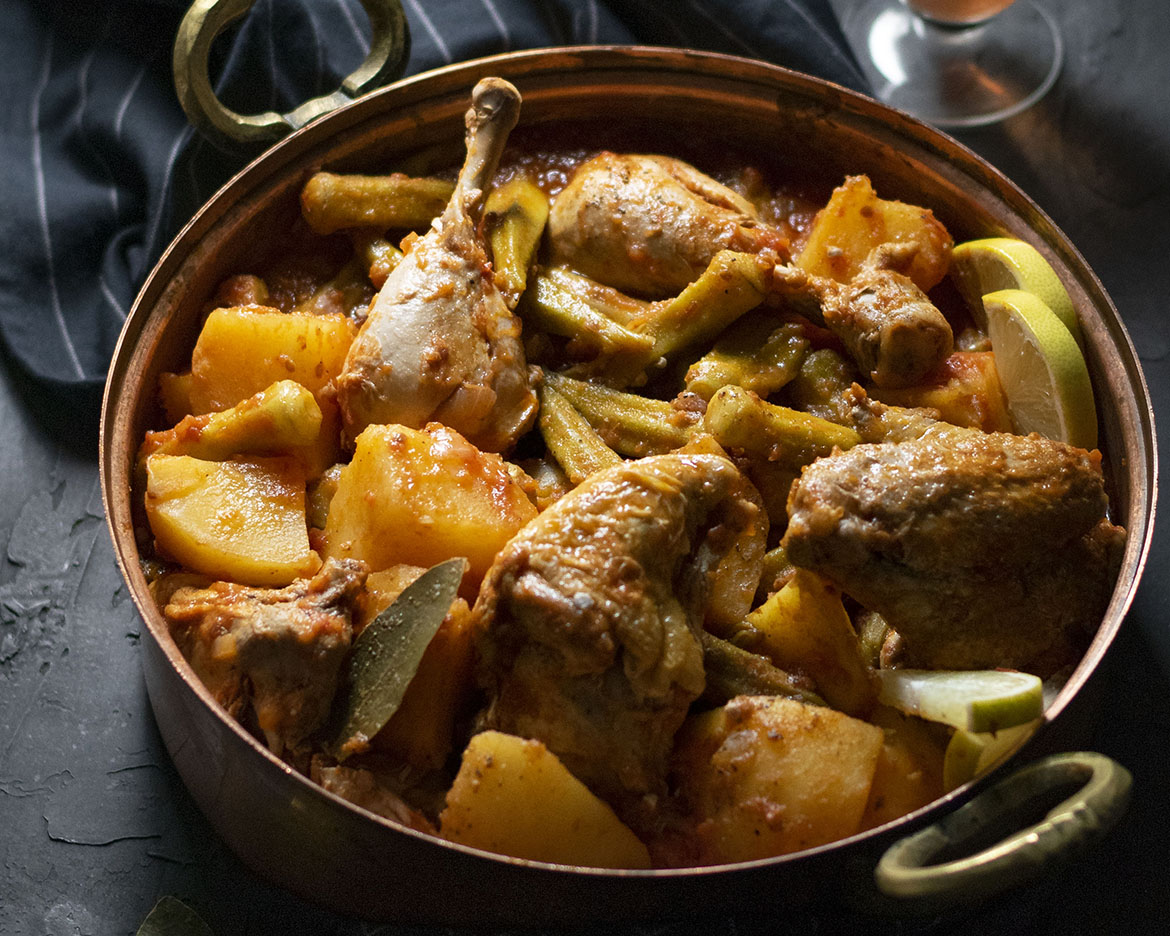 Greek Chicken Stew with Potatoes and Okra
Prep Time: 10 mins | Cook Time: 1 hr 15 mins | Total Time: 1 hr 25 mins | Servings: 6
Ingredients
1 small chicken cut in 6 (or 6 chicken legs)
1/4 cup olive oil
1 large onion, chopped
5 allspice kernels
2 bay leaves
4 – 5 medium potatoes, sliced or cubed
1 cup dry white wine
2 cups pureed tomatoes
1 1/2 pound about 650 grams okra (fresh or frozen)
1/4 cup lemon juice, or more to taste
Salt and pepper to taste
Instructions
Heat a large pot over high heat and add the olive oil and the chicken pieces in one layer (pat dry the chicken with paper towels first to minimize any splattering). Let the chicken brown from one side then flip to brown form the other. Reduce heat to medium, add the onion, the bay leaves and the allspice and stir. Cook until the onion is soft (about 3-4 minutes).
Add the potatoes, the wine, the pureed tomatoes, salt, and pepper and bring to a boil. The liquid should almost cover the pot. Add a splash of water if you need to. Reduce heat to a simmer, cover the pot, and cook until the potatoes are almost done, about 50 minutes (they should gently resist when pierced with a fork).
Transfer the chicken to a clean plate and keep it warm. Add the okra and the lemon juice to the pot, shake well to distribute the food evenly and cook for 15-20 minutes. Add a splash of water if necessary. After 15 minutes taste and adjust the salt and the lemon juice. When the okra is cooked, return the chicken to the pot and cook for another minute just to heat it up.
Serve with lots of bread and a glass of wine. Eat!
About The Hungry Bites
Born and raised on the Greek island of Crete, Makos Efthimis (aka The Hungry Bites) learned to appreciate the value of the Mediterranean diet from a young age. He grew up watching his mother and grandmother everyday as they went back and forth with spatulas, spoons and knives on hand, tirelessly chopping vegetables, greens and fruits and cooking traditional Cretan foods. His blog includes a bit of everything — one pan recipes, healthy dishes and some gluten-free, vegan or vegetarian recipes — but mainly centers around Mediterranean cuisine. For dozens of other authentic Mediterranean recipes, visit The Hungry Bites here and follow along on social media: Facebook, Instagram, Pinterest, Twitter and Bloglovin.
---
Is The Pappas Post worth $5 a month for all of the content you read? On any given month, we publish dozens of articles that educate, inform, entertain, inspire and enrich thousands who read The Pappas Post. I'm asking those who frequent the site to chip in and help keep the quality of our content high — and free. Click here and start your monthly or annual support today. If you choose to pay (a) $5/month or more or (b) $50/year or more then you will be able to browse our site completely ad-free!

Click here if you would like to subscribe to The Pappas Post Weekly News Update