While Greek Orthodox Church leaders protest Greece's new gender laws and some have even ordered their parishes to ring bells every day to mourn these new laws, the fact remains that the Greek Orthodox Church has, amongst its catalogue of thousands of prayers, a reading for clergymen called "A Prayer at the Giving of a New Name Upon Modification of Gender."
After a highly vocal debate, prime minister Alexis Tsipras encouraged members of parliament to endorse policies that would permit people to legally change their gender on all official documents.The law passed with a margin of 171 to 114, allowing trans individuals to select their desired gender from the age of 15.
The new law brings Greece in line with most EU member states but it didn't come without a fight from Greece's staunchly conservative Orthodox Church.
The bishop of Piraeus declared, "Anyone who votes for the law need not set foot in the Greek Orthodox Church again." Other Greek Orthodox Church clergymen openly spoke of excommunication. The matter was front page news and maintained regular coverage on news and talk programs on television for weeks leading up to the vote.
The Church's involvement in Greek politics isn't a new phenomenon. Throughout most of Greece's emergence as a modern democracy after the military dictatorship, the Greek Orthodox Church has refused to loosen its grip on politics.
In 1982 when the then-socialist PASOK government legalized civil marriage for heterosexual couples, Church leaders called for massive protests, calling it "the end of days" and a "repudiation of human decency" to allow couples to marry outside the Church.
In 2000, the church mobilized thousands of people when the government voted to remove religious affiliation from national identity cards and in 2015, bishops and priests loudly protested the newly passed law enabling same-sex couples to enter a registered civil partnership.
Just last month, church representatives used their influence in parliament and amongst their faithful to prevent the ministry of education from reforming religion curriculum in schools that would have taught world religions, as opposed to limiting teaching to exclusively about Orthodox Christianity.
And over the past several weeks, while the gender law was being debated both in national media, as well as in the Greek Parliament, the Church was loudly opposed to the law which they called "against God's will."
Yet despite these protests which divided the nation and perpetrated hatred against many in Greece's trans community, the Orthodox Church actually has a prayer written by a highly-respected Metropolitan back in the 1980s.
The prayer in Greek is called "εις ονοματοθεσίαν νέαν επί αλλαγή φύλου" or A Prayer at the Giving of a New Name Upon Modification of Gender and appears in the prayer book, or Efhologion that was written by Metropolitan Timotheos, who served in the 1980s as Metropolitan of Nea Ionia and Philadelphia, a populous Athenian district.
The Metropolitan's prayer book, one his dozens of publications, includes hundreds of prayers for various purposes. The English-translated text of the original Greek prayer follows:
***
All-good and greatly compassionate Lord, above [all conceptions of] being and divinity, Who alone exists eternally and without change: "He who is" unto the ages; Whose glory is incomprehensible and Whose mercy is immeasurable; Who created the entire human race to dwell over the entire face of the earth; and Who honored the human being with Your image, newly shaped in form and beauty from a rational soul and dignified body; Who made male and female and gave to each its own appearance and substance; Who knows the weakness of our nature and knows the name and age of each; Who gives each a name to be distinct, distinguished in their own appropriate gender, personality and worth.
Master, Yourself acquiring our infirm and impoverished blend [of soul and body] in Your saving dispensation, accept at this time Your servant (new name, if applicable) as You accepted Peter the first Chief [of the Apostles], formerly Cephas, son of Iona, to whom You gave the keys to the Kingdom of the Heavens; [as You accepted] Paul the Renown, formerly Saul, whom You showed to be the Herald of the Gospel by a revelation and a chosen vessel.
Likewise, send down upon [Your servant] Your heavenly grace upon undergoing the organic modification of gender, for the biological alteration of nature is a wondrous work of Your all-powerful right hand and Your inscrutable will, and amazed by this new and astounding work, we confess Your grace, we herald Your mercy and, declaring Your magnificence, we glorify Your indescribable love for humanity.
Grace Your servant (name) in Your sanctification and make HIM (or "HER") worthy to keep HIS (or "HER") own vessel without stain and blameless, likewise guarding the pledge of baptism inviolate and undefiled, and as a child of light, advancing in Your precepts and completing HIS (or "HER") remaining years, ascribing glory to You all the days of HIS (or HER) life.
By the intercessions of Your All-pure Mother, the radiant Archangels, the Honorable Forerunner and Baptist John; the holy glorious and all-famed Apostles, and all Your saints. Amen.
***
The original Greek version of the prayer is here, as scanned from a page of the actual prayer book by Metropolitan Timotheos.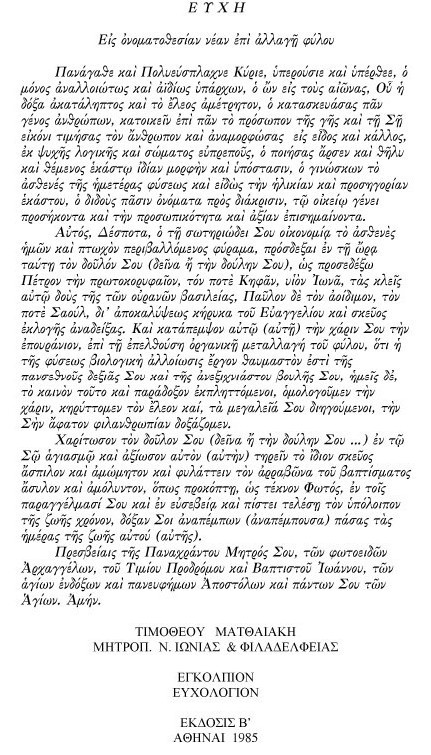 A full English translation with corresponding notes is available for viewing and download here.