Last week, I posted a video and story about the tragic accident that left dozens of desperate migrants from Syria and Eritrea stranded off the shore of Rhodes, swimming for their lives as the boat they were on hit rocks off Rhodes' Zefyros Beach. The video sent shockwaves throughout the world as terrified human beings were left to the mercy f the waves— and thankfully, to the help of some locals.
Almost immediately upon posting the video on The Pappas Post Facebook page, comments started coming that not only shocked me— but embarrassed me. Embarrassed me to be Greek, embarrassed me to be a human.
Who were these people, I thought? And how could they be writing such words publicly? Were they raising their kids like this too?
My first thought was to disable the video and take it down. But I didn't. I just sat back and watched in dismay— one after the other, disgusting comment coming from all parts of the globe— Melbourne, Australia, California. New York.
My first thought was one of irony… These same people commenting, with their Greek-sounding last names, were themselves immigrants, or their parents or grandparents were, atlas. Otherwise how did they end up where they are now?
Some people on the thread made the erroneous generalizing statements that Greeks arrived in the USA lawfully and were medically tested and became law-abiding members of society and were welcomed by American society because of this. No, ma'am… this wasn't the case with Greeks arriving in America. They were not welcomed with open arms, many did not arrive legally and in may cases, they— just like the Eritreans and Syrians arriving in Greece now, were treated like scum. Entire Greektowns in places like Roanoke, Virginia and Omaha, Nebraska were burned to the ground when violent riots took place against the "subhuman Greeks" as they were called. Furthermore, thousands of young Greek boys arrived as indentured servants, lured by their own countrymen— men called Padrones, who forced teen-aged boys to work the streets as bootblacks, or shoe shine boys.
Others on the thread were just downright inhuman. "Sink or swim" wrote one twisted man named "Angelo Andrikos" from California
Harry Kalligiannis from South Africa wrote "Send them back to where they belong" and his comments garnered 13 likes from people with Greek-sounding last names from New York, Perth, Houston and elsewhere throughout the world.
How disgusting, I thought. How hypocritical that a Greek man— or of Greek descent, living in South Africa, could write such nonsense? How would he feel if South Africa all of the sudden told him— "Go back to where you belong."
Fortunately, not all of the comments were like this and the majority of the people writing were equally ashamed to read such comments coming from fellow Greeks, fellow humans.
Fortunately for these poor souls, the locals in Rhodes responded as most sensible, compassionate human beings would. People stopped what they were doing to help.One man, Antonis Deligiorgis, became a hero of sorts, single-handedly and one-by-one, brought twenty people to shore from the sinking boat. In an interview with the UK's The Guardian, he shared his harrowing experience.
"The boat disintegrated in a matter of minutes," the father-of-two recalled. "It was as if it was made of paper. By the time I left the café at 10 past 10, a lot of people had rushed to the scene. The coastguard was there, a Super Puma [helicopter] was in the air, the ambulance brigade had come, fishermen had gathered in their caiques. Without really giving it a second's thought, I did what I had to do. By 10:15 I had taken off my shirt and was in the water."
In the chaos of the rescue, the 34-year-old cannot remember if he saved three or four men, or three or four children, or five or six women, he told the Guardian in an exclusive interview. "What I do remember was seeing a man who was around 40 die. He was flailing about, he couldn't breathe, he was choking, and though I tried was impossible to reach. Anyone who could was hanging on to the wreckage."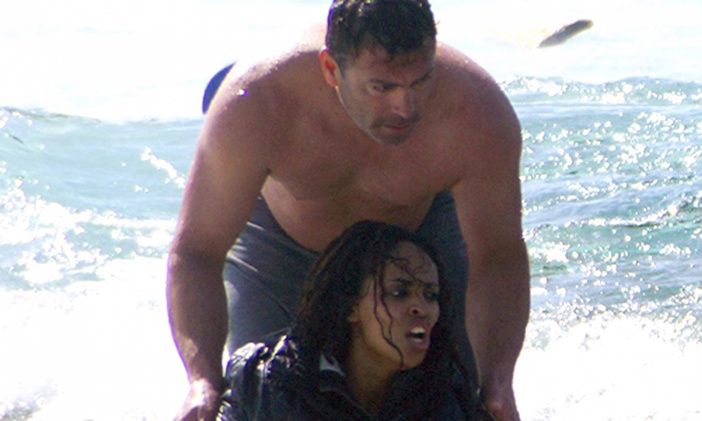 Deligiorgis says he was helped by the survival skills and techniques learned in the army: "But the waves were so big, so relentless. They kept coming and coming." He had been in the water for about 20 minutes when he saw a woman gripping the buoy. "She was having great problems breathing," he said. "There were some guys from the coastguard around me who had jumped in with all their clothes on. I was having trouble lifting her out of the sea. They helped and then, instinctively, I put her over my shoulder."
He was referring to Wegasi Nebiat, a 24-year-old pregnant Eritrean woman who has become a symbol of the destitution and empathy these immigrants face, just as much as Deligiorgis has become a symbol of humanity and compassion.
Nebiat's parents paid $10,000 for her passage to freedom from the throws of her country's civil war.
Thankfully, Deligiorgis and so many other residents of Rhodes who were the first responders— fisherman, doctors, average people— all rushed to help these pathetic people in need.
Nebiat survived— thanks to Antonis Deligiorgis heroism— something he falls short of acknowledging. There was nothing brave, he says, about fulfilling his duty "as a human, as a man". But recounting the moment he plucked the Eritrean from the sea, he admits the memory will linger. "I will never forget her face," he says. "Ever."
In his honor, Nebiat said she will name her son Antonis.
Humanity and appreciation prevails after all— if not in the hearts and minds of all people— in those who count.