Isabella Huffington's patterned stencil and marketed collages were on display in Soho on Friday, June 5th at an exhibition featuring her work at the Greek-owned lifestyle and bedding shop CocoMat. Nearly all of the paintings had sold before the reception ended— not a bad feat for a recent Yale art history graduate who counts artists like Yayoi Kusama and Keith Haring as inspiration for her own work.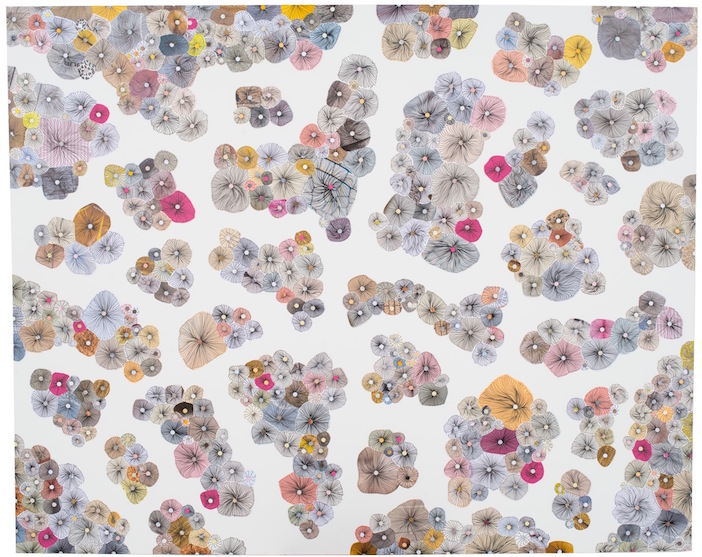 But a Yale degree and a famous last name doesn't get you places in New York City's tough art world— and Isabella knows this. Not one to rest on her laurels and one to always acknowledge— and try to overcome— her limits, art has been a process for Isabella.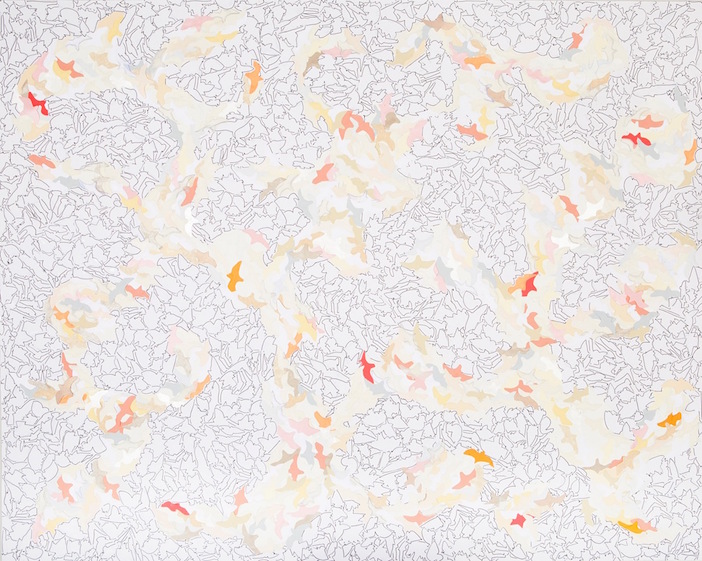 "I realized I don't have to jump into the deep end before I can swim. Instead, I can start in the shallow end and work my way to the deeper side at a pace I am comfortable with, knowing I can always return to my comfort zone," she wrote in a piece in Quiet Revolution.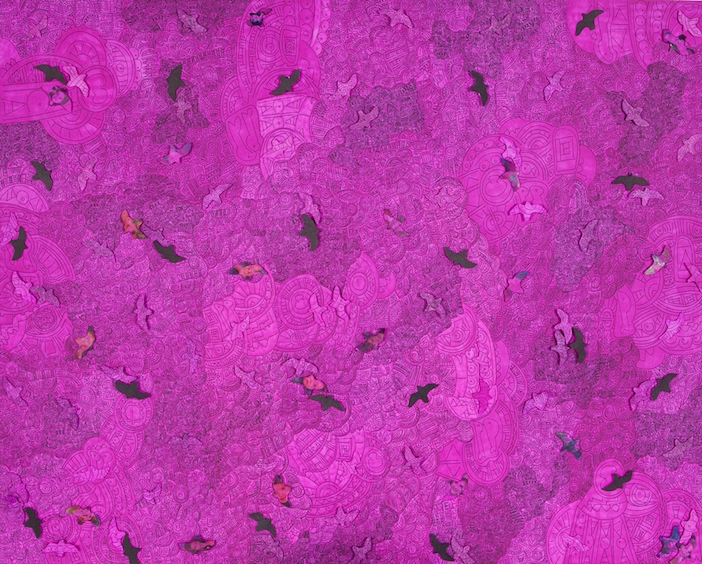 Isabella explains her work and her art in more detail.
I started making art when I was 15. Before that I was so shy that it was often crippling. I was constantly afraid of saying and doing the wrong thing. Art provided me with a respite from the social anxiety and an avenue that allowed me to explore my voice. Art helped me channel the more neurotic, obsessive aspects of my personality into something that was healthy and productive. In my work, even when something isn't working out, and I'm unhappy with what I've done, I know the problem is solvable. And there's a trust there that I don't naturally have in the rest of my life. I want one day to live my life the way I do my art.
In my art, I like using similar patterns to create different pieces. I like working with one idea over and over again until I've exhausted it. I like playing with size, color, and placement and seeing how each tweak transforms an idea. I like then putting an idea on the shelf and coming back to it and seeing if I can transform it again. Again this is often in sharp contrast to our culture, which is so fueled by attention deficit disorder, jumping from one thing to the other without ever reaching the depths of an idea. The fact that each piece takes so long to complete serves as a safeguard in the rest of my life. It helps me remember that things take time, a fact that's easy to forget in the digital age.
I'm interested in creating multiple layers in my pieces so that the viewer has to really look at a work in order to experience it as a whole. Each time someone looks at a piece they may discover another part or another dimension. Each work ideally requires the viewer's time and full attention.
See Isabella Huffington's work here.