The entire world knows the name after yesterday's bombshell news out of Washington DC that a former foreign policy advisor to U.S. President Donald Trump was arrested and is said to be cooperating with federal officials in an investigation alleging collusion between the Trump campaign and Russian officials.
First of all… the vast majority of Americans probably don't know that "George Papadopoulos" is our version of John Smith. Go ahead, type the name into your Facebook search box and see how many pop up.
We stopped at about 50… although a few "Georgia" Papadopoulos snuck into the search.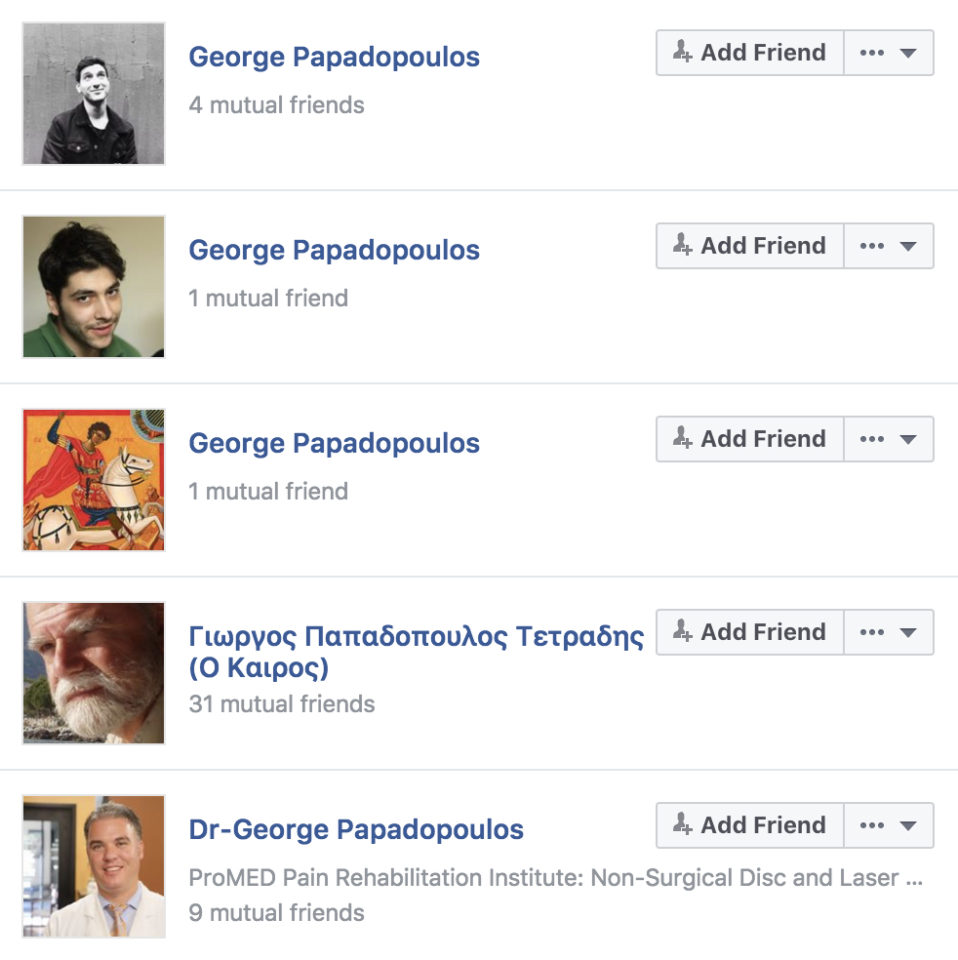 The list just goes on…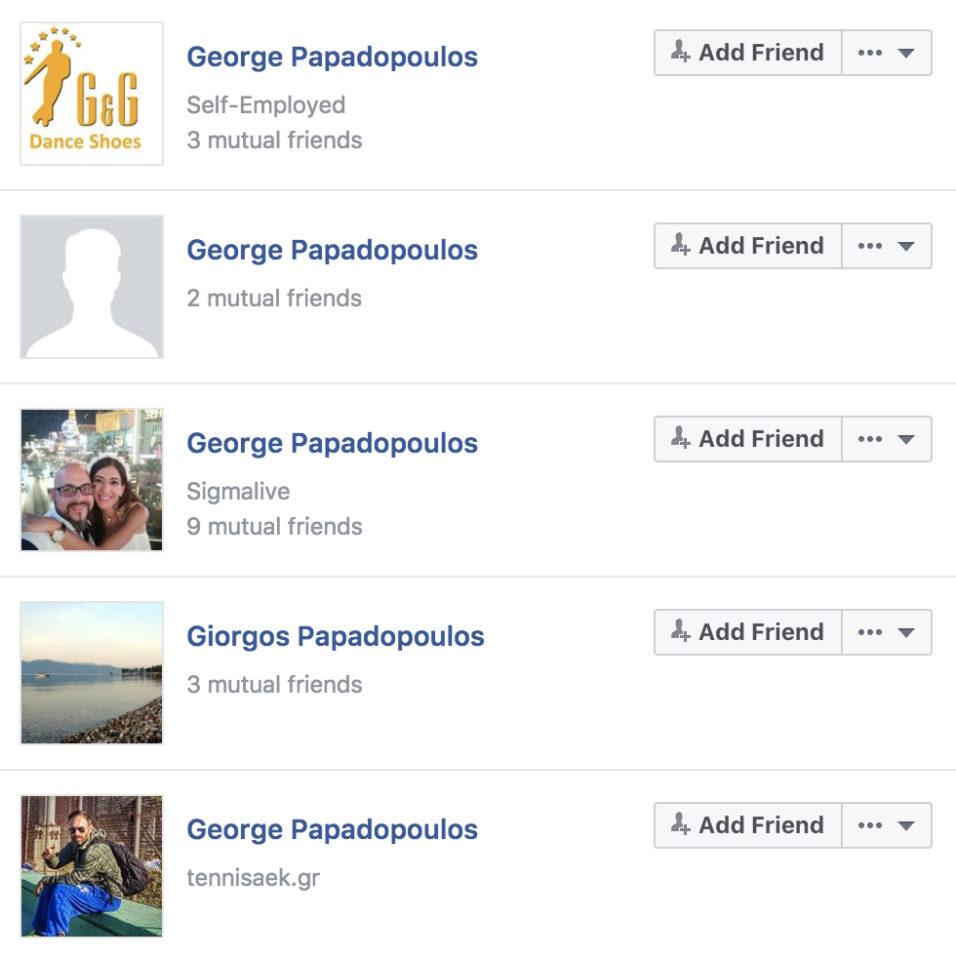 And on…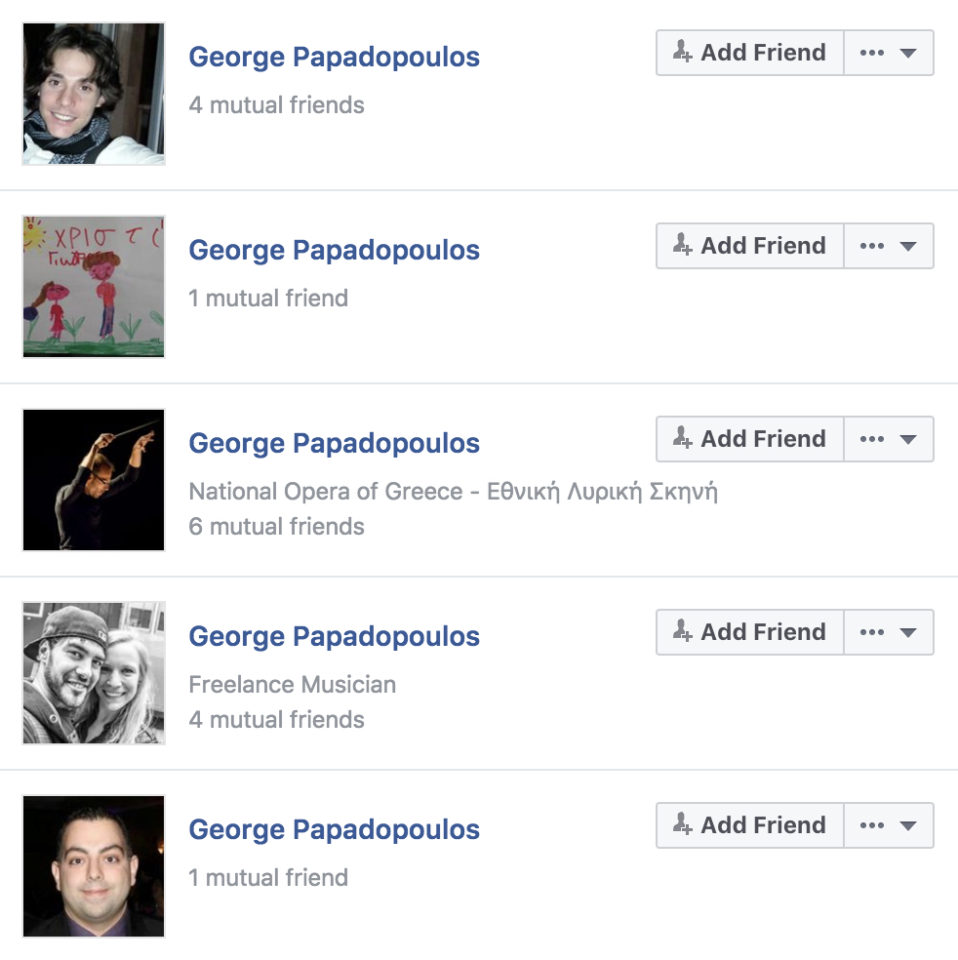 And here's 5 more…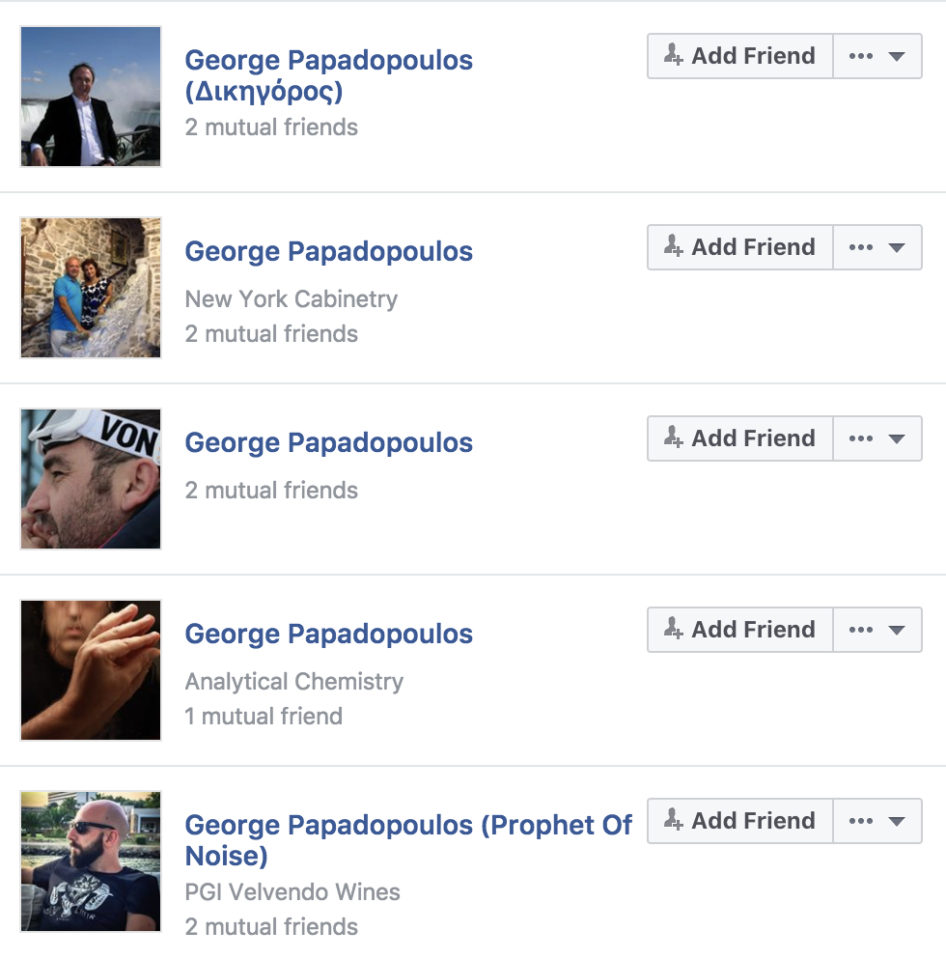 And on and on.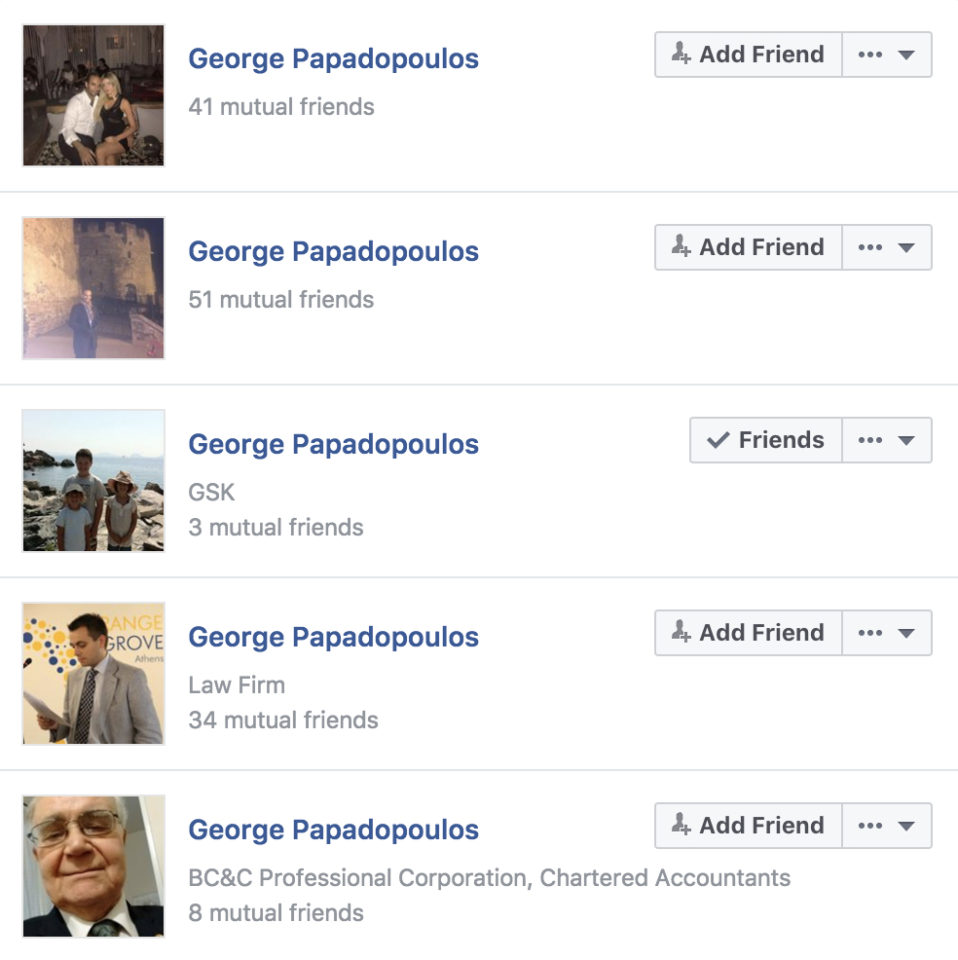 Pages and pages of George Papadopouloses…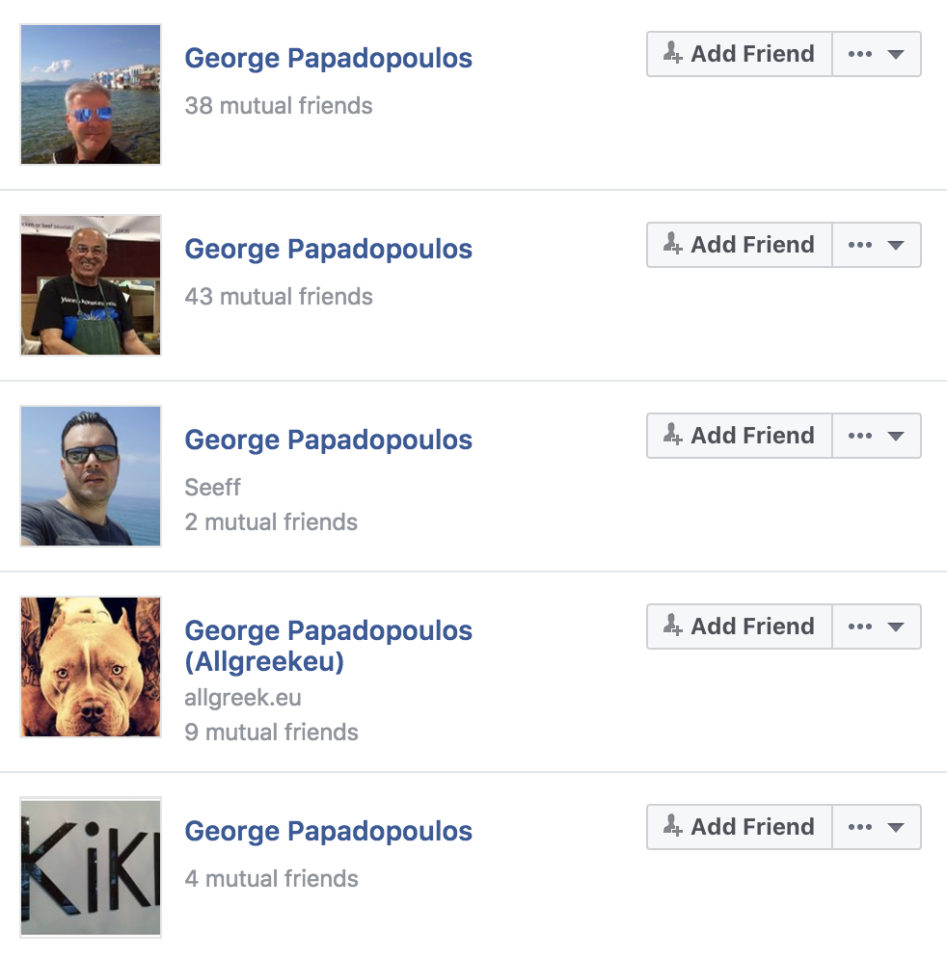 Or is it Papadopouli?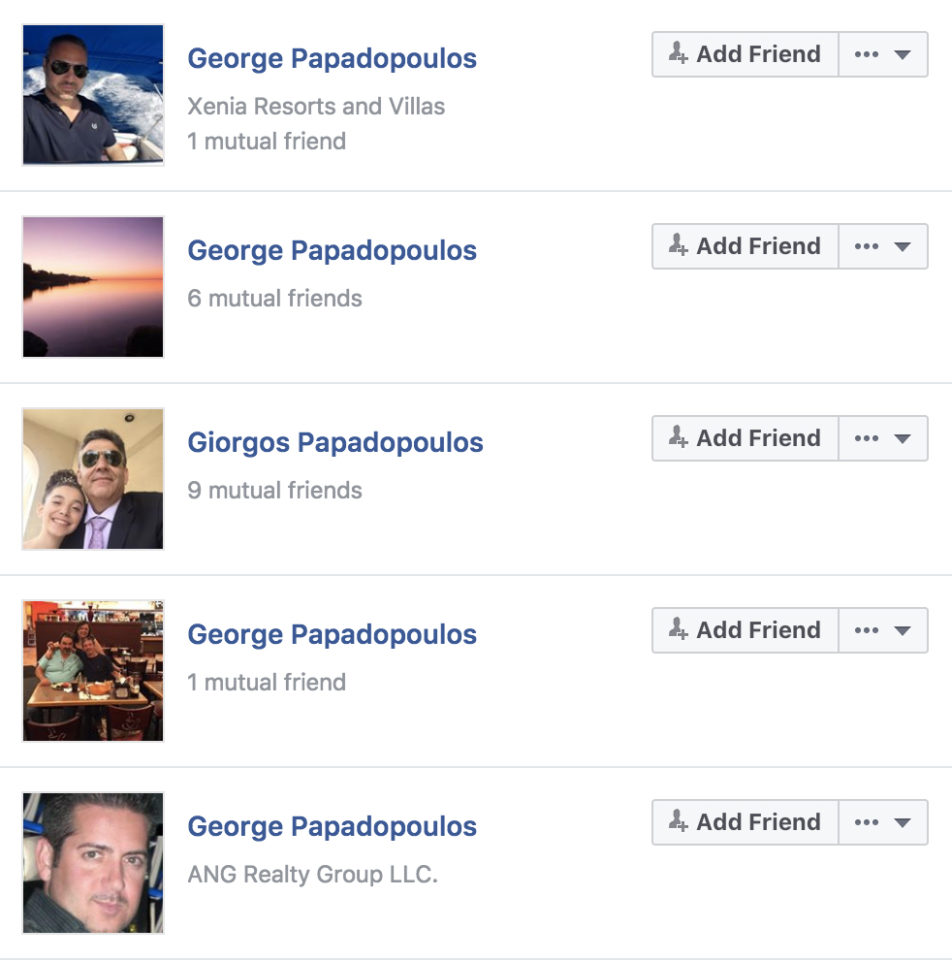 You get the point. It's a common name. But not only is it common, but there were even famous George Papadopouloses thrown into the internet mix that many people couldn't resist connecting to the Trump Papadopoulos.
Here are a few of our favorite Tweets from the #Papadopoulos hashtag today.
Pronunciation lessons:
Pa-pa-da-po-lows.

Learn the pronunciation.

You're gonna be saying it a lot.#Papadopoulos #Mueller #MuellerMonday

— OMG Dad No (@omgdadno) October 31, 2017
Then there are the Webster connections. What's "Webster?" You must be a millennial if you don't know.
Anyone else immediately think of Webster when George Papadopoulos when discussed today?! No, just me? Cool. I'm old. #Papadopoulos #Webster pic.twitter.com/u2CAmi22zJ

— Schadenfreude Sally (@ResistMeena) October 30, 2017
This guy did not look like a Russian pawn. I guess you never can tell. #Papadopoulos pic.twitter.com/XPLGXZClkG

— Darren Hayes (@darrenhayes) October 30, 2017
Remember those simpler days when the most famous #Papadopoulos was Webster's dad. #IndictmentMonday

— Emily Brandwin (@CIAspygirl) October 30, 2017
Connections to Greece's infamous George Papadopoulos, the dictator from 1967-1974
Fun Fact: George Papadopoulos lead the Greek junta from 1967-74. He was an authoritarian xenophobe adored by the far right. #Papadopoulos

— Andreas Papadopoulos (@APLawToronto) October 30, 2017
Some had Papadopoulos overload
I can't with the news today.#Papadopoulos pic.twitter.com/wM8Df7ill2

— Mike (@Fuctupmind) October 30, 2017
Everyone loves saying 'Papadopoulos.' Isn't that the stuff that's in yogurt?#Papadopoulos #manafort #Trump #Dannon

— Kevin Nealon (@kevin_nealon) October 31, 2017
Don't play a drinking game whenever someone says #Manafort or #Papadopoulos.
It will turn out badly pic.twitter.com/uPJnQnOCqw

— Joseph Puopolo (@jpuopolo) October 30, 2017
Papadopoulos… Stephanopoulos… It's all Greek to me!
Personally, I find this whole George #Papadopoulos thing simply stunning. To turn on his own party, destroy his broadcasting career…

— вlue ѕooтн (@jRobertJohnson) October 30, 2017
Can we all agree to shorten George Papadopoulos to "P-dope". I only have 140 characters to work with here.#Papadopoulos #Pdope

— MyImposter (@Bingseni) October 31, 2017
Ok cute…
Is slandering #Papadopoulos a Pap smear?

— Aaron Schwartzbaum (@aaron_schwa) October 30, 2017
#Papadopoulos the Trump advisor is from the North Side of Chicago. Does anyone know which restaurant his dad owns?

— Greg Pappas (@GregPappas) October 31, 2017
Of course, the "bearing gifts" cliche… yea, we know that one too well…
What's that saying, beware of Greeks bearing gifts? #Papadopoulos #RussiaGate https://t.co/m5fY1a0ml6

— ?CTalmon? (@CTalmon) October 20, 2017
Then there's the case of mistaken identity… Poor George.
For the nth time, I am NOT Trump's foreign policy adviser! I have NO association with the Trump camp! NONE!

— George Papadopoulos (@feeonlyplanner) October 30, 2017