Back in 2010, I had made the craziest, stupidest, yet smartest decision of my life. With a ridiculous idea of connecting to my ancestral roots, which are Hellenic and originate from the majestic historical city of Smryna, I picked up from New York City and moved to Izmir (Smyrna), Turkey.
Now I know I used a lot of contradictory synonyms just now, but that's what living in Turkey is all about; contradictions. For example, people love the summer but hate the heat. Most people are Muslim, but love drinking raki. Everyone devours massive amounts of white bread and cheese, but remain stick thin. Everyone studies English for over 10 years, but can't use simple present tense. But most importantly, it is a city that was heartlessly destroyed, never to regain its former glory.
Today, there is no simple sentence that can explain or would sum up my experience and feelings of what it's like to live in this city. But I do know what keeps me here; my blood. I can't describe it any other way. As tempting as it would be to return to New York, or even travel abroad and live in a fancy, prosperous city like Dubai or Hong Kong, the weight of my cultural heritage and the memories passed down from my grandparents who were forced out due to their religion in 1922, have laid the foundation of what I was meant to do here. That is to share my journey every step of the way.
In 2011, with the help and funding of some many supporters on Kickstarter, I was able to catch the eye of the Greek America Foundation. Through the endless support of GAF and Gregory Pappas, a true human being who understood my vision when most didn't, worked with my company Crescent Street Films in executive producing the documentary film, Hello Anatolia. When production had wrapped in 2012, it quickly garnered acceptances to festivals and major screening events in the US and Greece.
From the American College of Greece in Athens to the Transatlantyk Film Festival in Poznan, Poland (to which I was welcomed personally by Academy Award-winning film composer Jan Kasmarek), Hello Anatolia became more than a film, but a call to action that would help inspire people to seek out their family's roots.
When Hello Anatolia opened the New York City Greek Film Festival in fall of 2013, it not only inspired Greeks to visit their ancestral homes in Turkey, but also Turkish people to come to Greece and to do the same.
When we were filming Hello Anatolia, there were of course, several scenes that we could not fit into the film. One of them was my experience traveling with a good friend of mine (a Turkish young man who incredibly learned Greek in a year) to the village of Urla (formerly Vourla) and speaking to the first person we bumped into, who was interestingly enough, a Greek-speaking Cretan Turkish man.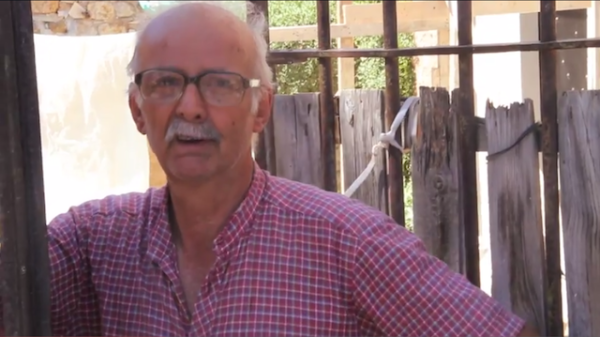 For those of you who may not know, the story of Cretan Turks is incredibly interesting. During the latter part of the Greco-Turkish war, and later, the population exchange, the Muslim population of Crete, deemed as 'Turks', were forced off the island and sent to Turkey in exchange for the Christian populations from what became the new Turkish state. This Muslim population, who predominately spoke the Cretan dialect of Greek, dressed in Cretan clothes, and saw their island as home, would carry over this heritage to Smyrna (now Izmir), where it still survives today. The Cretan-Turkish population is rather large today in Izmir, with many of its members speaking Greek.
As a director, I had it as a part of my original idea to capture conversations with this community, as they, like my great grandparents, were the victims of a terrible population exchange. The scene ended up hitting the cutting room floor however due to creative reasons. As you will see from the video, the man we met, Fetih Hasan, was incredibly nice and went on to show us his restoration of an old Greek house that he grew up in. The conversation goes from good to great when he offers us a family heirloom which came from Crete; the place he terms as 'patrida'.
[youtube id="96d4gwGMew8″ width="600″ height="350″]