The clock is winding down, and with only 2 matches left in World Cup Qualifiers, Greece is holding on by a thread. This time next week we'll know if Greece is still alive in the World Cup Qualifiers or not. Greece is currently in third place in group H, and only the top two teams in each group can possibly move on. Belgium has already clinched first place, which includes an automatic bid to the World Cup; while Bosnia and Herzegovina are currently in second place. Greece's only hope is to reclaim second place and move on to a playoff with the other 2nd place teams from each group. However, only the top 8 of 9 second place teams will be eligible to participate in that playoff.
First, Greece will have to travel to Nicosia this Saturday, October 7 to take on Cyprus. The first time these two teams faced in each other (in Piraeus), Greece won 2-0. Cyprus is a tough opponent for Greece, but Greece should win – especially if they want to consider themselves a World Cup contender. Then, just three days later on Tuesday, October 10, Greece will take on Gibraltar at home in their last match of the qualifying campaign. Gibraltar is by far the worst team in the group and this game should be an easy win for Greece, as they've been for pretty much everyone else in the group. The previous time these teams met, Greece dominated in a 4-1 victory.
The Greek team is in good shape right now, so there's no reason to think that they can't pull this off. Making a return to the national team is Lazaros Christodoulopoulos, who is making his first appearance in the World Cup 2018 qualifying campaign after getting off to a hot start for AEK Athens in the Greek Super League. Our best two attacking players, Mitroglou and Fortounis, are healthy; and both world-class center-backs, Papastathopoulos and Manolas, will be holding down the back line.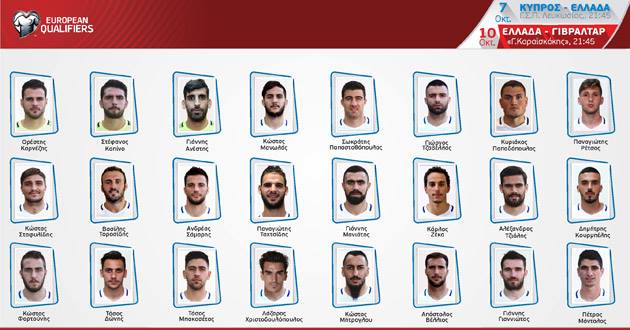 The best chance for Greece to move on is for them to win both of their final 2 matches (which is very possible), and for Bosnia to tie or lose only one of their final two matches. Bosnia's final two matches are against Belgium and Estonia, so that's very favorable to Greece. The big concern, however, is that Belgium might rest their players since they've already clinched their spot in the World Cup.
Here are the scenarios that can play out in favor of Greece moving on:
Greece wins both matches and Bosnia loses or ties one of their matches.
If Greece draws first match, they can move on if:

Greece wins second match and Bosnia lose either match and draw the other.
Greece wins second match and Bosnia draws both matches, but Greece will have to have better goal differential
Greece draws second match and Bosnia loses both matches

If Greece loses first match, there are still some scenarios for them to move on, but Cyprus would now be tied with them for third place; thus putting Cyprus back in the mix and making the picture much more complicated.

Greece, however, has a much better goal differential than Cyprus and would likely move on if they finish with the same amount of points as Cyprus.
Again, all of these scenarios would require Greece to finish in the top 8 of 9 second place teams.
Watch the Matches
Greece vs. Cyprus: Saturday, October 7 – 21:45 local; 14:45 EST; 11:45 PST
GREECE: COSMOTE Sport 1, SKAI TV
CYPRUS: RIK 1
USA: Fox Soccer Match Pass
CANADA: Sportsnet Now, Sportsnet World Now
ONLINE: AgonaSport.com
Greece vs. Gibraltar: Tuesday, October 10 – 21:45 local; 14:45 EST; 11:45 PST
GREECE: COSMOTE Sport 1, SKAI TV
USA: Fox Soccer Match Pass
CANADA: Sportsnet Now, Sportsnet World Now
ONLINE: AgonaSport.com
Hellas ole!
---
 More from Thanasi Papoulias
---