World Cup Qualifiers resume this week with 6 of the 10 matches already in the books.
This week, each team will be playing 2 matches within 3 days, which means a lot of teams will be realizing their final fate.
Greece will be taking on Estonia on Thursday, August 31 and Belgium, which is currently leading the group, on Sunday, September 3; and both games will be at home in Piraeus.
Group H Standings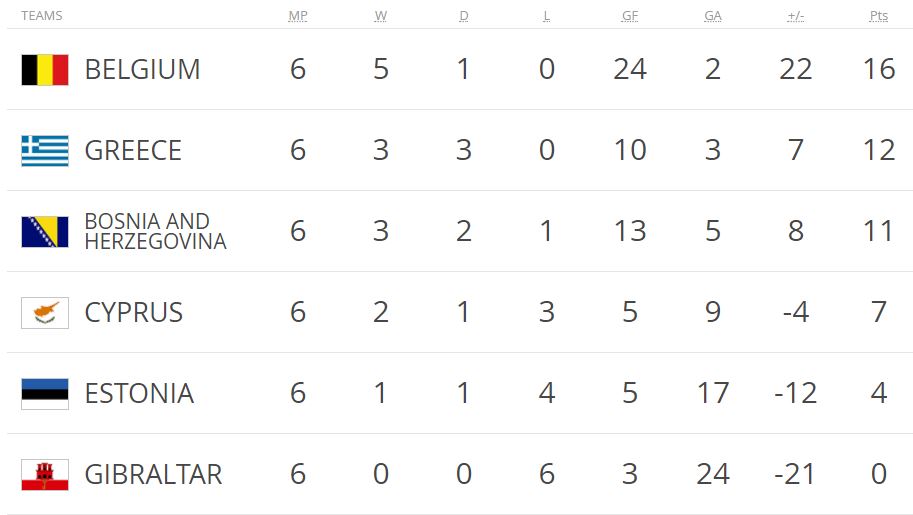 The winner of each group automatically qualifies for World Cup 2018, while the eight best second place teams will go to a playoff round, with only 4 of those teams moving on. So to say these two upcoming games are crucial is an understatement, and Greece is facing some difficult circumstances.
Greece's Squad
Goalkeepers: Anestis, Kapino, Karnezis
Defenders: Papastathopoulos, Manolas, Retsos, Papadopoulos, Stafylidis, Lykogiannis, Tzavellas
Midfielders: Tachtsidis, Samaris, Maniatis, Tziolis, Zeca, Siopis, Fortounis, Mantalos, Gianniotas, Bouchalakis
Forwards: Diamantakos, Mitroglou, Vellios, Bakasetas, Donis
For the match against Estonia, Greece will be without world-class center-back, Papastathopoulos (suspension) and our best striker, Mitroglou (injury); while our veteran captain and right-back, Torosidis, is now ruled out for both games due to an injury suffered last week. It's no guarantee that Mitroglou will play the second match, but trainers are hopeful that the recovery regimen they have planned for him from Tuesday through Saturday will enable him to step on the pitch for the second match versus Belgium.
With how close the top three teams are in Group H, the first match versus Estonia is a must-win for Greece – especially since Greece is coming off of three straight draws. Greece has the better roster and is playing at home, so they are the clear favorite; however there's a reason why they play the match. And with all the players unavailable for Greece, it makes it a much more difficult task. Greece has not had any friendlies recently, so hopefully they'll be in shape and in sync when they take on Estonia.
Belgium is one of the better teams in the world, but the fact that Greece almost beat them when they played the first time, in Belgium, gives me hope that Greece can win this match at home in Piraeus. However, I think the key here is having our best striker, Mitroglou, available for the match. The next two forwards on the roster likely to replace Mitrolgou are Diamantakos and Vellios, both of which have had little to no playing time thus far this season – and the step down from Mitroglou to either of these two is very steep. The likely best-case scenario for Greece, and what expectations for most are, is to come away with a draw. But you know what I say, %$&@ it – let's get the win!
Watch the Matches
Greece vs. Estonia: Thursday, August 31 – 21:45 Local; 14:45 EST; 11:45 PST
GREECE: COSMOTE Sport 1, SKAI TV
CYPRUS: Cytavision Sport 1
USA: ESPN3, WatchESPN App, ESPN Deportes
CANADA: Sportnet World Now
AUSTRAILIA: WatchESPN
Greece vs. Belgium: Sunday, September 3 / 21:45 Local; 14:45 EST; 11:45 PST
GREECE: COSMOTE Sport 1, SKAI TV
USA: ESPN3, WatchESPN App, ESPN Deportes
CANADA: Sportnet World Now
Schedule
06-Sep-2016: at Gibraltar (W 4-1)
07-Oct-2016: vs Cyprus (W 2-0)
10-Oct-2016: at Estonia (W 2-0)
13-Nov-2016: vs. Bosnia-Herzegovina (D 1-1)
25-Mar-2017: at Belgium (D 1-1)
09-Jun-2017: at Bosnia-Herzegovina (D 0-0)
31-Aug-2017: vs. Estonia
03-Sep-2017: vs. Belgium
07-Oct-2017: at Cyprus
10-Oct-2017: vs. Gibraltar
Hellas Ole!
More from Thanasi…
ExcuseMeAreYouGreek.com | Facebook | Instagram | Twitter