The San Antonio-class amphibious transport dock ship USS San Diego (LPD 22) and embarked Marines with the 15th Marine Expeditionary Unit (MEU) arrived in Souda Bay, Greece, on Oct. 15, for a scheduled port visit.
The visit was part of San Diego's planned mid-deployment voyage repair maintenance stop, and serves as an opportunity for the ship's embarked Sailors and Marines to experience Souda Bay and surrounding areas on the island of Crete.
"We have been underway for a while," said Capt. Pete Collins, commanding officer of San Diego. "Pulling in is a great way to relieve some stress and fatigue that some Sailors might be feeling at this point of our deployment."
San Diego arrived in Souda Bay after three-and-a-half months of its deployment. Mid-deployment voyage repairs are used to complete repairs and maintenance to ensure the ship continues to be ready for the remainder of its deployment and its mission.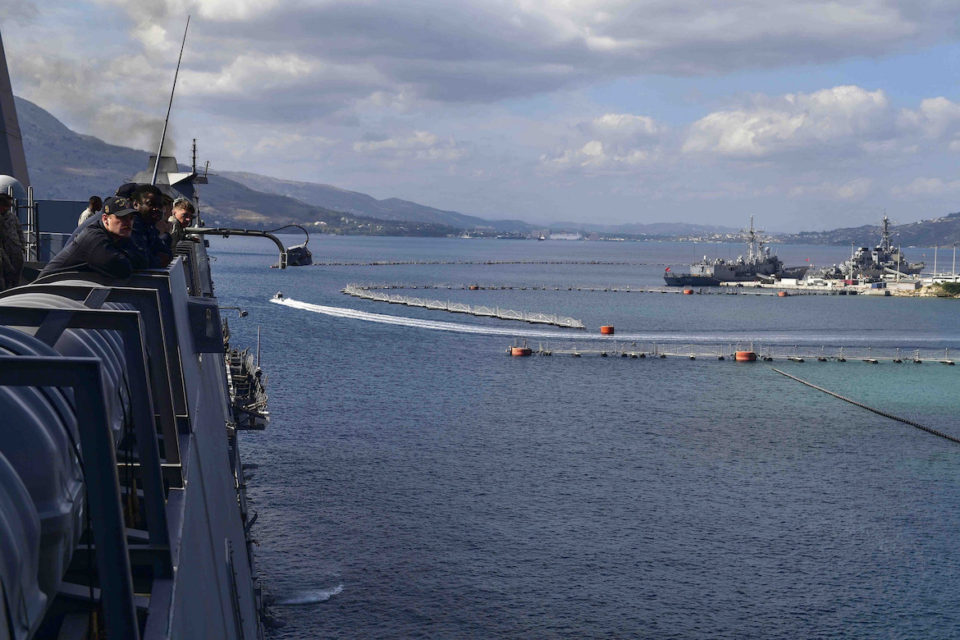 Sailors and marines get to know local culture
Sailors and Marines aboard San Diego had the opportunity to participate in recreational activities in Souda Bay and surrounding areas including a tour to the famous Minoan Palace of Knossos, a shopping tour of the city's leather district, a tour inside the cellars of a 100-year-old traditional winery, and a hiking trip through many of the villages in the area.
"I think it's great that Morale, Welfare, and Recreation (MWR) puts together all these different things to do when we pull into these foreign ports," said Aviation Boatswain's Mate (Handling) 3rd Class Esmerelda Hernandez. "Without the MWR trips, I feel like there would be a lot that I would be missing out on when we pull into port."
San Diego also had the chance to complete paint and preservation projects to reduce corrosion on the outside of the ship.
"We were able to paint most of the side of the ship during our stay in Souda Bay," said Seaman Andrew Picard, assigned to San Diego's deck department. "We busted rust with our needle guns, primed that area, then painted the side with the glorious haze grey."
It wasn't "all work and no play" for the Sailors and Marines aboard San Diego. After preservation and maintenance was completed, they were able to go out and experience the local culture.
"After the work day, we had the opportunity to take a bus to Chania," said Operations Specialist Seaman Bernard Rolfes, assigned to the operations department aboard San Diego. "I had such a great time immersing myself into the culture and shopping."
San Diego is deployed with the America Amphibious Ready Group (ARG) and the 15th MEU to support maritime security and theater security cooperation in efforts in the U.S. 6th Fleet area of operations.
Commissioned in 2012, San Diego is the sixth ship in the San Antonio-class of amphibious landing transport dock ships. Designed as a multi-mission amphibious warship, these ships are able to support a broad range of expeditionary operations. The ship's namesake comes from the city of San Diego which has a long mutual history with the U.S. Navy and is the fourth U.S. vessel to bear the name.