Maria Loi spent years cooking and perfecting her favorite Greek and Greek-inspired dishes she earned from her mother and grandmother. She transformed her passion for cooking into her signature restaurant in Nafpaktos and a successful line of best-selling cookbooks in her native Greece. With her eyes set on bringing Greek food to North America, she opened her eponymous Loi Estiatorio in the heart of Manhattan and recently published her first English cookbook entitled The Greek Diet, which focuses on healthy Greek cuisine. She also cooked for President Obama and Vice President Biden at the White House Greek Independence Day celebration where she served her famous butterless baklava. We asked Chef Loi to share her favorite Christmas pork recipe with The Pappas Post readers.
Braised Pork with Winter Greens
What We Need:
2 pounds of boneless pork shoulder, cleaned and cut into large chunks
Salt and Pepper, as needed
1 cup of fruit-forward red wine, not sweet – like Rapsani
1 cup of sweet red wine – like Mavrodaphne
1 cup of veal, beef, or chicken stock
2 tablespoons of Petimesi (grape must syrup)
3 teaspoons of balsamic vinegar
1 onion, puréed in food processor
5 garlic cloves, peeled and smashed
1 leek, white part only, cleaned and finely chopped
1 bunch of scallions, white and light green part only, cleaned and finely chopped
2 bunches broccoli rabe, cleaned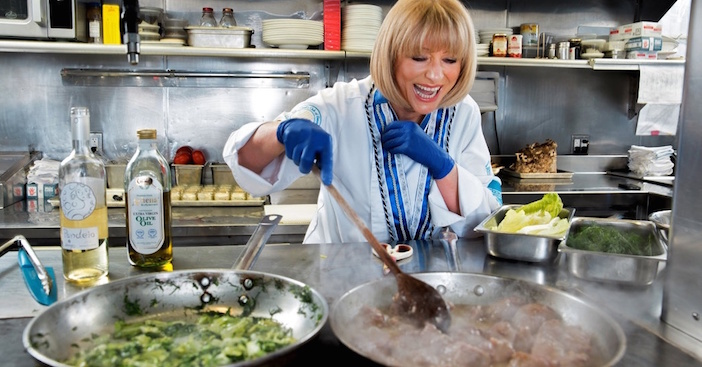 Instructions:
1) In a Dutch oven, slow cooker, or medium-large saucepan, combine pork, salt and pepper to taste, wine, stock, petimesi, balsamic vinegar, puréed onion, and garlic. Bring the contents to a boil, then reduce heat to a steady simmer. (If using a slow cooker, just turn it to "high" and let cook for at least three hours.)
2) Cook, stirring every half-hour or so, until the meat is very tender and just shy of falling apart (at least an hour, most likely a bit longer).
3) Remove meat using a slotted spoon, reserving in a bowl, then turn the heat to high. (If using a slow cooker, transfer liquid to a saucepan for this step.) Reduce the liquid to about half of its original volume. Taste and adjust seasoning accordingly, then lower heat to a simmer, and fold in leeks, scallions, and broccoli rabe.
4) Continue cooking until green vegetables are tender, then add the reserved meat back into the pot, until reheated.
5) Serve, and enjoy!
Get Maria Loi's HarperCollins best-seller The Greek Diet here.