Exactly one year ago today— I began a new chapter of my life that would forever change me. It was August 9, 2013 and I had spent much of the summer in Los Angeles. It was a painful summer on many levels as I had recently ended my 20-year relationship. I was looking for a diversion.
That diversion came in the form of Leon Logothetis, who entrusted me to be a part of the production crew for his trip around the world on his not-so-trusty vintage yellow motorcycle he had named Kindness One.
Leon was about to embark on this trip— literally, traversing the globe— with no food, no gas, nowhere to sleep and no money— relying solely on the kindness of strangers. It was a sociological experiment to see if one man, with a quirky British accent, could get around the world on kindness. The entire experience was being documented for a 13-episode television series.
We departed August 10th from the Hollywood sign in Los Angeles. After numerous experiences, countries, interactions, incarcerations, near-death experiences— but most of all, life-changing moments— being in Leon's presence for the next several months would change my life forever.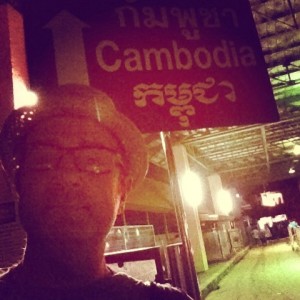 One experience and one country stands out from the entire month trip. Cambodia. The kindness of the people was unsurpassed by anything else I had experienced. The generosity and the spirit of the Cambodians was unrivaled and their history, which I learned first hand from people and places I visited, was painful.
I connected with the stories of a wholesale massacre of millions of people that took place in the 1970s— during my generation— when the Khmer Rouge unleashed a bloody campaign of genocide. I visited an area known as the Killing Fields, where millions of Cambodians were killed and buried.
I will never forget the "baby tree"— where thousands of infants were torn from their mothers' arms and smashed against a tree by brutal soldiers of the Khmer Rouge— so they wouldn't "waste" a bullet on them. And the skulls inside the memorial to the victims. A most memorable moment for me was taking one of my own cherished bracelets off my hand and hanging it on the tree, in memory of the children, like so many others before me had done.
One year later— I'm a different person, thanks to Leon and the opportunity he gave me. One year later I'm a better person, having spent several months seeking goodness in people and sharing my own. One year later, the lessons I have learned from Leon remain— and will remain forever. Thank you Leon.