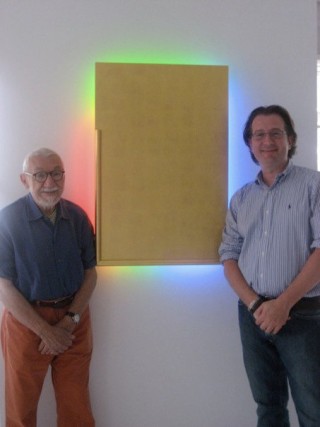 A hero of mine passed away last week. The day after he passed, I received a sweet, but simple email from his lovely widow Naomi.
Amongst the terrible news, she wrote: "You know how much he loved you and your gorgeous energy, and all your love of Greece."
One of the biggest compliments of my life to be recognized by a man like Stephen Antonakos.
To most, Stephen was a larger than life artist whose work graced all of the big museums of the world. A titan of the art world over 50 public works that have been installed in such cities as Athens, Bari, Dijon, Frankfurt, Los Angeles, New York, Odessa, Tel Aviv, Tokyo, and Seattle.
His art is represented in numerous private and public collections of the most important museums in the world, including The Metropolitan Museum of Art, The Museum of Modern Art, the Whitney Museum of American Art, the Solomon R. Guggenheim Museum, the National Gallery in Washington, and the National Museums of Contemporary Art in Athens and Salonica. His New York Times obituary attempts to share his tremendous impact on the art world, but what can really be said of an such an illustrious career in such little space?
But to me, Stephen was a sweet man who always welcomed me at the elevator of his Soho loft when I went to visit, who always spoke so softly and kindly to me, always believed in what I was doing and always hugged me on the way out.
The Greek America Foundation honored Stephen with a Lifetime Achievement Award at the 2011 Gabby Award at Ellis Island. What an honor to watch this great man accept this award– in the Hall of Registry on Ellis Island, where he landed in the United States with his family– an immigrant boy of only four years old in the early 1930s. What a tremendous honor to bring him "back to where it all began" for Stephen.
I will never forget this man's grace, kindness and genuine concern for me and what I was trying to do for the community. A tiny man in stature– I stood over a foot taller than him. But if I reach even one tenth of his greatness in my entire life, I will be a lucky man.
One of my prized possessions is a framed art piece that Stephen and his wife Naomi gave me as a gift. It was from his "Pillows" exhibition in the early 1960s. The note that accompanied the gift will reside in my heart forever. "because you've made our dreams come true" signed by Stephen and Naomi Antonakos.
Rest in peace, dear Stephen Antonakos.
In your memory I am donating $1000 to the Greek America Foundation's scholarship endowment fund with hopes that others will follow suit so that we may establish a Stephen Antonakos Scholarship for worthy Greek Americans wishing to pursue the study of fine arts. If you're interested in donating to this fund, email me here.