Following a strongly worded opinion piece in The New York Times today that this isn't a time for games from Europe, Greece's finance minister Yanis Varoufakis came out swinging following a breakdown of talks after meetings with Greece's European partners, known as the Eurogroup.
The two sides are as divided as ever. The story made headlines across Europe.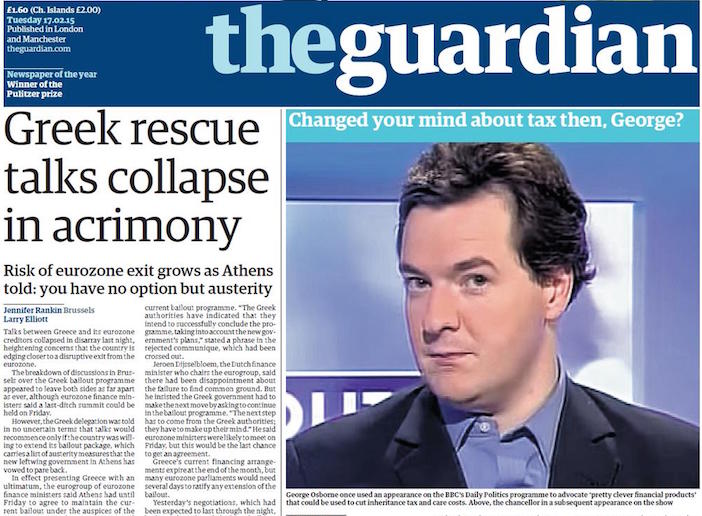 The negotiations collapsed after Greek officials refused to accept demands from eurozone finance ministers that it should ask for an extension to its existing €240 billion ($272 billion) bailout with current conditions and stipulations in place.
Greece called the official Eurogroup statement "totally unacceptable."
"The general feeling [among ministers] is still that the best way forward would be for the Greek authorities to seek an extension of the current program," said Jeroen Dijsselbloem, the Dutch minister who presides over the regular meetings with his counterparts.
The meeting, which was expected to last until midnight, ended around 7pm local time — shortly after the draft proposal was leaked to the media, complete with notes from Varoufakis.
This triggered an early press conference in Brussels where the breakdown in talks was announced.
After the meeting, Mr. Varoufakis said he had been ready to request a four-month extension to the existing bailout, but not under the conditions that Mr. Dijsselbloem and the other ministers were offering. "Our only condition for doing this was that we should not be asked to impose measures that are clearly recessionary and clearly uncalled for in the state of humanitarian crisis we have in Greece," he said.
In particular, Mr. Varoufakis said, he was unwilling to accept further reductions to the pension of low-income retirees and an increase in the value-added tax.