The window of opportunity for Greece to qualify for Euro Cup 2016 is slowly closing. The former skipper of the national team, Claudio Ranieri, dug Greece into a deep hole by starting out the campaign with a record of 0 wins, 1 draw and 3 losses. The Hellenic Football Federation reacted swiftly and replaced the skipper with the Uruguayan national of Armenian descent, Sergio Markarian. In his first game at the helm back in March, Markarian led Greece to a 0-0 draw with Hungary. Although it's not the outcome Greece wanted, the draw still kept them alive. Greece's woes on offense continued though, as they have failed to score a goal in four of their first five Euro Cup qualifying matches. Time is running out, so if Greece expects to qualify for the Euro Cup, they are going to have to find a way to manufacture some goals.
Greece has five matches left, one against each of the other five teams in their group. They currently have only two points and are sitting in last place, but mathematically are still alive. With that said, however, a loss in any of their final five matches will pretty much eliminate them. The top two teams from each group will automatically qualify for the Euro Cup, while all of the third place teams will go to a playoff with one another and only half of them will qualify for the tournament. The most likely scenario for Greece to qualify would be to aim for and secure third place in the group and proceed to the playoff. Second place is still attainable, although unlikely.
Greece's next match is
Saturday, June 13, at 2:45 PM EST, against the Faroe Islands again. This time Greece will be travelling to Torshavn, the capital city of the Faroe Islands, to try and redeem themselves from the most embarrassing loss in the history of international competition. The last time these two sides met, Edmundsson's 61st minute goal was enough for the Faroes to stun Greece and earn their first, and only, victory in the group. The 1-0 win against Greece earned the Faroes their only clean sheet in their last 18 competitive games, but they are also without a win in their last eight competitive home matches. Greece, on the other hand, is unbeaten in their last five away games in qualifying matches and tend to play better football when their backs are up against the wall. This next match is not only a must-win for the Greeks, but it's a should-win too. If Greece can't beat the Faroes this time around, then they probably don't deserve to be in the Euro Cup.
The Squad
The squad that Markarian put together is below, with the players I believe will have the most playing time in italics.
Goalkeepers:  Karnezis (Udinese), Kapino (Mainz), Vellidis (Giannina).
Defenders:  Torosidis (Roma), Manolas (Roma), Papastathopoulos (Borussia Dortmund), Stafylidis (Fulham), Moras (Hellas Verona), Tasoulis (Panionios), Tavlaridis (Panathinaikos), Vyntra (Levante).
Midfielders:  Christodoulopoulos (Hellas Verona), Samaris (Benfica), Kone (Udinese), Fetfatzidis (Verona), Katsouranis (Atromitos), Tachtsidis (Hellas Verona), Fortounis (Olympiacos), Kolovos (Olympiacos), Ninis (Panathinaikos), Tziolis (PAOK).
Forwards:  Mitroglou (Olympiacos), Karelis (Panathinaikos), Fountas (Asteras Tripolis).
A lot of the names on this list are the usual suspects; however, some notable mentions include the absence of Samaras, Athanasiadis, Maniatis, K. Papadopoulos and Cholevas; and the return of Mitroglou, Ninis and Tziolis. The lone goal scored during the first five games of the qualifying campaign belongs to Karelis (against Finland), but it's still unclear as to which striker Markarian will call upon against the Faroes. Athanasiadis was the striker to get the nod last game, but he's not on the squad this time around.
The best case scenario for Greece coming out of Match-Day 6 would be for them to earn a victory against the Faroe Islands, Finland to beat Hungary and Romania to beat Northern Ireland. This would put Greece only 3 points behind the group's third place team, Hungary, and there are still four games left to go. There's still some hope, so don't you guys lose faith just yet.
Remaining Schedule for Greece
June 13, 2015 vs. Faroe Islands (Away)
September 4, 2015 vs. Finland (Home)
September 7, 2015 vs. Romania (Away)
October 8, 2015 vs. Northern Ireland (Away)
October 11, 2015 vs. Hungary (Home)
The game against Faroe Islands on June 13 will be available on ESPN3.com or via the Watch ESPN mobile app.
Ellas Ole!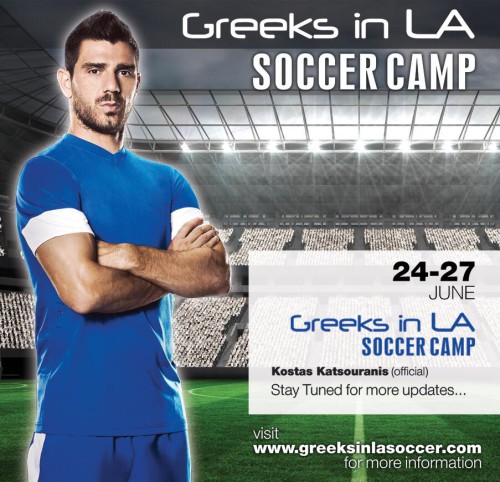 And if you're going to be in Los Angeles June 24-27, then you should consider coming out to the first annual Greeks In LA Soccer Camp! Meet and train with the Greek international soccer player Kostas Katsouranis himself! For more information and to sign up, please visit www.GreeksInLASoccer.com.
And don't forget to check out my Greek Soccer Standing page for the latest updates on all the competitions related to Greek soccer! Feel free to reach out to me on Twitter or find more material from me on my blog at ExcuseMeAreYouGreek.com.