Koliva is the traditional boiled wheat dish made in remembrance of the dead in Greece and throughout the Greek diaspora.
The recipe, though simple to prepare, requires time, patience and care. In a wonderful way, because the process is somewhat lengthy, making koliva ourselves instead of buying it allows us this time to spend with the memories of loved ones no longer with us.
Today we all have such full and often hectic schedules that homemade koliva just seems out of the question. I'm here to tell you, you can do this!
The koliva recipe below is broken down into steps and stages, making this a completely doable project and a special tradition to keep in our families. Briefly, memorial services or mnemosina in the Orthodox Church consist of prayers for the souls of those who have fallen asleep and the service itself is basically an abbreviated funeral service.
"With the Saints grant rest, O Lord, to the soul of Thy servant(s) where there is neither pain, nor sorrow, nor sighing, but life unending." – from the Memorial Service
Individual Memorial Services can be held three, nine, 22 or 40 days after death, as well as three, six, nine months or every year after death.
Saturday of the Souls, held in remembrance of all those who have fallen asleep, is held on the following dates:
Saturday before Meatfare Sunday (one week before Great Lent begins)
Saturday before Cheesefare Sunday
First Saturday of Great Lent
Saturday before the feast of Pentecost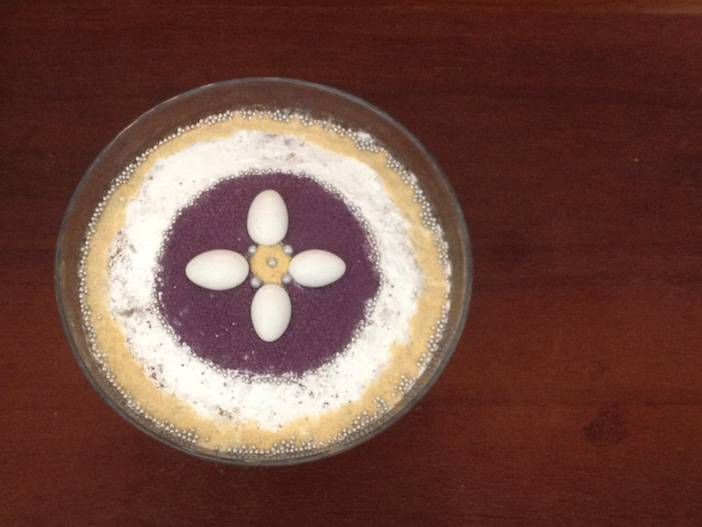 It's interesting to note that the Orthodox Church often uses the phrase "fallen asleep" in place of "died" as a reminder of the resurrection and promise of eternal life.
We see this reflected also in the English word "cemetery," which comes from the Greek "koimitirion," meaning "sleeping place," and the August 15 Feast of the Dormition of the Theotokos which is, in Greek, "Koimisis Tis Theotokou," or "Sleep of the Virgin Mary."
Koliva can be decorated very simply or in some cases involve extremely elaborate designs. Koliva for individual memorials or funerals will often also have the first and last initials of the departed incorporated into the design.
Almost every koliva will prominently feature a cross in the design, and this can be as simple as two freehand straight lines of almonds or highly detailed creations. I've included a sheet of four simple stencils that you can print out to help the less than artistically inclined like myself!
Please remember, all decorative elements must be edible! The entire koliva, decorations and all, will be mixed together before serving, so make sure not to add anything that might send someone to the dentist.
For more koliva design ideas in addition to those featured in this post, just search for 'koliva' in Pinterest — some are absolutely amazing!
Traditional Koliva Recipe
Ingredients
2 cups dried wheat berries (6 cups cooked)
8 cups water
1 1/3 cup toasted almond flour*
½ cup toasted sesame seeds
1 cup chopped walnuts
¼ cup chopped fresh parsley
1 ripe pomegranate (approx. 1 cup pomegranate seeds)
½ cup golden raisins
2 cups powdered sugar
Decorative options: Remember, these must be edible (these are in addition to the amounts above if you also are using to decorate with).
Whole, blanched almonds**
Candy covered Jordan almonds
Golden raisins
Pomegranate seeds
Cinnamon sugar – equal parts cinnamon and granulated sugar
Dusting colors – mix one part dust to four parts granulated sugar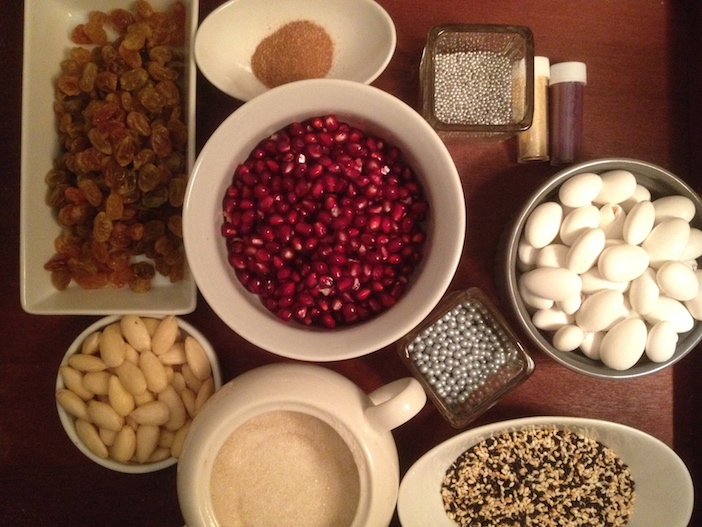 Prep schedule (Accommodates those who work weekdays)
Two days before memorial service

Morning — soak wheat all day
Evening — boil wheat, drain, set out to dry overnight

One day before memorial service

Morning — transfer now dry cooked wheat into large bowl, cover and refrigerate
Evening — prep all additional ingredients; mix in with cooked wheat; plate wheat mixture; cover with toasted almond meal and pat down well/smoothly with wax paper: set out all decorative elements

Night before/morning of memorial service (before church)

Cover plated wheat mixture with powdered sugar
Smooth down with wax paper
Decorate
Make ahead option: You can go as far as mixing all the ingredients into the cooked wheat and keeping it in a Ziploc bag in the refrigerator for up to three days in advance. Then, plate and decorate on the night before or morning of the memorial service.
Instructions
1. Soak wheat berries for approx. 8 hours or overnight in 10 cups of cold water.
2. Drain, rinse and add to large pot with 8 cups cold water. Bring to a boil, lower to a simmer and cook for about an hour until soft but not mushy. Grains of wheat will begin to plum and almost split.
3. Add a cinnamon stick, the peel of 1 orange or 1 tsp anise seeds to the boiling water for extra flavor.
4. Drain cooked wheat well and transfer to a clean, lint free towel or sheet laid on countertop. Spread wheat out in a single layer.
5. Allow at least 3-4 hours to dry completely, preferably overnight. You can do this up to 3 days ahead and store, covered in the refrigerator.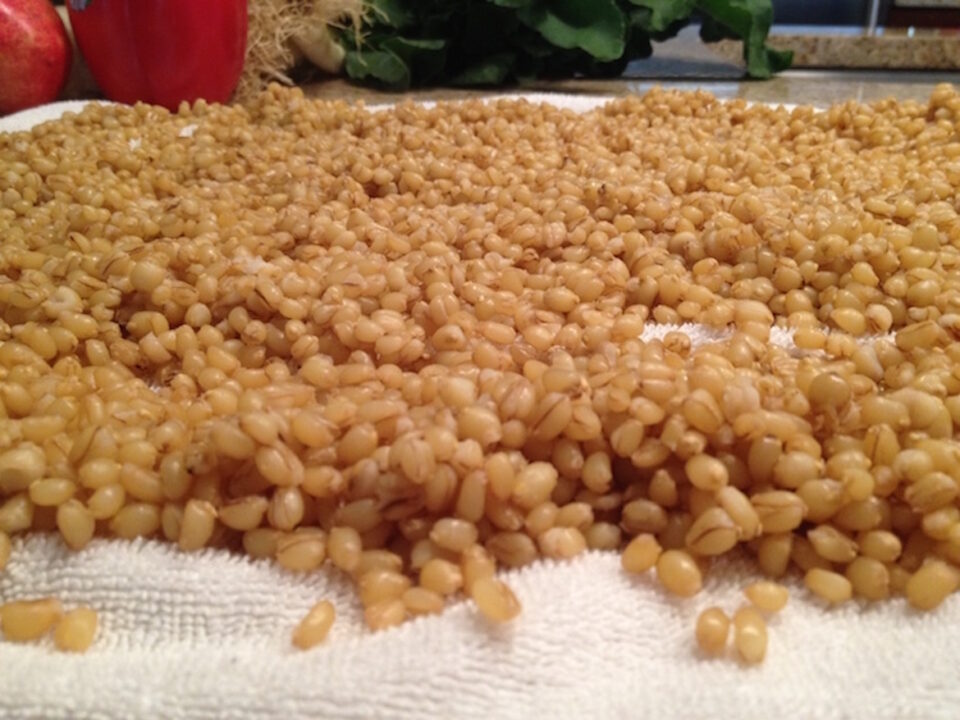 6. Prep mix-in ingredients
Lightly toast almond flour in frying pan over VERY low heat until just soft brown in color. This takes a few minutes and it may not seem like anything is happening but stir frequently and be careful not to burn! Set aside. If this is your first time, make sure you have double the almond flour amount on hand in case you accidentally over cook the first time.
Lightly toast sesame seeds in frying pan over VERY low heat for max 3-4 minutes until the seeds just begin to release their sesame aroma. Set aside.
Cut and de-seed pomegranate and set aside on paper towel to dry.
Chop fresh parsley well and set aside. Make sure to rinse parsley well and pat dry before chopping.
Chop walnuts into small pieces and set aside.
Break up golden raisins/sultanas, soak in boiling water for 15 min, set aside.
Once wheat is completely dry, transfer from towel/sheet to large bowl. Combine wheat with other ingredients except the powdered sugar.
Remember to reserve 2/3 cup toasted almond flour. Mix gently and well to incorporate everything completely and plate. Pat down gently.
Transfer wheat mixture to bowl or platter of your choice and gently pat down.
Cover with remaining 1 cup of toasted almond flour and pat down gently and well. A piece of wax paper does this job perfectly.
7. Once the toasted almond flour has covered the wheat mixture completely and the wheat mixture is no longer visible, carefully sift powdered sugar over the almond flour.
8. Pat down and smooth with wax paper. Decorate as desired.
9. BE VERY CAREFUL transporting the koliva to church! Consider decorating your koliva at church if you are going to make an intricate design — this is a great option and much less stressful!
Alternate options
Include crushed paximadia, graham crackers breadcrumbs, or toasted chickpea flour
If using zwiebacks (paximadia) or graham crackers, make sure these are crushed very fine. Remember that they will add to the overall sweetness of the koliva. If you prefer a less sweet finished dish, consider going with the breadcrumbs or toasted flours.
Almonds (buy blanched or blanch at home – simply cover twice in boiling water emptying and rinsing with cold water between each boiled water bath and gently rub brown skins off with dish/paper towel)
About the serving size
This recipe makes approximately 7 cups of koliva that is ample for a large platter for a funeral service or individual memorial. You can use half the recipe (and freeze the other half for up to 6 months) for Saturday of the Souls when other people will also be bringing koliva on the same day.
For a very large funeral or large memorial service, simply double (or triple) this recipe and use a sheet pan to accommodate the larger amount with doilies tucked underneath to fancy up the pans edges.
Use small plastic square cups to serve neatly with matching petit spoons.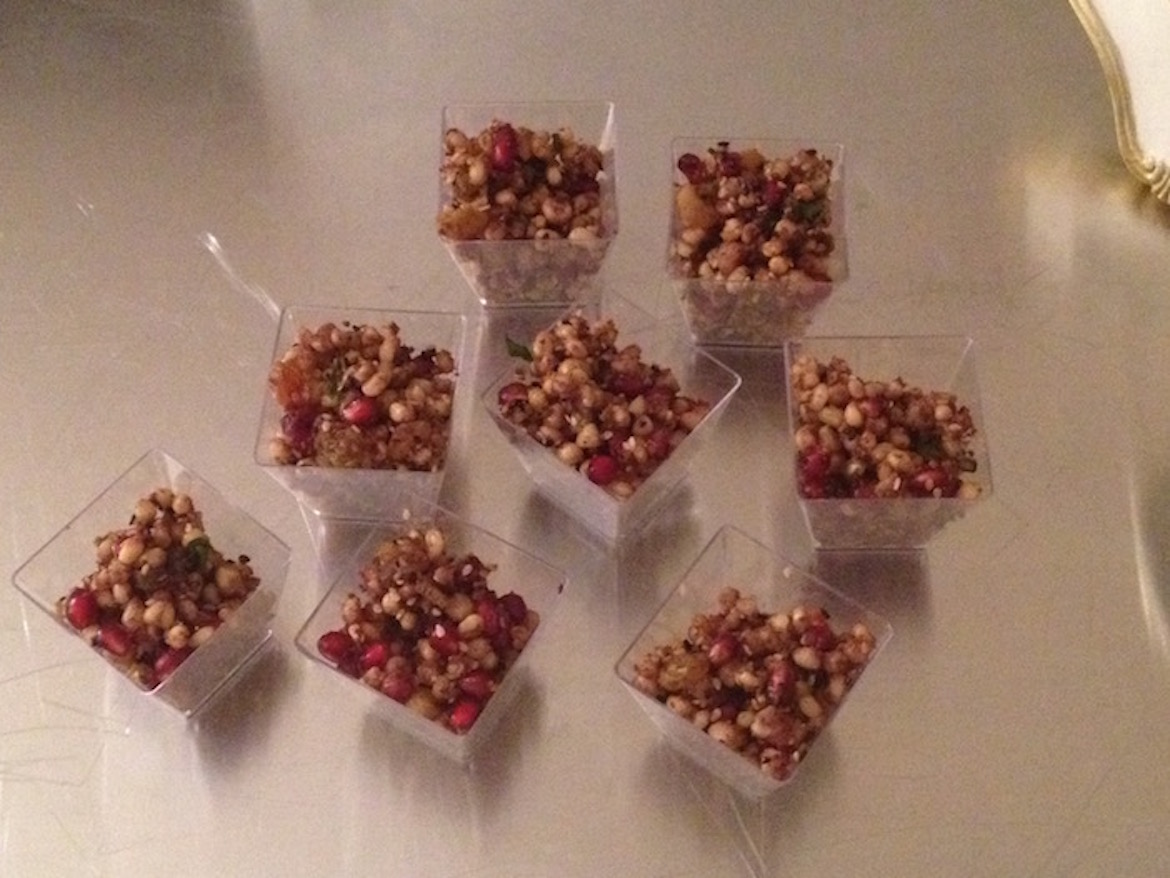 ---
About the author
Kiki Vagianos is The Greek Vegan! Kiki lives and cooks in Boston. She spends her free time collecting, testing and posting favorite traditional Greek recipes at The Greek Vegan website. She loves sharing these simple and delicious authentic dishes and helping to bring them back into kitchens throughout the Greek diaspora. Kali Orexi!
---
Is The Pappas Post worth $5 a month for all of the content you read? On any given month, we publish dozens of articles that educate, inform, entertain, inspire and enrich thousands who read The Pappas Post. I'm asking those who frequent the site to chip in and help keep the quality of our content high — and free. Click here and start your monthly or annual support today. If you choose to pay (a) $5/month or more or (b) $50/year or more then you will be able to browse our site completely ad-free!

Click here if you would like to subscribe to The Pappas Post Weekly News Update