When one University of Michigan undergraduate decided to offer assistance to imperiled people in Greece last summer, she thought the process would be simple: go over, do her job, and come home content.
But, in retrospect, she realized that the reality she faced was far more complex.
"I went into it thinking I'm going to go help these people, and I'm going to come out of it and I'll have helped them and I'll be satisfied," Stavroula Kyriazis told The Pappas Post via phone interview. "But I came out of it and I learned that there was a lot more work that needed to be done."
Kyriazis volunteered as an intern with Solidarity Now, an Athens-based social service organization that operates help centers around Greece, offering support to any individual in need.
With a staff that includes social workers, psychologists, translators and a doctor, the organization mostly assists refugees and migrants from countries such as Syria, Afghanistan, and Pakistan, but it also provides services to local Greeks.
Officially, Kyriazis worked as a secretary/desk receptionist, every day greeting beneficiaries who came seeking help at the center in Athens; nonetheless, the rising junior said her title does not fully describe all that she witnessed on the job.
"It was more than just being like, 'Hi, how are you? Write your name down,'" she said. "A lot of the time the beneficiaries would just pour their heart out [in their native language] and just kind of look at me and the other receptionist, and we'd have to figure it out."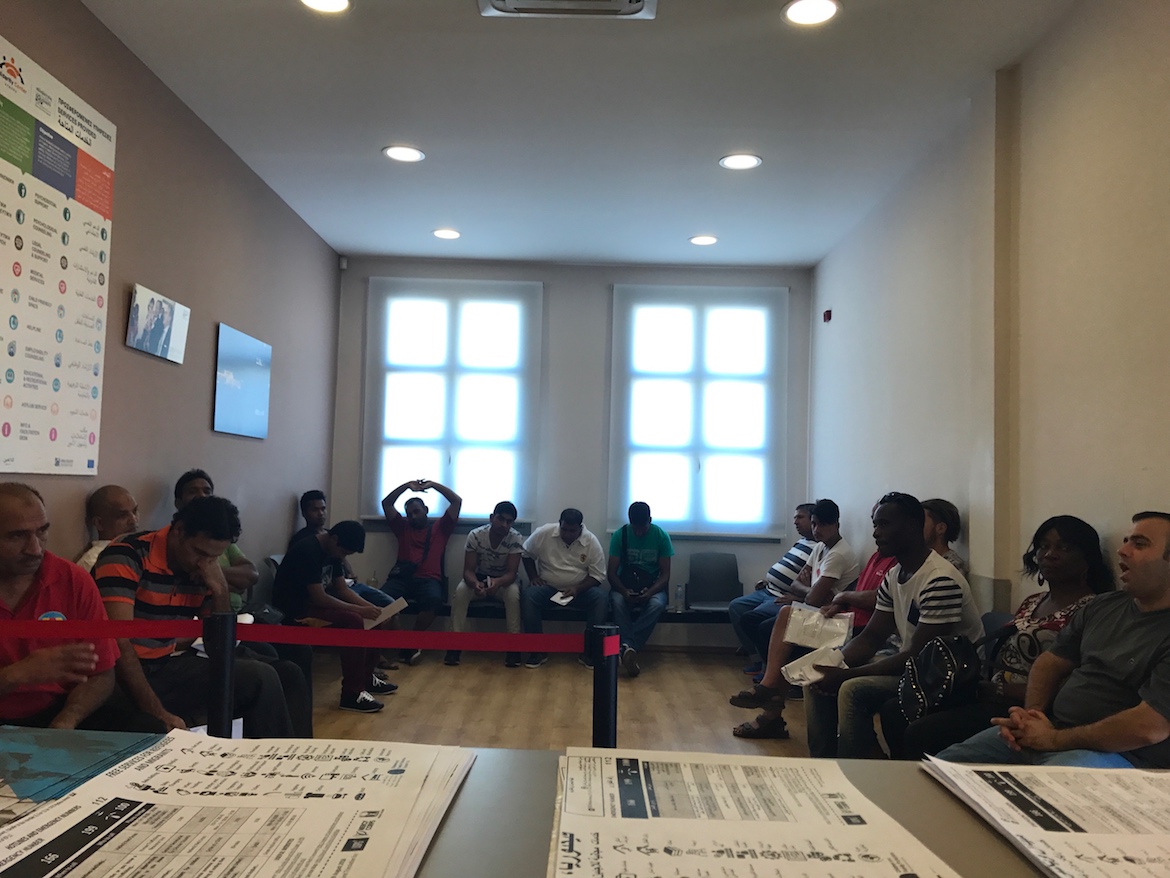 The 2017 migrant influx in Greece (29,595 arrivals) had decreased since its peak of 173,561 arrivals in 2016, but in a country already grappling with economic turmoil and crippling debt, the national infrastructure continues facing challenges related to the refugee crisis.
One of the most telling examples is what Kyriazis described as the Greek government's "flawed system" for asylum applications, where bureaucratic structures and other technicalities regularly impede the process for applicants.
"People need to fill out their asylum card and apply for asylum, but they don't speak English or Greek," she said. "For interviews in certain languages such as Urdu, the Greek government only has available interviews on limited days, twice a week for a few hours, so some people could end up waiting months at least [to get an interview]."
The process is as complex as the diversity of the asylum seekers' spoken languages — Arabic, Urdu, Farci, Kurdish, and others. Even though Solidarity Now had translators on site, Kyriazis said the linguistic variety still created difficulties for the staff.
"It was nice when we had translators, but we only had three or four translators in the office," she said. "If the beneficiaries had to go to a social worker or psychologist, sometimes they could wait hours because they legally needed a translator to go with them."
Kyriazis explained that Solidarity Now workers would direct people to where they needed to go — a doctor, psychologist, and so on — but constantly had to deal with another complicating factor: beneficiaries not having money.
"The problem is that, first of all, a lot of these people don't have money to take the bus," she said. "A lot of times they wouldn't even have money to get train tickets."
Furthermore, Kyriazis said that, while entering people's names into an online system, she had to pay close attention to the legitimacy of their identities, recalling an instance where one man had a fake under-17 birth certificate in hopes of receiving government benefits afforded to minors.
"This one guy had printed off a Word Document 'birth certificate' from Pakistan where he said he was 15, but he was clearly over 21," she said. "A lot of times these people's certificates were so torn up and taped because they'd just been through so much."
The Michigan undergraduate spent the whole summer volunteering in Athens, but she said it was far from her first time across the pond; her father hails from a small village in the Peloponnese near Ancient Olympia and the family makes regular summer visits to Greece.
In fact, Kyriazis credited her Greek-American background for helping her to develop greater chemistry with co-workers, saying that her heritage was a source of personal workplace motivation.
"I identify as a Greek as well [as American], and these people were coming to my country and I felt that I was working for my homeland," she said. "I worked in Argentina before I went to Greece and, although it was the same work, I didn't have the same passion and drive as I did in Greece because it was in my home territory."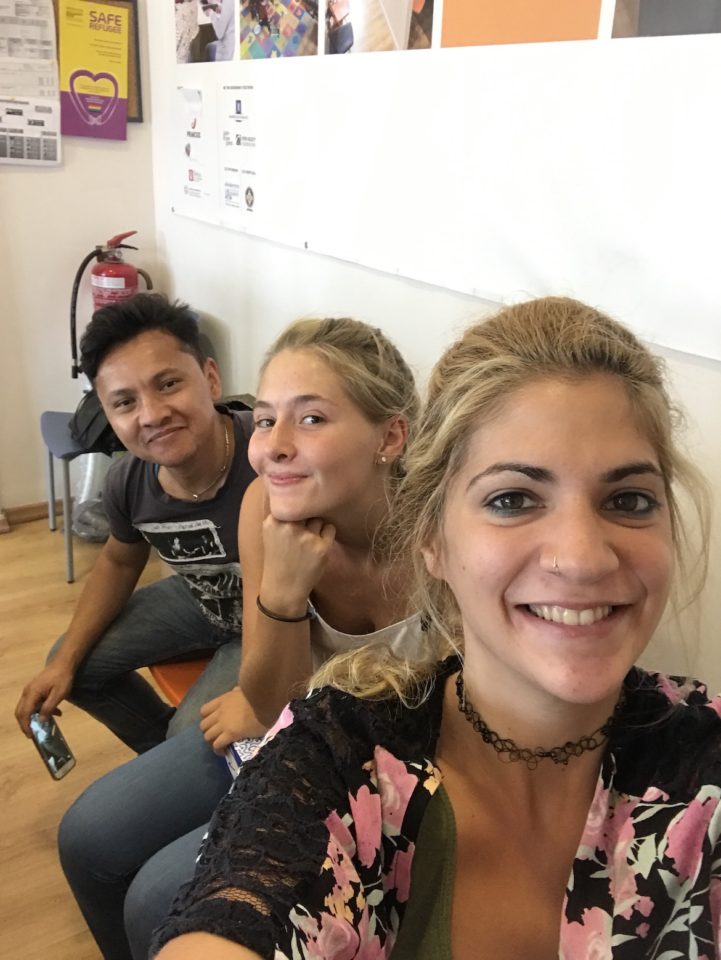 The internship came through Michigan's Opportunity Hub — a student support program offering resources such as preparatory courses, mentorship and internships; however, Kyriazis said she first heard about the offer through the university's Modern Greek program.
Now entering her third year studying public policy with a minor in international relations, Kyriazis explained that she knows a Greek professor whom she had asked about summer opportunities in Greece.
"I was looking for something with humanitarian work — working with NGOs, working with someone one on one," Kyriazis said. "She knew I was interested in international relations and told me she knew this organization called Solidarity Now and that she could send two Michigan students to go work with them."
The rest, she said, "just worked out," as she ended up having an experience that has helped shape her future goals.
"I'm really interested in international law and human rights. I think I want to go to law school, study international law and become an international human rights attorney," she said. "I realized that, to make real change, I'm going to have to take more of a policy approach to it than a helping approach,"
A year has passed since Kyriazis' stint in Athens, but the aspiring attorney has continued taking action and gaining more international experience.
This past spring semester, she traveled to Amsterdam in the Netherlands where she completed a three-week program about European Union history and politics, immediately following it up with six more weeks in Geneva, Switzerland studying multilateral diplomacy and French.
The most important lesson Kyriazis has learned through it all?
"If you care enough, you can make a difference," she said. "But you really have to care enough."
For more information, contact Stavroula Kyriazis: stavrkyr@umich.edu / +1 (310) 738-9575
** CORRECTION: A previous version of this article incorrectly stated that Kyriazis studied in Amsterdam, Netherlands for four months; Kyriazis studied there for three weeks. **
*****
Since you're here… I have a small favor to ask.
More and more people than ever before are reading The Pappas Post and despite increasing costs to maintain the site and provide you with the quality content that you deserve, I will never "force" you to pay for our website or add a paywall. I believe in the democracy of the internet and want to keep this site and its enriching content free for everyone. But at the same time I'm asking those who frequent the site to chip in and help keep it both high quality— and free. We've implemented a "free-will" annual subscription for those who want to support our efforts. I guess it's fair to call it a philotimo subscription… because you don't have to do it but it's really the right thing to do if you love the site and the content we publish. So if you like The Pappas Post and want to help, please consider becoming a "philotimo subscriber". Click here to subscribe. If you'd rather make a one time donation, we will gladly accept any amount, with appreciation. Click here to donate any amount.