My definition of a free society is a society where it is safe to be unpopular –Adlai E. Stevenson
Democracy. Logic. Civility. Humanity.
In the country that reminds the world every single day that it gave it these values, you'd think its citizens would respect them. Or at least some of its citizens, who are ironically the ones who love to refer to themselves as the "patriotes" or guardians of all that is Greek.
A brutal attack took place against Thessaloniki's mayor, Yiannis Boutaris, out in the open and for all the world to see. Dozens of photos and videos have gone viral and hundreds of newspapers throughout the world are now headlining Greece's "Far Right Violence."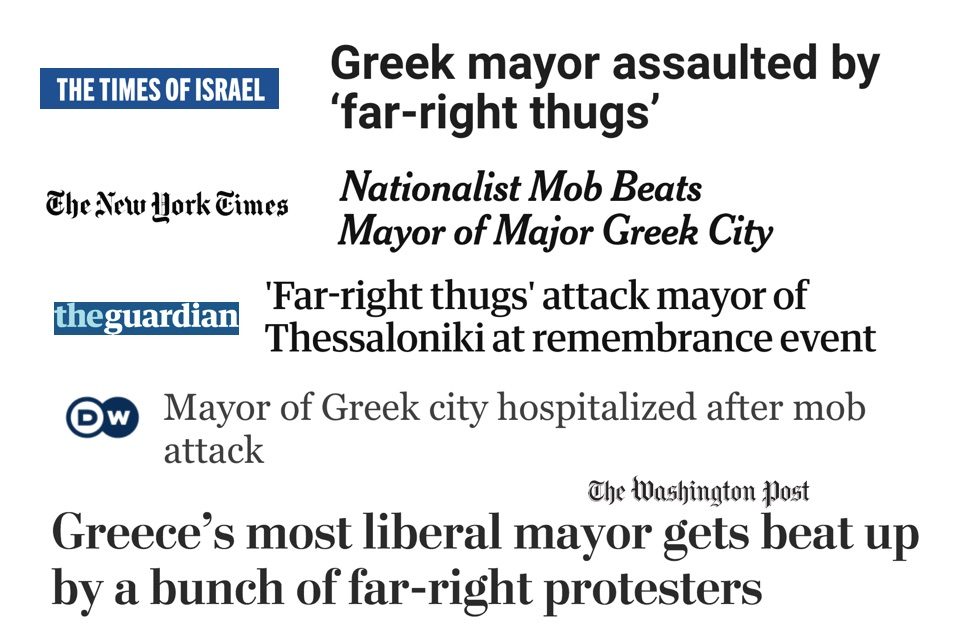 Already, two non-Greek friends of mine have emailed me asking if the country is safe for their holiday this summer. A note to The Pappas Post came, signed by a "John S.," stating "First Santa Fe, now Thessaloniki. You guys are barbarians."
Boutaris is a complex man and like any leader, there are those who worship him, as well as those who despise him. This is the curse of leadership.
Speak to those who support him and voted for him– they'll tell you that Boutaris is the greatest mayor the city has ever seen, fixing its infrastructure and focusing on supporting the local tourist industry by making Thessaloniki a more welcoming city– particularly people who share a common heritage with the city.
Ask his detractors, and they'll tell you that he's a traitor, a sell-out or an anti-Hellene.
His detractors are usually ultra-right-wing nationalists who oppose his relations with the city's LGBT community, his openness to welcoming Turks to see the home of Kemal Ataturk, and his outspoken opinions about issues like the name of the former Yugoslav Republic of Macedonia and the Genocide of Greeks in Turkey.
His opinions are– his opinions. And in a free and open democratic society, a human is encouraged– and allowed to have them.
Ironically, I do find some of his opinions– and how he chooses to express them, offensive. But they're his.
Whether we agree with Boutaris' politics or statements or not– especially in a society that prides itself on democratic values and freedom, like the Greeks, Boutaris has every right to have them.
Greece is NOT Turkey, a nation whose culture includes violence and suppression of free thinking. Greece is not Putin's Russia where free-thinkers, journalists or people whose opinions don't tow the party line are imprisoned or poisoned.
What we experienced in Thessaloniki is akin to what we'd expect to see in rogue nations like Turkey or Russia, where thuggery rules and people with strong opinions are… neutralized by violence.
The 75-year-old mayor sustained injuries to his head, back and legs after being attacked with bottles and kicked in the head and body. He remained in the hospital for observation but was expected to be released without permanent harm.
But the harm to Greece's reputation– especially in the international media– won't be a weekend thing.
These fascist thugs that attacked Boutaris obviously don't agree with his positions. They dislike his statements and comments. They hate that he's open to LGBT issues. They hate the fact that he's building a Holocaust Museum to recall the city's rich Jewish history.
And like true fascists, they want to use violence to crush him and muzzle his opinions.
Such tactics are CONTRARY to the spirit of every single Greek who came before this generation and fought– and died– so that Boutaris would be allowed to have his opinion.
This is democracy. This is freedom.
What these thugs are promoting is fascism and a lot of my family members died a generation ago fighting the last fascists that set foot in Greece, the Nazi Germans.
Kostas Tsakalidis, a Thessaloniki-based photographer witnessed the attack and told Al Jazeera that "A group of people started to shout at him for his opinion on the Macedonian dispute, the LBGTQI community, Turkey, and [nationalist] football clubs."
"Some people were shouting about Jews," Tsakalidis said, adding that Boutaris fell to the ground after being hit, while attackers threw bottles "and other objects" at him. One assailant proceeded to kick the mayor as he lay on the pavement.
In a "Western" and free and democratic society, these kinds of actions need to be repudiated in the strongest possible way.
Of course– anyone is free to oppose Boutaris, his statements, his policies or even his company's wine, or his tattoos and bracelets. That's your prerogative. But voice your disagreement in the ballot box or in some other form of protest. Paint signs, picket the Mayor's office. Boycott his winery.
But resorting to violence and kicking a 75-year-old man while he's already down?
That's cowardly– and barbarian.
*****
Since you're here… I have a small favor to ask.
More and more people than ever before are reading The Pappas Post and despite increasing costs to maintain the site and provide you with the quality content that you deserve, I will never "force" you to pay for our website or add a paywall. I believe in the democracy of the internet and want to keep this site and its enriching content free for everyone. But at the same time I'm asking those who frequent the site to chip in and help keep it both high quality— and free. We've implemented a "free-will" annual subscription for those who want to support our efforts. I guess it's fair to call it a philotimo subscription… because you don't have to do it but it's really the right thing to do if you love the site and the content we publish. So if you like The Pappas Post and want to help, please consider becoming a "philotimo subscriber". Click here to subscribe. If you'd rather make a one time donation, we will gladly accept any amount, with appreciation. Click here to donate any amount.