Leave it to a social media and marketing entrepreneur to announce to the world that he and his wife are expecting their first child— in a way that might very well go viral online. Canadian-born George Stroumboulis shot a selfie of his wife Constandina Shakolas Stroumboulis hugging the porcelain god in what appears to be her first round of morning sickness. In the typical smile of any great selfie-taker, George shows his happiness with a "thumbs up". He posted the photo on his Facebook page and tweeted it moments later.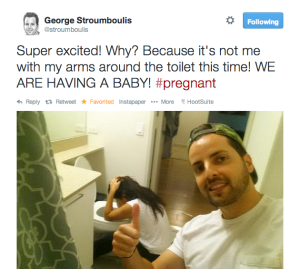 George runs Boulibrand, a marketing strategy agency based in New York City. He's a jack of all trades in various related fields and has worked in more than a dozen nations around the world.
No word yet if George will still be married to see the birth of his first child— His wife has yet to respond to his Facebook post or Tweet.
Tweet your congratulations to George.
Editor's note: Best wishes to my close friend and Greek community confidant and supporter. Best wishes to you and Constandina. Kali Lefteria as we Greeks say and thanks for allowing me to share this "special" moment with the world via The Pappas Post. With love, Greg