Greek prime minister Alexis Tsipras has declared today, November 16, 2017, a national day of mourning in Greece following devastating floods in the western outskirts of Athens that have killed 15 people and left hundreds homeless.
Officials in the town on Mandra called the damage "Biblical" while dozens of cars were swept into the sea and buildings were flooded all the way to their second levels in some areas.
Tsipras also announced that his government would implement support measures for households and businesses affected by the flash floods.
European Commission President Jean-Claude Juncker said that European Union emergency assistance mechanism would be at Greece's full disposal, which included support and relief teams, as well as emergency cash to assist in clean up, search and rescue and other post-disaster services.
"I am saddened to learn about the many people who have lost their lives and loved ones during the deadly floods affecting central Greece. On behalf of the whole European Commission, I would like to express our full solidarity with the Greek people and authorities at this difficult time. A tragedy in any of our Member States is a tragedy for all of Europe. We stand ready to support Greece in any way we can. Our EU emergency assistance tools are at the full disposal of the authorities," Juncker said in a statement.
Throughout the devastated areas, citizens were seen assisting the elderly out of flooded homes and helping to move debris so that first responders could get through streets that were covered in debris.
Neighbors and strangers became heroes
Scores of people were also seen retrieving their pets from flooded gardens, including this man who rescued his two dogs and a cat from his home, jumping over an automobile to exit his property.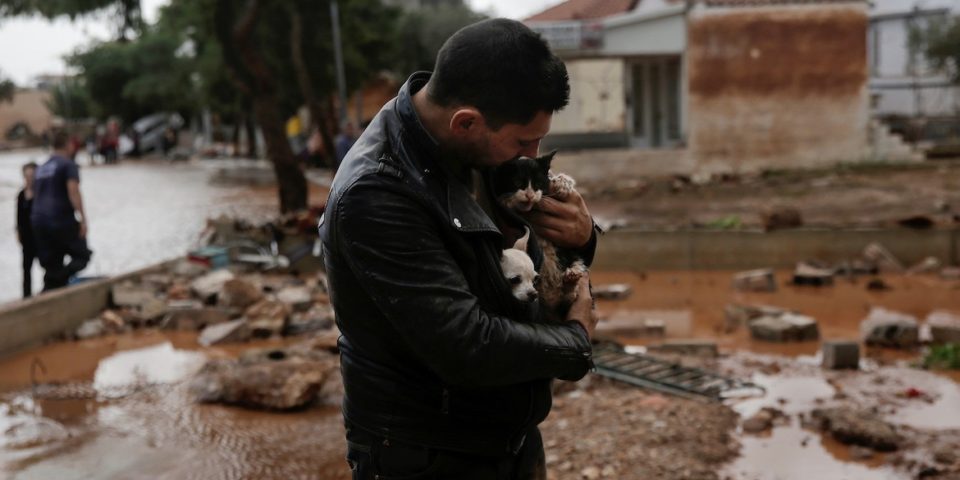 Additional photos from the catastrophic floods:
Cover image: A local, carrying a dog in his jacket, holds a cat he saved from a tree, following a heavy rainfall in the town of Mandra. (ALKIS KONSTANTINIDIS/REUTERS)
*****
Since you're here… I have a small favor to ask.
More and more people than ever before are reading The Pappas Post and despite increasing costs to maintain the site and provide you with the quality content that you deserve, I will never "force" you to pay for our website or add a paywall.
I believe in the democracy of the internet and want to keep this site and its enriching content free for everyone.
But at the same time I'm asking those who frequent the site to chip in and help keep it both high quality— and free.
We've implemented a "free-will" annual subscription for those who want to support our efforts. I guess it's fair to call it a philotimo subscription… because you don't have to do it but it's really the right thing to do if you love the site and the content we publish.
So if you like The Pappas Post and want to help, please consider becoming a "philotimo subscriber".Click here to subscribe.
If you'd rather make a one time donation, we will gladly accept any amount, with appreciation. Click here to donate any amount.