"It's obvious to me that Greece has taken on the biggest burden and I don't think that's fair," Susan Sarandon told a crowd that gathered when she visited the Ellinikon refugee center, which is a former Olympic field hockey venue outside Athens.
Sarandon spent her Christmas holiday on the island of Lesvos, meeting and working with volunteer groups who are assisting arriving refugees.
"I'm not here to solve the problem," the American actor told the crowd, adding that "For me, it's important that the world understands that the Greek organizations and those who have come to help— from all over the world— have succeeded, with great effort, to save these people."
Sarandon also urged people to view the refugee crisis as a humanitarian issue rather than political problem.
"Americans need to understand that this is not a political issue, but a humanitarian crisis and they must understand that this is a very complicated, and these refugees are people too," Sarandon said.
Following a week in Lesvos working with various volunteer groups, Sarandon stopped in Athens for a visit to the Ellinikon refugee center, before meeting with the government's Alternate Minister for Migration Policy, Yiannis Mouzalas.
Sarandon promised to return to the United States and let people know what she saw and experienced first hand about Greek efforts, as well as the plight of the refugees.
She's been blogging about her experiences on The Huffington Post and RYOT.org in a series called The Crossing and has written numerous first hand accounts of her time on the island of Lesvos.
She had a particularly emotional experience when she met a young mother with a newborn baby on Christmas Eve.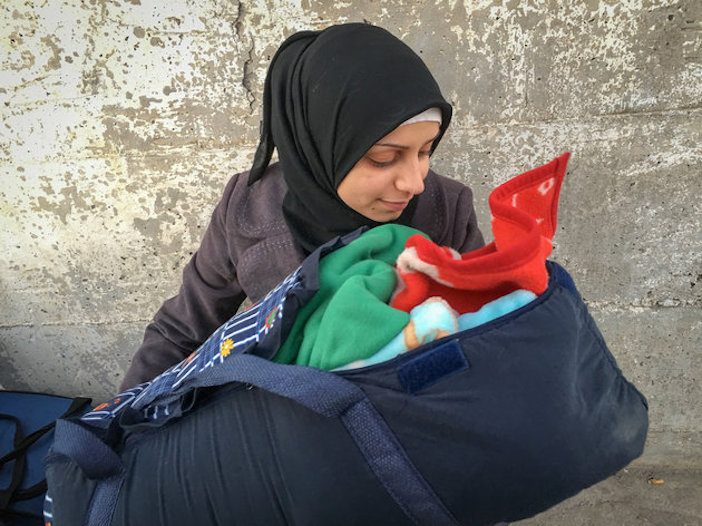 There's a beautiful 16-year-old girl sitting against a wall, atop a pile of possessions. Night is falling fast, but she is calm.
Her husband is off getting food. They have arrived recently by sea and will now join the four-deep queue that stretches blocks to register.
I smile and approach her, but without a translator our conversation is basic and friendly. She takes the bundle next to her and opens it up to me. Inside is a perfect, rosy newborn.
Five days old, she tells me with her fingers. "Beautiful," I say.
She is beaming and so proud.
How did this young girl, just having given birth, manage that trip at sea? How did she do all that walking? Where did she give birth? Wasn't Mary just a kid too when she and Joseph took to the road?
So far, there is no manger for this Syrian baby — no room at the inn. I run to inform the clinic. Later, they tell me they tried to bring her inside but she wouldn't leave her spot, afraid to loose her place in line.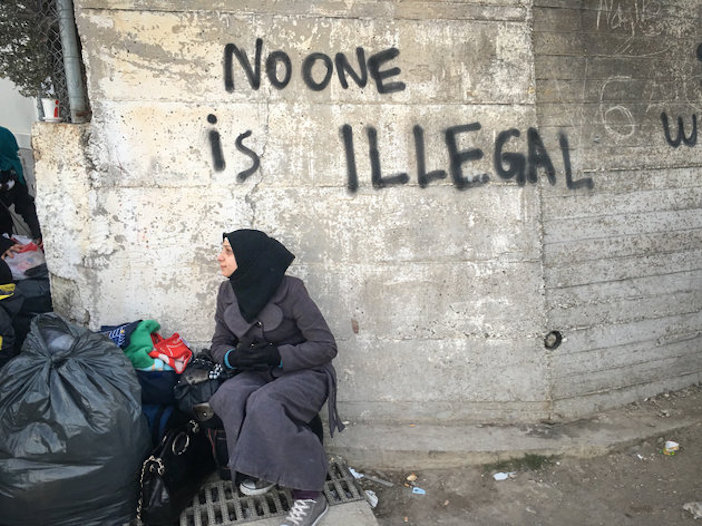 Photos: Tyson Sadler for riot.org and The Huffington Post