There is a unique awareness on Ikaria Island. It draws from Ikaria's steep mountains, severe slopes, capricious winds, wild nature and most of all — an elusive history of hiding from pirates.
Like many islands in the Aegean, Ikaria was prone to piracy during long periods of its history. To protect themselves, Ikarians built stone houses that blurred back into shadows and a harsh rocky terrain. For centuries Ikaria appeared uninhabited from its shores.
Ikarians, in essence, lived invisible lives.
One has to wonder how that felt like: to live an invisible life. Whatever it felt like, people are now trying to experience a slice of Ikaria.
The island has been labeled a Blue Zone — where locals tend to live the longest in the world. Many tourists head to Ikaria's crystal blue seas, remote beaches and seaside tavernas: natural inclinations for island hoppers. But the real secrets of Ikaria may reside much higher up, in the mountains.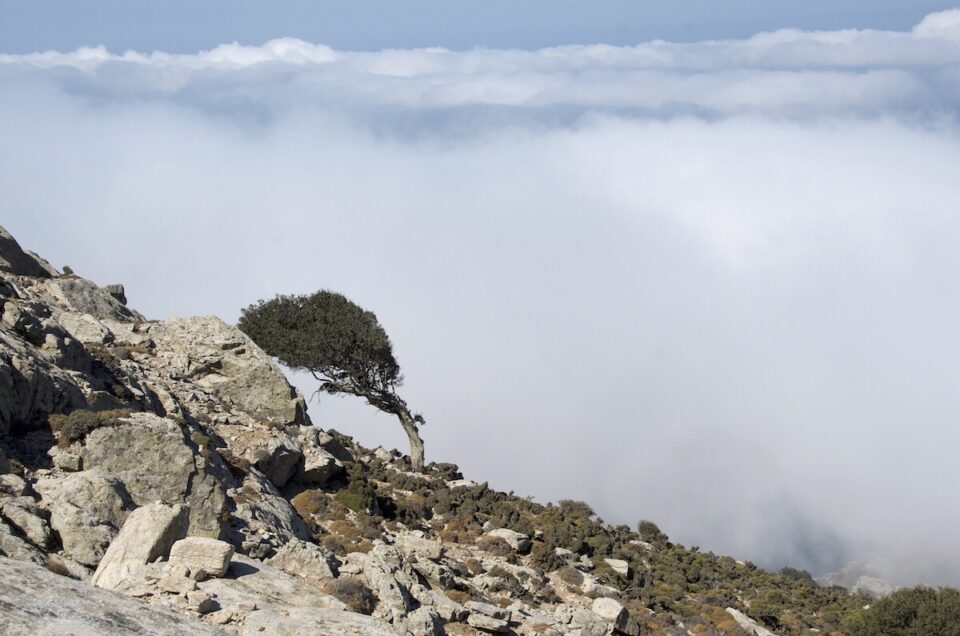 A large network of intricate footpaths (μονοπάτια) exists on Ikaria. Many represent old routes that connected hamlets and remote parts of the island for centuries (before roads were built). They cover the island like a spider web and lead to rivers, mills, monasteries, stone structures, ancient ruins, farms and terraces and some of the island's last remaining 'anti-pirate' houses.
There is one 'anti-pirate' village sacred to Ikarians. Locals whisper about it like a legend. It is called Lagkada (Λαγκάδα), is hard to find and symbolizes the island's renegade spirit and stout sense of freedom.
During the Middle Ages up through the 17th century, in times of pillage and looting, Ikarians gathered in Lagkada to escape capture and persecution. They slept on floors, owned minimal utensils and often just owned the clothes on their backs. Their great resilience, enduring both natural and human threats, captures the pride of the island.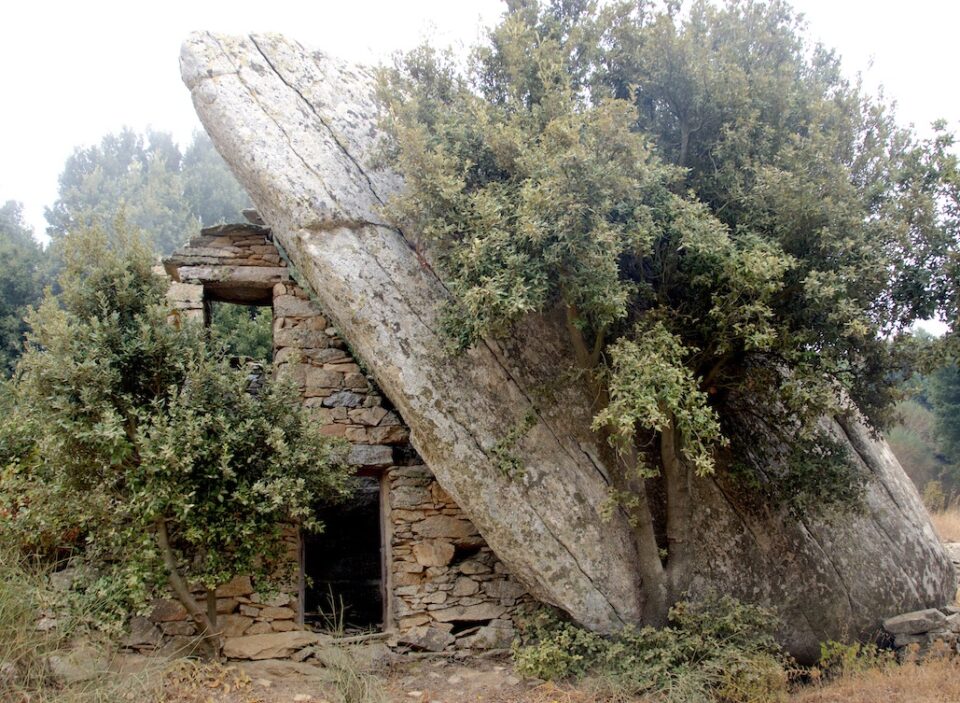 Lagkada can be reached by footpath from another mountain village, Vrakades. The 1.5-hr long footpath is an experience beyond all others. It horizontally cuts across a severe, sloping landscape that's rich in biodiversity.
The mountainous views melt into the surreal, especially when mists sweep in and transform wind-blown shrubs into dark gnarly outlines. This area of western Ikaria lies within a designated Natura 2000 site for its protected bird species.
Lagkada itself feels mysterious, silently haunting and charged with energy. Remnants of its past are imbedded in the tall grasses. The surrounding fields are still fertile and used by farmers.
Looking closer, one can discover what is actually here. Lagkada's little church has a painted wooden iconostasis fit for a museum. A picture of a later school trip shows some children wearing no shoes.
On August 15th, an important panigiri (festival) takes place in the village square. To walk here and then dance arm and arm, under the stars, hidden from the rest of the world, may be the ultimate way to experience Ikaria.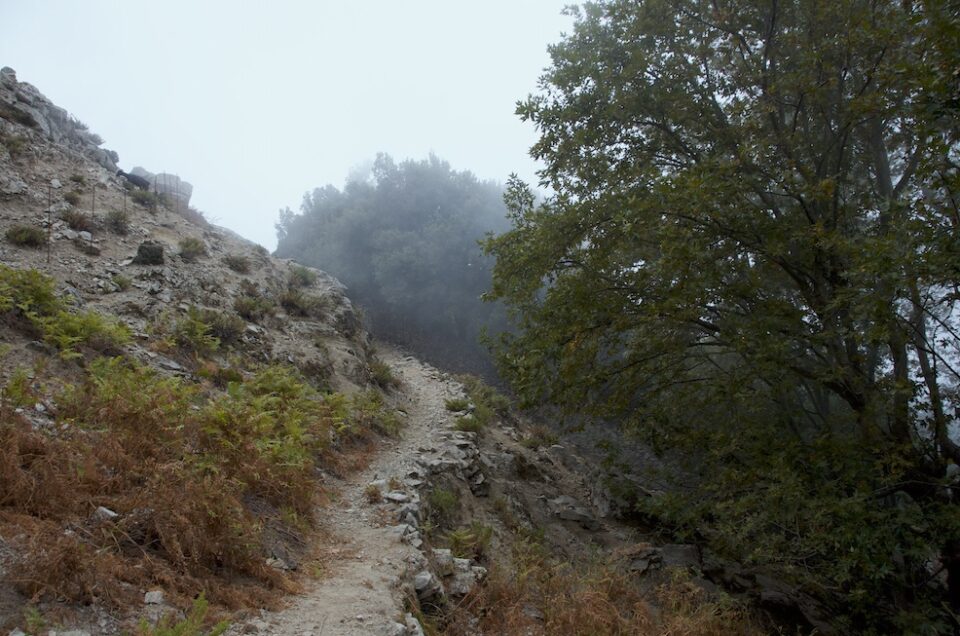 Hanging over all this is the question posed by longevity researchers: why do Ikarians live so long? What makes them tick and continue to tick? Is it the food? The mountain air? Community and family? Sex at old ages?
The answers may lie along the island's footpaths. Perhaps only by slowing down, walking, stopping and witnessing life (past and present) along its hidden paths, can a true understanding of Ikaria be achieved.
---
Five years ago, Charlene Caprio and Lefteris Tsouris mapped out many of Ikaria's footpaths in a travel guidebook: "Ikaria Island: Explore and Experience." The book showcases 10 foothpaths, including a footpath for nearby Fourni Island, with accompanying maps. It also has chapters on Ikaria's history, not-to-miss restaurants and attractions. Ikaria's nature is highlighted too, along with other quirky insights about the island. The book has been praised by locals and is sold in shops across the island. Lefteris is a cartographer and owns the trekking and mapping company Geopsis. Charlene lived and worked on environmental projects on Ikaria. The two also lead retreats together on the island.
---
Is The Pappas Post worth $5 a month for all of the content you read? On any given month, we publish dozens of articles that educate, inform, entertain, inspire and enrich thousands who read The Pappas Post. I'm asking those who frequent the site to chip in and help keep the quality of our content high — and free. Click here and start your monthly or annual support today. If you choose to pay (a) $5/month or more or (b) $50/year or more then you will be able to browse our site completely ad-free!

Click here if you would like to subscribe to The Pappas Post Weekly News Update