The main cemetery on Lesvos is named after a prominent Orthodox Christian saint named Panteleimon, a physician who dedicated his life to the suffering, the sick, the unfortunate and the needy. He treated all those who turned to him without charge— much like numerous volunteers doctors and nurses currently assisting tens of thousands of incoming refugees.
But those who are buried in the cemetery bearing his name weren't the lucky ones to receive care provided by the modern day Panteleimons— they are those who never made it alive to the island, whose bodies have washed up on the island's beaches, lifeless.
The cemetery, usually reserved for Greek Orthodox Christian residents has three levels of tombs, ranging from the grand monuments to some of the island's wealthiest citizens to the third level— the paupers' tombs where those whose families didn't have means are buried in the ground.
Now there is a new section beyond the paupers' graves— the refugee graves.
In a corner at the back of the site are mounds of earth that lie at a different angle compared to the rest of the graves. The mounds of dirt are topped with pieces of marble serving as headstones, handwritten with serial numbers and names like "unknown minor" and "unknown Syrian." Some just have a number and date they were found.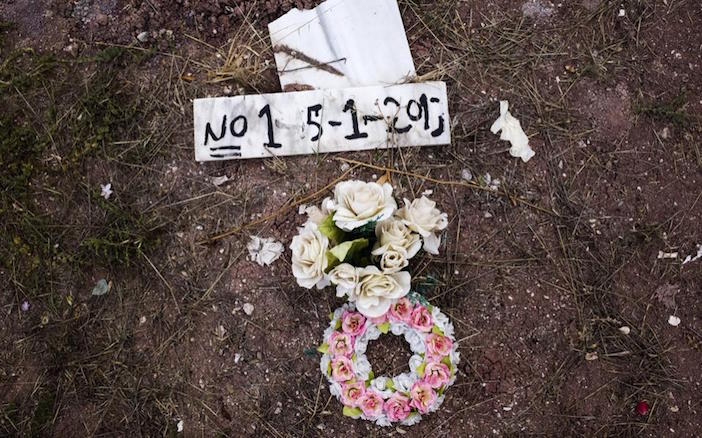 This is the final resting place for those who were unsuccessful in completing the perilous journey from Turkey to Lesvos.
"Our dead are buried facing east," explains Christos Mavrakidis, "but the Muslims ask to be buried on their side, facing Mecca."
The local church's philanthropic organization fulfills the wishes of the Muslims and undertakes the process of the burials.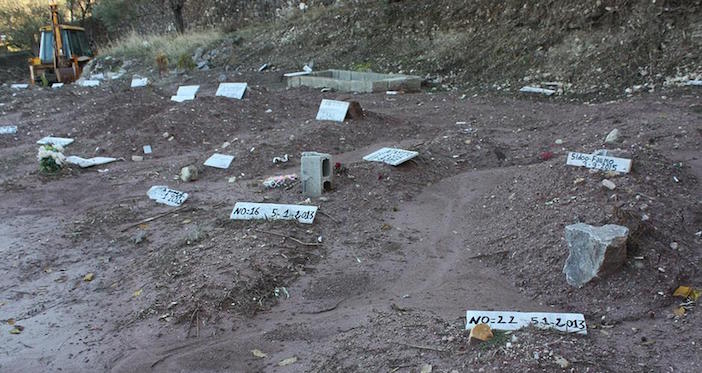 "Especially when we bury a child, the local mothers from around here cry too. We're all human," Mavrakidis said. "They left for a better tomorrow which they never saw."
But the cemetery is now completely full.
"There isn't an inch of space left," said Mavrakidis. "They brought us this body the other day and begged us to bury it even though there was no space," explaining that the grave was squeezed in between two existing graves.
"But I don't know what we'll do from now on."