The full and true story of the destruction of Smyrna and expulsion of the Greeks from Asia Minor is now being told in The Great Fire, a forthcoming book, published by HarperCollins.
Based on years of research in libraries and private archives in five countries, Boston University Professor Lou Ureneck has written a new book that describes the terrifying final days of Smyrna leading up to the city's destruction by the Turkish army. The book also recounts, as never before, the evacuation of tens of thousands of Greek refugees in an astonishing rescue led by an American minister named Asa Jennings.
Lou Ureneck, a former Nieman fellow and editor-in-residence at Harvard University, is a professor of journalism at Boston University. He was deputy managing editor at the Philadelphia Inquirer and editor of the Portland (Maine) Press Herald. Ureneck's writing has appeared in numerous publications, including the New York Times, the International Herald Tribune, the Boston Globe, and Field & Stream. A former Fulbright fellow, Ureneck is the author of Backcast, which won the National Outdoor Book Award for literary merit, and Cabin—Two Brothers, a Dream, and Five Acres in Maine.
Anyone interested in Greek or Turkish history will want to read this scrupulously researched and powerful book. The Great Fire paints an unforgettable portrait of the burning of Smyrna — the symbolic end of five hundred years of Ottoman rule and the final act in a ten-year religious slaughter of Anatolia's Christians perpetrated by a brutal regime led by Mustafa Kemal.
At the center of the story is the Rev. Asa K. Jennings, a small-town minister from upstate New York and architect of the rescue. Other key characters include Lt. Commander Halsey Powell, who helped Jennings stage the rescue by skirting his orders from an anti-Greek U.S. admiral; Theodora Gravou, an Anatolian Greek girl whose family was killed at Smyrna; George Horton, the American consul-general who begged for American intervention; Nureddin Pasha, the ruthless Turkish general and associate of Mustafa Kemal who set the Turkish army loose on the civilians of Smyrna.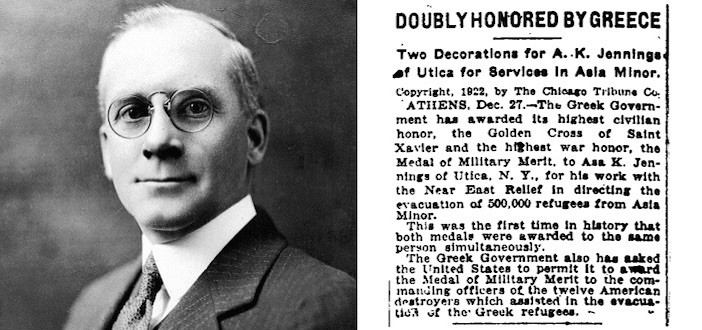 "The story of Smyrna today is mostly forgotten," Ureneck writes. "This is strange. Smyrna, for all that it represents, ought to appear in the same list of place names that carry the burdens of history: Sarajevo and Yalta, for their failures of diplomacy; and Treblinka, Bosnia, and Rwanda for the scale of the killing. Each is a place, and each a history lesson waiting to be unpacked."
The Great Fire is currently available at a 30% discount when pre-ordered on Amazon by clicking this link. When you pre-order via this link, you don't get charged until the book ships. The release date is May 12, 2015. Pre-ordering the book guarantees the discounted price that is currently listed. Occasionally, Amazon has increased prices prior to shipping based on the demand of the book, but pre-ordering it now guarantees your discounted price.