The "Three Greek Sisters" — Betty, Eleni and Samantha Bakopoulos have returned to their beginnings with their second cookbook, already a best-seller and award winning memoir/journal and cookbook of Greek folklore and tradition. After completing their first cookbook, Three Sisters Around The Greek Table, and winning a Gourmand World Cookbook Award and New York Book Festival "Best Cookbook of the Year Award", the sisters didn't rest on their laurels and bask in their success. The book became a national best seller in Canada but in the typical Greek spirit— the sisters got busy with their second book.
Three Sisters Back to the Beginning: Timeless Greek Recipes Made Simple is already on course to repeat the success of their inaugural book, with great reviews and international press and attention. But this is more than just another cookbook. It's an homage to there roots and to the family and village that imparted their ideals that they carry with them today, and celebrate with their own children.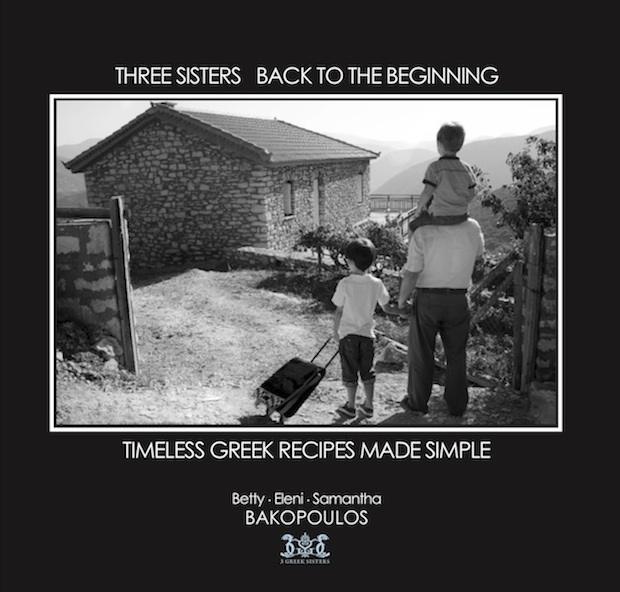 The cookbook centers around a family trip back to the tiny Greek village where the Bakopoulos family came from. It was a daunting task— to rebuild the home they spent summers in, that now had sat vacant for a decade after their grandparents died.
A photo of the old house actually graces the cover of the cookbook.
"When we would go visit, as children, we called it our Greek summer camp," says Samantha Bakopoulos, 33, who lives in Ottawa. "We were removed from technology. We'd make egg noodles by hand. We'd go to the river to get crabs. Now, by restoring the home and making it a place where we can all return, we're recreating that magic for our kids."
The sisters grew up in an old three-story red brick building in Toronto's Greek town. They share memories of their immediate family living on the second floor, an uncle, his wife and four children living on the main floor, and tenants on the remaining two levels.
"It was a busy, loud, and colorful place to grow up. Greek was our first language and while living on Toronto's Danforth, it seemed that everyone was just like we were – Greek that is; from the butcher to the baker, to the grocery store owner, and even our family doctor," the sisters recall of their childhood.
Their parents immigrated from the Peloponnese, from small villages high in the mountains around Kalamata – famous for its olives. They farmed on small terraced gardens along steep hillsides and grew walnuts, peanuts, sesame seeds, olives, figs, beans, cucumbers, peppers, onions, potatoes, eggplants, and zucchini.
They raised sheep and goats and from their milk made yogurt, and feta and mizithra cheeses. They grew grapes, made wine, and even made their own pasta. Their produce was sold at markets, and what they could afford to keep became the basis for their meals and the basis of many of the recipes in their cookbooks.
Now, thanks to the dedication of these three Greek sisters, these timeless recipes and traditions have become accessible— from authentic Greek yogurt to hand-rolled filo that is the basic ingredient in so many Greek pastries and pies— the sisters share the secrets of the village women with the world, while simultaneously preserving ancient culinary traditions.
"After the first book, people would ask us if we had a recipe for homemade phyllo," Eleni said in an interview. She also photographed for the books. "We had to admit that we had never made phyllo, or sausages, by hand."
"We were so proud of perfecting these back-to-the-basics recipes, but there was something else we didn't expect. Making these things forces you to slow down, to hang out. And while you wait, you chat. And while you struggle, you laugh. And as you learn, you connect. It's something that's lost in today's fast-paced world."
Betty Bakopoulos, 42, says that when they were kids, they wondered why Greek women would bother spending all day making diples, sweet, rolled pastries, served at Greek weddings.
"It's like a bridal shower idea. It takes many hands to make diples. It's about women getting together and spending hours talking and laughing while they work."
The sisters stress, though, that while the book contains 10 more time-consuming recipes in the "Back to the Beginning" chapter at the end — everything from phyllo to homemade Greek yogurt — most Greek cooking is absolutely easy and accessible.