The USNS Carson City, a Spearhead class fast transport ship, arrived in the port of the Greek island of Syros on March 16 for a scheduled port visit.
According to the ship's press release, the visit was to "to enhance U.S.-Greece relations as the two nations work together for a stable and secure European region."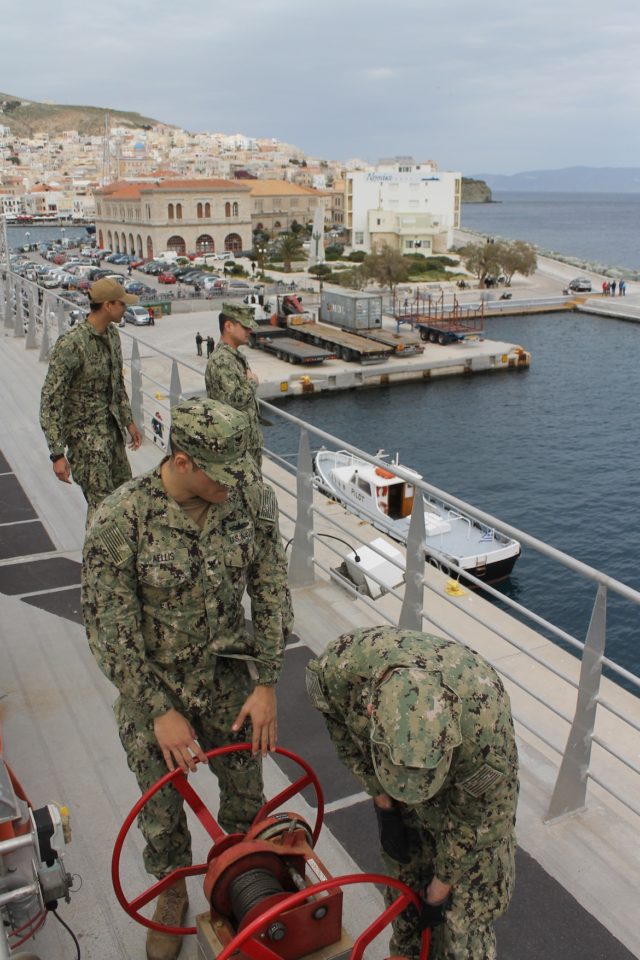 The statement continued that "The ship's presence in the Mediterranean Sea is a demonstration of our continued commitment to the collective security of the region."
The vessel is part of the U.S. Navy's Sixth Fleet, headquartered in Naples, Italy.
The ship's captain Tweeted that the crew was excited to learn the rich history of Greece, prior to arriving.
#USNSCarsonCity Captain Adema: "Our crew is excited for this port visit. These visits allow our crew to experience the rich history of Greece" ???? Carson City is conducting naval ops to advance security and stability in the region. #SteadyPresence https://t.co/sVd1DJAIeE pic.twitter.com/0vj9ZLkFHy

— Naval Forces Europe (@USNavyEurope) March 16, 2018
The American Ambassador to Greece Geoffrey Pyatt welcomed the vessel and also thanked the Mayor of Syros and the island's residents for their welcome.
.@USAmbGreece: I am grateful to Mayor Maragos for welcoming us to Syros. Having visited the island, I know our sailors will enjoy its unique beauty and the hospitality of the residents. We will look for opportunities for future visits. #USCarsonCity @USNavyEurope pic.twitter.com/Uzi50g04Th

— U.S. Embassy Athens (@USEmbassyAthens) March 16, 2018
*****
Since you're here… I have a small favor to ask.
More and more people than ever before are reading The Pappas Post and despite increasing costs to maintain the site and provide you with the quality content that you deserve, I will never "force" you to pay for our website or add a paywall. I believe in the democracy of the internet and want to keep this site and its enriching content free for everyone. But at the same time I'm asking those who frequent the site to chip in and help keep it both high quality— and free. We've implemented a "free-will" annual subscription for those who want to support our efforts. I guess it's fair to call it a philotimo subscription… because you don't have to do it but it's really the right thing to do if you love the site and the content we publish. So if you like The Pappas Post and want to help, please consider becoming a "philotimo subscriber". Click here to subscribe. If you'd rather make a one time donation, we will gladly accept any amount, with appreciation. Click here to donate any amount.