Many of you know that I recently traveled across the USA with the amazing Leon Logothetis.
Relying solely on the kindness of strangers, Leon proved that there is so much good in American people. He left Los Angeles with no food, gas, money or accommodations on the morning of August 10th. He drove a vintage yellow motorcycle he named "Kindness One." (Sort of like Air Force One, but kinder)
Leon is shooting a TV show and I was part of the crew– driving comfortably in a support vehicle with an amazing team– Erick, James and Steven. We were all there to support Leon's project. But Leon's work wasn't staged. The people he approached were not being filmed from the start. He would approach them, tell them what he was attempting to do, and only then would he say it was for a TV show. So this wasn't "staged kindness" or people wanting to be on camera.
I was on the trip as Leon's public relations and media guru. My job was to get as much publicity as possible and make sure that people along the way heard his message. That Kindness matters.
We accomplished some great public awareness and public relations, including an appearance on Good Morning America (Thanks George Stephanopoulos!), Huffpost Live (Thanks Arianna Huffington!), millions of viewers on TV in Chicago (Thanks Jane Monzures!) and other markets, countless hits on the internet and more than a million impressions per week on Leon's Facebook page and more than 16,000 people clicking "like" on a post or photo along the way.
Leon is currently on a container ship bound for Spain. I was with him in Los Angeles when he started calling shipping companies that worked the USA-Europe route. He called them one by one sharing his story. After about a dozen calls, he got one that agreed to give him and his motorcycle a ride.
I was with him when he asked for his first tank of gas; and Dwight said yes.
Then we drove eastward– through Las Vegas where a pair of formerly homeless kids gave Leon his first meal– a chicken gyros sandwich, coincidentally and shared some of their stories with him about growing up on the fringes of society.
We drove through Colorado and into Nebraska where we encountered a real family of cowboys. Again, complete strangers offered Leon a bed to sleep in– a special bed that has been in the Johnson family for four generations having once belonged to Mrs. Johnson's great-grandmother.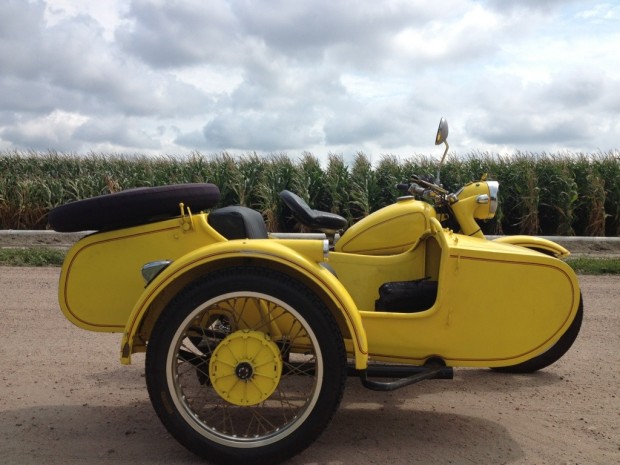 Through Iowa and into Chicago, through the Amish country of Indiana and into my hometown of Pittsburgh, where my life was forever changed. After about a dozen or so rejections (yes, I was embarrassed that this was happening in my hometown!) I watched Leon approach a man in the park who could have been anyone's brother, or father.
Tony didn't even blink when Leon told him his story– and asked him for a place to stay. He listened attentively and then said– "You can stay with me but it isn't the best of accommodations. I'm currently sleeping on a sidewalk, in a camp with other friends of mine who are all homeless."
That's when the magic happened… Tony took Leon into his community, introduced him to his friends and even offered him food that was given to them earlier in the day by passers-by who were on their way to a Pittsburgh Pirates game. Tony then pulled out a plastic garbage bag that he kept his belongings in and offered Leon some clean underwear and a t-shirt.
Watching a man who had hardly anything, offer Leon everything he had, was an experience I will never forget.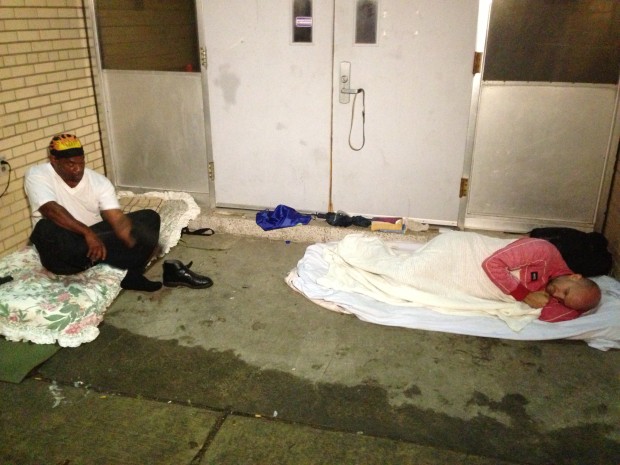 A tweet I posted caught the attention of a local friend who brought Tony and his friends some pizza. Leon's work was inspiring kindness all along the way but it really hit home here, in my hometown. (Thanks Evie for the pizza!)
We made our way across the country and to New York City where Leon boarded his ship, currently en route for Spain, where he will continue his global journey of inspiring kindness. I'll meet him again somewhere in Europe and pick up where we left off– helping to spread his message and mission. And reminding people that Kindness matters.
Follow my blog and receive updates in your email inbox when I post by adding your email address here.