This time, two years ago, fans of Greek soccer had a bittersweet taste in their mouths. Bitter because our beloved national team had just lost to Costa Rica in the Round of 16 at the World Cup; and sweet because Greek fans once again had hope for the future – with the national team exceeding expectations in the World Cup and all.
However, the last two years have been a disaster for the Greek National Team. Immediately following the last World Cup, the Greek skipper Fernando Santos' contract was left to expire and that would mark the beginning of a major downfall. After two catastrophic losses to a team like Faroe Islands in the Euro Cup 2016 Qualifiers, the Greek National Team failed to earn a spot in the European championships. This marked the first time the Greeks had failed to qualify for a major tournament (World Cup or Euro Cup) in 10 years. During this same period, however, that same coach, Fernando Santos, went on to win Euro Cup '16 with Portugal; and Claudio Ranieri, one of the coaches selected to replace Santos, but who was sacked after a 0-3-1 start in the Euro 2016 Qualifiers, went on to win the English Premiere League with Leicester City, a team that had 5000-1 odds to do so prior to the season starting. Obviously, coaching isn't the issue.
It's clear that the lack of leadership in the locker room caused the Greek National Team to crumble. That, coupled with what I believe was a sense of entitlement amongst the players following their World Cup campaign, left no chance for the team to be successful in the Euro '16 Qualifiers. Following the World Cup, Greece lost a lot of veterans; some retired while others just simply weren't called up. And I truly believe this affected the mentality of the team as a whole. The home loss to Faroe Islands is not only the worst loss in the history of the Greek national team, but it can also be seen as one of the biggest upsets in the history of international soccer competition, as well. Seriously, how can this happen to a team that was a penalty kick away from the Round of 8 in the World Cup?
On September 6, 2016, the campaign to qualify for World Cup 2018 begins. The players need to put the last two years behind them and regain their focus, and understand the selflessness it takes to play for a national team. A successful World Cup qualifying campaign can quickly erase the harsh memory of Greece's absence from Euro 2016. Not only that, but as the national pastime of the country, it could be a spirit lifter during this time of economic hardship. 
The new skipper for Greece is Michael Skibbe, who began his professional managerial career in 1998 as the skipper of German-side Borussia Dortmund. He's primarily managed German clubs throughout his career, with a short stint as the skipper of the German National Team, but he's also gone back and forth to the Turkish Super League where he's been most successful. As manager of Turkish-side Galatasaray, Skibbe led the club to a Turkish Super Cup win in 2008. Since then, he's bounced around from various clubs in Germany, Turkey and Switzerland, until finding his home with Greece on October 29, 2015.
In September 2016, the World Cup Qualifiers for UEFA (Europe) will begin for 54 teams, broken down into nine groups of six. The winners of each group will automatically qualify for the World Cup, while the eight best runner-ups will go to a 2-game playoff, one home and one away, to round out the total of 13 teams Europe will be sending to the World Cup.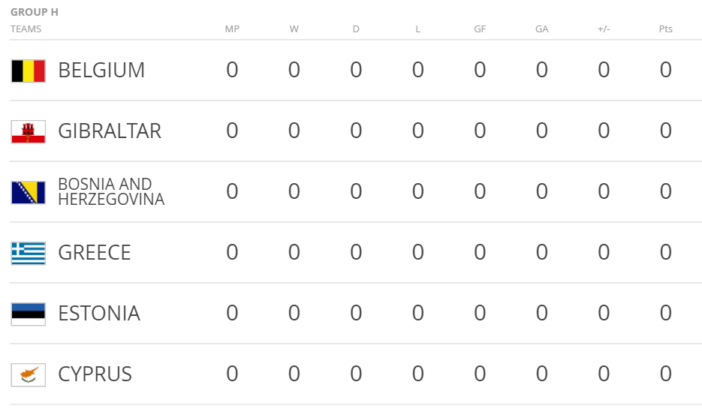 Greece will join Cyprus in Group H, and both teams should have their hands full with no. 2 ranked Belgium in the group. Barring any catastrophic events, Belgium should in all likelihood finish first; which means Greece (ranked 52) will have to duke it out for second place with Bosnia and Herzegovina (ranked 29), Cyprus (ranked 86) and Estonia (ranked 117). And, Gibraltar you say? Well, I'd be surprised if they won a game.
On August 22, Skibbe announced his call-ups to the national team for both a friendly match against the Netherlands on September 1 and the first Qualifier against Gibraltar on September 6. There weren't any surprises, really, so I'm curious as to how the new skipper plans to utilize this same group to obtain a different, more favorable outcome than the previous campaign. In the two friendlies against Australia back in June, Skibbe utilized a 4-4-2 formation, whereas the previous skippers always had Greece in a 4-3-3 (although it looked like a 4-2-3-1) – so let's hope this can be the difference factor.
The Call-Ups
Goalkeepers: Karnezis, Kapino, Glykos
Defenders: Papastathopoulos, Manolas, Torosidis, Stafylidis, Oikonomou, Kyriakos, Tzavellas
Midfield: Maniatis, Samaris, Tziolis, Fortounis, Petsos, Cholevas, Baka, Mantalos, Gianniotas
Forwards: Mitroglou, Karelis, Vellios, Diamantakos
It's worth mentioning that Cholevas, our former Left Fullback, played in the midfield in the recent friendlies against Australia. Now that he's listed as a midfielder, he'll likely assume that role permanently which is probably a good thing. Even as a Left Fullback, Cholevas was one of Greece's best assets when it came to attacking. He has great handling and crossing skills, and was responsible for setting up a lot of Greece's strikes on goal – especially on counter-attacks. His likely replacement at Left Fullback is Stafylidis.
Something else that stands out is the return of Maniatis, a defensive midfielder and veteran player, something Greece has been missing dearly. He was injured during the Euro 16 Qualifiers, and his absence was definitely felt. My hope is that he can help fill some of the leadership void that Karagounis, Katsouranis and Samaras left behind.
Lastly, who will score the goals? It's no secret that Greece relies on their defense and counter attacks to win low scoring games, but that hasn't been working well lately. They struggled mightily to find the back of the net during the Euro 16 Qualifiers (-7 goal differential), and with mostly the same forwards called up, I'm crossing my fingers that the change in formation can light a fire under them. Keep an eye on Fortounis though, an attacking midfielder, because he has the skills to be a difference maker in a game. If he does well, it's likely Greece will do well. And always, we have two world-class Center Fullbacks in Manolas and Papastathopoulos, so look for them to hold down the fort in the back.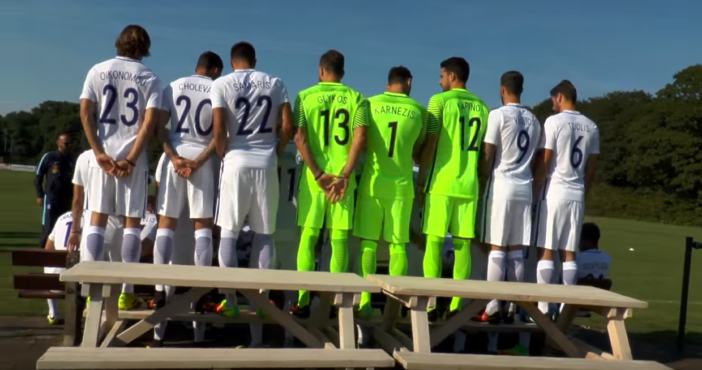 Schedule for World Cup Qualifiers
06-Sep-2016: at Gibraltar
07-Oct-2016: vs Cyprus
10-Oct-2016: at Estonia
13-Nov-2016: vs. Bosnia-Herzegovina
25-Mar-2017: at Belgium
09-Jun-2017: at Bosnia-Herzegovina
31-Aug-2017: vs. Estonia
03-Sep-2017: vs. Belgium
07-Oct-2017: at Cyprus
10-Oct-2017: vs. Gibraltar
ELLAS OLE!
More from Thanasi: Blog / Twitter / Facebook