The Getty Villa in Los Angeles inaugurated an exhibition of exquisite watercolors of Greece from the 1800s that captured historic moments, including the removal of the Parthenon Marbles from the Parthenon. The exhibition will run until February 15, 2016. Details about the exhibition and a corresponding series of events are here.
"Almost every rock, every promontory, every river, is haunted by the shadows of the mighty dead," wrote the English antiquarian Edward Dodwell of his travels in Greece in the early nineteenth century.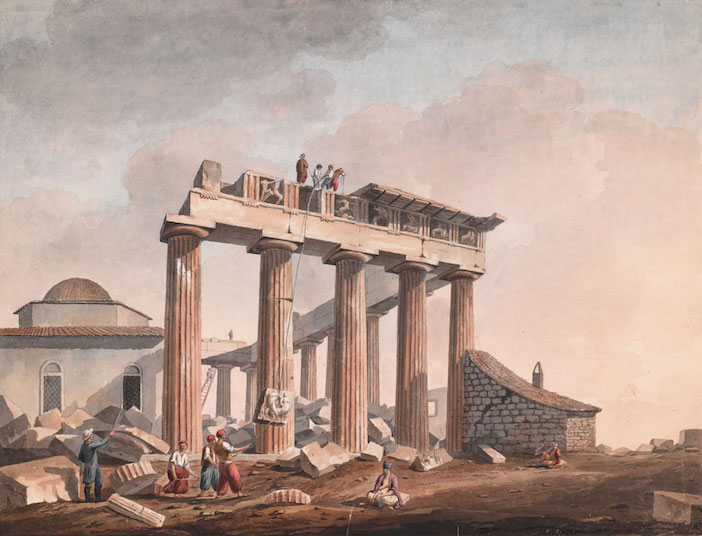 During this time, he and the Italian artist Simone Pomardi produced around one thousand illustrations. Selected from a vast archive of their watercolors and drawings in the collection of the Packard Humanities Institute, this exhibition brings to life a vanished world that enchanted European travelers and inspired their passionate pursuit of classical antiquity.
In his journal of his trip to Greece, Dowel chronicled the experience of watching the main temple of the Acropolis being torn apart when the British dismantled the famous marbles, which eventually ended up in the British Museum.
"During my first visit to Greece I had the inexpressible mortification of being present when the Parthenon was despoiled of its finest sculpture, and when some of its architectural members were thrown to the ground. I saw several metopes at the south-east extremity of the temple taken down. They were fixed in between the triglyphs as in a groove; and in order to lift them up, it was necessary to throw to the ground the magnificent cornice by which they were covered. The south-east angle of the pediment shared the same fate; and instead of the picturesque beauty and high preservation in which I first saw it, it is now comparatively reduced to state of shattered desolation.
"It is painful to reflect that these trophies of human genius, which had resisted the silent decay of time, during a period of more than twenty-two centuries, which had escaped the destructive fury of the Ikonoklasts, the inconsiderate rapacity of the Venetians, and the barbarous violence of the Mohamedans, should at last have been doomed to experience the devastating outrage which will never cease to be deplored…."