Kiki's Gluten-Free Foods, a family-owned company born out of the necessity of finding safe, convenient and tasty gluten-free foods for a Celiac child, was the recipient of the National Restaurant Association's 2014 Food and Beverage Innovation Awards (FABI), which recognizes food and beverage innovations that will make significant impact in the restaurant industry.
The Chicago-based start-up was awarded the FABI for its Gluten-Free Deep Dish Pizza, the first gluten-free ready-to-bake deep dish pizza made for commercial kitchens. This marks the second consecutive year in which Kiki's Gluten-Free Foods has received a FABI, a distinction that is unprecedented in the history of the awards. Kiki's Greek SpinachFeta Pocket was awarded a 2013 FABI.
It all began with a summer holiday in Greece.
Kiki remembers the day. "As we came out of Athens' Metro, it seemed everybody walking across the square was holding a "tyropita" (cheese pie) from one of the many vendor carts. Hot, fresh, delicious…then my son said those dreaded words: "is that gluten-free?"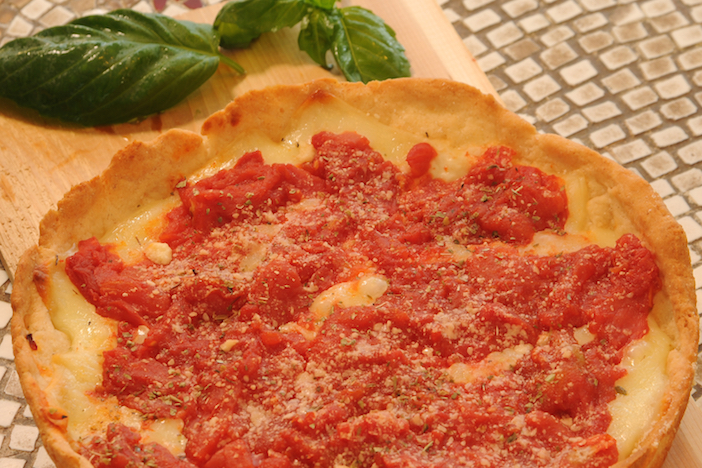 Kiki Michalakos' son was diagnosed with Celiac Disease when he was four. She knew that her house would need to be free of conventional breads, flours and other forms of gluten, and that he would face challenges finding a good meal at a restaurant when the family was out. She also lamented that traditional family favorites and most Greek recipes would be off limits to him – forever.
"That's when I started developing gluten-free versions of a few of my favorite family recipes. I'll never forget my son's response: "simply awesome!" Now, the standard was set, and I set off on a mission," Kiki recalls.
"When it comes to pizza, it's difficult to create a gluten-free dough that achieves the same texture and taste as its conventional wheat-based counterpart", says Michalakos. "We heard from so many people that pizza was their most-often-missed indulgence since going without gluten, so we're pleased our great-tasting award-winning deep dish can help restaurants feed that desire."
In fact, the product was developed with restaurant operators in mind. Commercial kitchens have a challenge preparing gluten-free pizza if they use wheat flour in any form in their kitchens; flour easily suspends in the air, and can "contaminate" tools, surfaces, food ingredients, or cooks' hands. Even pre-made gluten-free crusts and pizzas can be problematic if the kitchens don't have rigid gluten-free protocols in place.
Kiki's Gluten-Free Deep Dish Pizza is packaged to reduce those burdens on the operator. The pizza is pre-baked and frozen, and designed to reheat directly in its own pan. The pizza is only ever removed from the pan once it's served to the consumer.
"It's a simple and, perhaps more importantly, a safe way for a food operator to offer a highly marketable menu item," says Michalakos. "For a patron suffering from Celiac disease, even the slightest exposure to gluten can cause severe health effects."
Kiki's Gluten-Free Deep-Dish Pizza is available in 6-inch and 10-inch sizes and in three varieties: Cheese, Italian Sausage and Vegan/Dairy-Free.
Kiki's Gluten-Free Foods, Inc. is a family-owned company offering a full line of innovative and simply awesome-tasting gluten-free products. Products are packaged to reduce cross-contamination and are devoid of preservatives and artificial ingredients. A portion of profits are donated to help find a cure for Celiac Disease, boost Autism awareness, and to help feed those in need.
Based on her own recipes, her IL-based company offers a full line of sweet and savory – and simply awesome-tasting – gluten free products catering to both retail and foodservice clients – among them, Artizone, the online grocery delivery service in Dallas, Austin and Chicago, and Bake 425, the bake-at-home pizza chain that's rapidly expanding in the Chicago region.
Kiki's goal? Becoming the biggest premium gluten-free baked goods company in the country.