For me, Earth Day 2015 was an extra special experience, spending it with my friends from Earth Friendly Products. My introduction to the company happened almost by accident. I had been buying their products while living in Chicago. A friend mentioned that animals were getting sick because of the products their owners were using to clean their floors. It made sense. Our animals— including my chocolate lab Argos, spend their entire likes on our floors. They sleep, lay and walk on them and they usually invest any chemicals we use since dogs often lick their paws or clean themselves. So naturally, a "green" line of products was mandatory in my apartment.
Then one day I saw a story about a Greek immigrant named Van Vlahakis and the company he founded— Earth Friendly Products. What a wonderful connection to a line of products that I already knew and loved.
I eventually met the Vlahakis family and was lucky enough to send time with Van— a remarkable man who came from the same place in Greece where my parents emigrated from— the island of Crete. Vlahakis arrived in the United States with $22 in his pocket and eventually made his way through college in Chicago. His care and concern for the environment and what we were doing to it led to the founding of his first company out of his garage in 1967— the predecessor to today's global giant.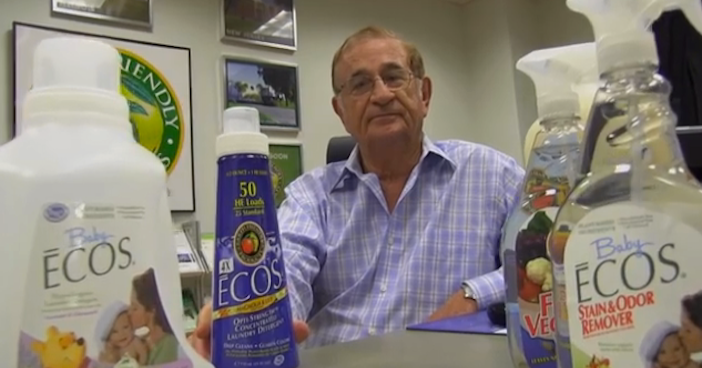 Born in Crete on Jan. 14, 1935, Mr. Vlahakis immigrated to the United States at 18; he had $22 in his pocket. He lived in homeless shelters and supported himself with odd jobs at bars and restaurants while attending Roosevelt University in Chicago. After earning a bachelor's degree in chemistry in 1958, he found work in the cleaning products industry.
Fast forward to 2015, Van passed away unexpectedly last year— a shock to all who knew and loved him. His visionary daughter Kelly Vlahakis-Hanks quickly took over the helm of the company and fortunately, she has the same care and concern for the earth as well as for the humans who inhabit it. But Van had built a great foundation. With 300 employees and five manufacturing plants in the United States, the company is a global giant today with biodegradable, chemical-free products sold online and in supermarkets and big-box stores.
I've added a special category in The Pappas Post's Amazon with several of the company's offerings available, in case you can't find them at your local store.
He also had his sights set on his native Greece and opened a sales office in Athens, ahead of plans for a big manufacturing facility.
One of the last things Van did before passing away was to implement a living wage for all of his employees starting at $17 per hour— well over national averages. He also did the unthinkable in today's corporate standards— sharing profits with employees, rather than keeping them for himself. Every year on Earth Day, all of his hundreds of employees received unexpected bonuses and periodically, during Christmas and other holidays, he often did the same. Van once told me "I'd rather share the profits with the people who helped me create them, rather than pay the government in taxes."
Classic Van Vlahakis— wanting to share his wealth with the people who helped him earn it.
So on Earth Day 2015, it was well worth the trek to be with Kelly and other representatives from her company that made the trek from California, to New Jersey, where they inaugurated their newest manufacturing facility. And I was especially happy to see friends from New York there, including Chef Maria Loi, American Idol alum Constantine Maroulis and so many others, celebrating this great company and also remembering this great man.