I'm addicted to people with positive energy and great ideas. I gravitate towards these types of people in life and immediately want to share my own energy, enthusiasm, support and ideas with them.
Much of the past year and a half of my own life has been guided by the energy and enthusiasm of Steven Priovolos— a powerhouse of positivity unlike no one I've ever met. One example is when a casual conversation during a joy ride in Hollywood last year turned into a huge short film and historical project we're making together called No Man is an Island that has raised over $100,000 from more than 500 people in a dozen countries throughout the world.
It was a moment that could have easily been lost— had we both not acted on the idea.
Tony Asimakopoulos is another guy who moves me. We only know each other virtually and a few years ago he shared with me his story of heroin addiction, rehab and a film he made coming out of rehab called The Fortunate Son about his Greek family. Talk about turning something bad into something positive and creative!
His latest project is called "A Walk in Park Ex" referring to the Greek neighborhood in Montreal where he was raised.
It's his way of documenting this amazing, multi-cultural neighborhood before it loses its Greek identity. What an amazing expression of talent, applying it not on some horror flick that will make him a quick buck or a chick flick filled with T&A that might even get him to Hollywood faster.
I know it's not much but I gave a hundred bucks to his Indiegogo campaign— because his idea and enthusiasm attracted me. If you care about preserving history and storytelling, I hope you'll support his project and help his idea to thrive and come to fruition.
A few weeks ago my friend Mike called me from Greece— "You must read this kid's story," he said— referring to Stamatis Markoglou, a 21-year-old whiz kid from a tiny village in northern Greece who's planning a journey of a lifetime.
Fast forward a few weeks— I happen to be in Greece and Mike arranges a meeting between me and Stamatis. After an hour with the kid, hearing his plans, watching his enthusiasm and defiance towards the ongoing crisis in Greece— I'm hooked. He's a student at the Athens University of Economics and Business— one of the toughest public schools in the country to get into.
When he's not in school, he spends countless hours volunteering at various charities around the city and just wandering, meeting people and practicing his communications skills. "For me," he explains, "I need to look people and the eyes and let them know that I genuinely care about them in order to unlock them."
Stamatis leaves Greece on April 1st for a flight to Casablanca, where he will embark on a five month walk— yes, walk— across Africa with a single goal in mind. He will ask one person each day… What made you smile today? He'll end up in Nairobi sometime in August.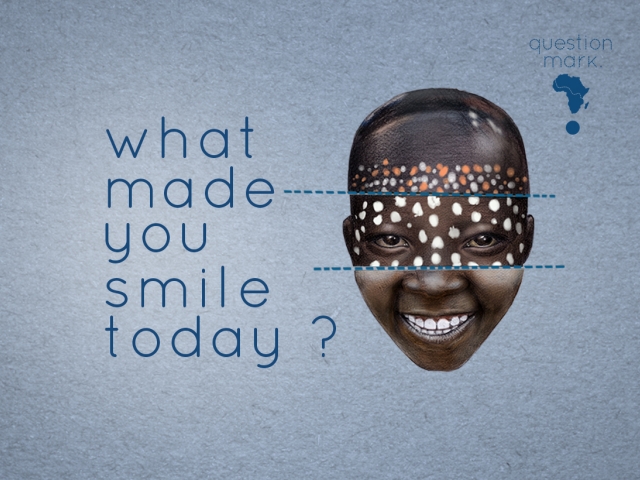 In these cynical and difficult times— in his country with upwards of 60% unemployment amongst his peers and no end in sight for the mass exodus of smart, young people— Stamatis wants to show Greece, and the world, that there are people with far less in a much more destitute parts of the world— that continue to smile. He will document his journey via various social media platforms and blog regularly.
13,500 kilometers
150 days on the road
100+ personal interactions
17 countries
He's launched a crowd-funding campaign through Trevolta to help with his basic travel expenses and he's already built a fan base in the thousands on his Facebook page.
I'm excited about Stamatis' trip and have promised to help him in any way I can.
My philosophy— and the moral of this post— if you see a good idea in front of you— act on it. If you don't, who will? Capitalize on these special experiences that move you. Support young people who are doing something different.
Don't just moan and complain about the status quo, but be a part of the change and help good ideas progress and thrive.