Divers in the Aegean Sea ave discovered an archaeological treasure trove including numerous shipwrecks estimated to be more than 2000 years old, according to the Greek Ministry of Culture.
Near the small island of Levitha, the team found five ancient shipwrecks in addition to a large anchor and amphorae (pictured above) — containers used in antiquity to transport goods such as oil and wine.
The anchor — discovered nearly 150 feet below the surface — dates back to the 6th century BC and weighs approximately 880 pounds. Archaeologists believe it was used on a "colossal-sized ship."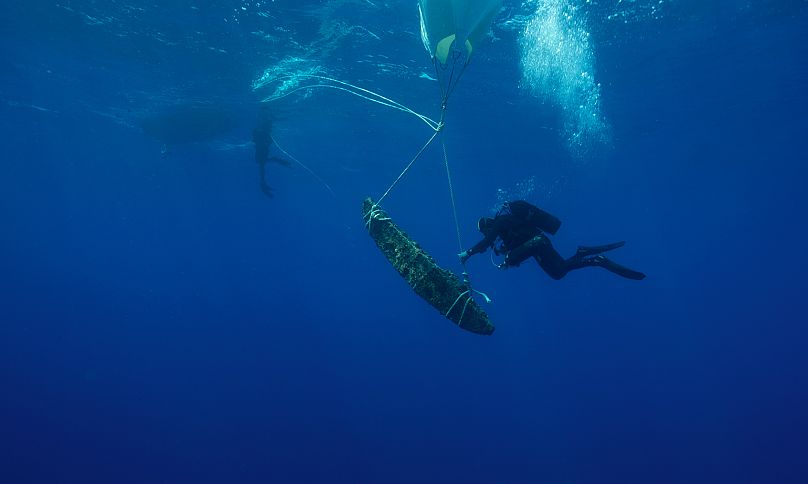 Archaeologists say the amphorae — dated to the 3rd century BC — originated from the Aegean, including islands such as Knidos, Kos and Rhodes, as well as the kingdoms of Phoenicia and Carthage.
The discoveries were made by the Ephorate of Underwater Antiquities, a department within the Greek Ministry of Culture conducting a three-year research project to identify and document ancient shipwrecks in the Aegean. The effort included 57 group dives distributed over 92 hours.
The findings came between June 15 and June 29. A few weeks prior, the ministry had announced plans to open Greece's vast array of ancient shipwrecks to divers in hopes that it would boost various islands' local economies.
Dozens of ancient shipwrecks are in Greece's waters and nearly 60 have been found near the Aegean islet of Fourni, according to the ministry.
See more photos
Photos / Anastasis Agathos, Ephorate of Underwater Antiquities — Greek Ministry of Culture)
---
Is The Pappas Post worth $5 a month for all of the content you read? On any given month, we publish dozens of articles that educate, inform, entertain, inspire and enrich thousands who read The Pappas Post. I'm asking those who frequent the site to chip in and help keep the quality of our content high — and free. Click here and start your monthly or annual support today. If you choose to pay (a) $5/month or more or (b) $50/year or more then you will be able to browse our site completely ad-free!

Click here if you would like to subscribe to The Pappas Post Weekly News Update