Thousands of people will be concurrently protesting throughout Europe's cities and towns on February 27th to raise awareness for the plight of refugees fleeing war zones and one Greek visual artist is bringing the demonstrations— in her own creative way— across the Atlantic to New York City.
Georgia Lale, who together with a team of supporters and fellow protestors, has been walking around the streets, museums and tourist sites of New York City wearing orange vests as part of her #OrangeVest campaign, will gather with a group of supporters in Central Park on February 27th. She invites participation by anyone who wants to help spread awareness to join her and don an orange life vest. Lale can be reached via email here.
What the #OrangeVest Performance is:
The #OrangeVest, is a public intervention in response to the refugee crisis in Europe. The piece uses the human body as a living social sculpture and it conveys visual language symbolizing the refugees' trip from Turkey to Greece as they try to reach Europe.
As part of the action, a group of people wear black clothes and orange life vests. They walk around New York City providing a glimpse of a brutal and inhumane reality that exists on the other side of the ocean.
The "#OrangeVest" performance exists as an aesthetic balance between being a protest and work of art. Despite having elements of a protest, participants don't disturb everyday public routines. They are simply present.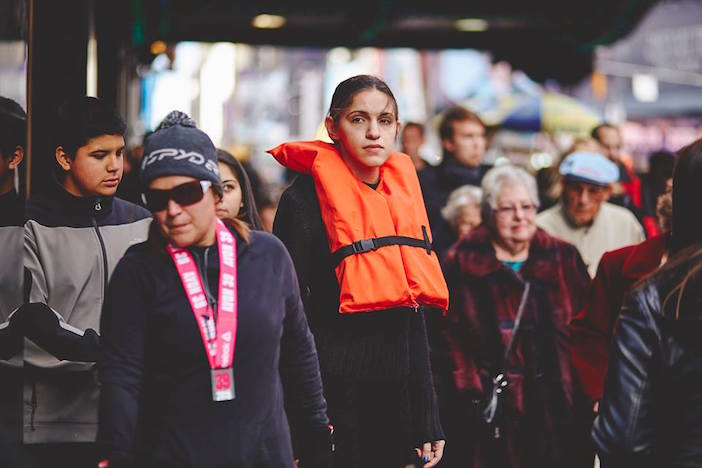 They speak to the people around them only if they are questioned. The intention of the performance is not to force the viewer to interact or to take a position but rather to question and encourage the viewer to find out more about the refugees' crises.
Georgia Lale, is a performance artist from Greece, living and studying in New York City. She comes from a family of refugees two generations ago when grandfather was a refugee from Asia Minor in Turkey.
She started performing the #OrangeVest piece in October, 2015 in several public spaces around New York City such as the Metropolitan Museum of the Arts, Times Square, the High Line Park, the Brooklyn Bridge, the United Nations Secretariat building and on the Subway in order to raise awareness about the ongoing refugee crisis in Europe.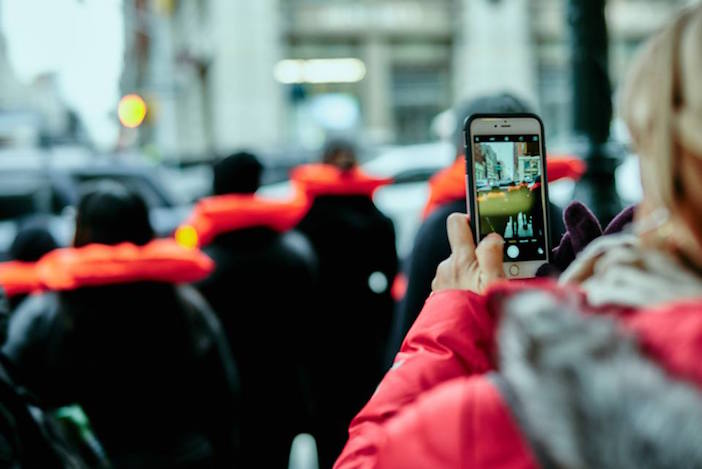 Fellow Greek photographer George Xourafas has been supporting Lale's efforts by photographing the campaign and helping to spread her efforts visually, via social media.