The catastrophe of Smyrna and the events that led to it, including the annihilation of hundreds of thousands of Pontian Greeks almost a decade before the burning of Smyrna, were amongst the most well-documented news events of the time.
The events have been called, together with the genocide of the Armenians, the first mass genocide of the 20th century, perpetrated by the Turkish nationalists seeing to overthrow the Ottoman Empire and "clean" Turkey of all its Christian inhabitants.
Dozens of newspapers and magazines ran stories not only for its news value, but because there was such an American presence there in various forms and capacities.
The military was there with war ships in the harbor, as were countless US aid workers, government officials and even missionaries and education officials running schools and orphanages throughout the region. Here is just a sampling of the headlines that appeared in US newspapers at the time.
Incidentally, two decades later, the world would witness once again, the Holocaust of the Jews by the Nazi Germans. History does repeat itself indeed.
It is chilling to read the newspaper headlines covering Turkish atrocities against the Christian Greeks– deportations, mass murders of innocent civilians, trains to labor camps– and not be impacted by the similar tactics used by the Nazi Germans.
"Greece Nearing War with Turkey."
New York Times, June 14, 1914
"Turks Slay 100 Greeks."
New York Times, June 17, 1914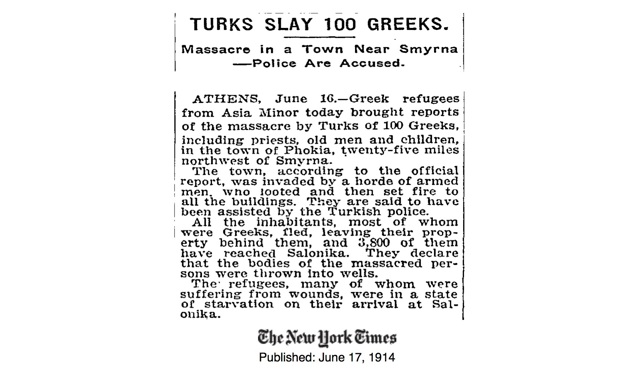 "Bars Up to Greeks in Turkey."
Washington Post, June 18, 1914
"Greeks Are Enraged; Now Threaten Turkey."
Los Angeles Times, January 10, 1915
"Greece and Turkey Near Breaking Point."
New York Times, January 10, 1915
"Report Greeks Persecuted by Turks in Asia."
Chicago Daily Tribune, January 12, 1915
"Turks Are Evicting Native Christians."
New York Times, July 12, 1915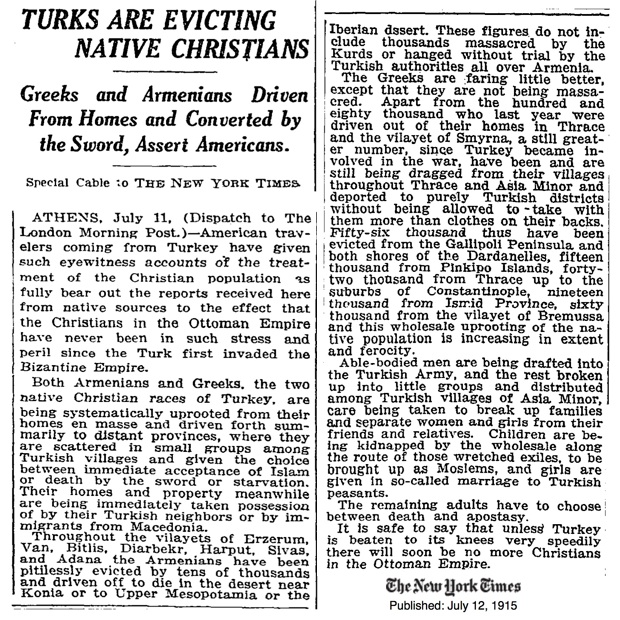 "Greece Delays War Decision."
Los Angeles Times, September 11, 1915
"Telling of Atrocities."
The Washington Post, October 22, 1915
"Massacres of Greeks in Turkey Reported."
New York Times, April 20, 1916
"Greeks Are Victims of Turk Massacres."
The Washington Post, May 7, 1916

"Turkey to Deport Greeks."
New York Times, July 8, 1917
"Turkey to Deport Greeks."
The Sun, July 8, 1917
"Turkey to Deport Greeks."
The Washington Post, July 8, 1917
"Elkus Urges Relief Work in Turkey."
New York Times, July 19, 1917
"Germany Ordered Greeks Wiped Out."
The Washington Post, August 15, 1917
"Hope America Will Aid Greeks in Asia Minor."
New York Times, November 19, 1917
"Millions of Greeks Are Massacred; Thrown into Sea."
Chicago Daily Tribune, January 1, 1918
"Millions of Greeks Slain by the Turco-Teutons."
Los Angeles Times, January 1, 1918
"1,000,000 Greeks Sacrificed."
The Sun, January 1, 1918
"1,000,000 Greeks Are Put to Death by Turco-Teuton Forces in Asia."
The Washington Post, January 1, 1918
"Turkey is Red with Blood of Slain Greeks."
Chicago Daily Tribune, May 12, 1918
"Turks Slaughter Greeks, Sell Women to Slavery."
Los Angeles Times, June 9, 1918
"Greeks in Turkey Forced into Army."
The Washington Post, June 16, 1918
"Turkey's Design to Destroy the Greeks in Asia Minor."
The Sun, October 11, 1918
"Greeks in Bondage See Freedom Near."
New York Times, October 27, 1918
"Crimes Laid to Turkey."
New York Times, December 14, 1918
"Their Culture Still Survives Despite Their Turkish Rulers."
The Sun, December 15, 1918
"Greeks Beg for Release from Turkish Rule."
Chicago Daily Tribune, December 16, 1918
"Greeks in America Appeal to Allies."
Los Angeles Times, December 22, 1918
"60,000 Greeks Here Seek Aid."
The Washington Post, April 6, 1919
"Insist That Turkey Be Dismembered."
New York Times, February 17, 1919
"Turks Massacre Greeks."
New York Times, March 21, 1919
"Urge Turks to Massacre All Greeks in Thrace."
New York Times, June 5, 1919
"Smyrna Peril Grave."
The Washington Post, January 9, 1920
"Turks Order Greeks Out."
The Washington Post, November 15, 1920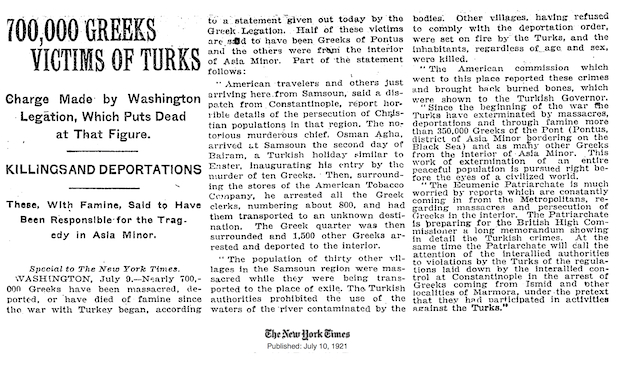 "700,000 Greeks Victims of Turks."
New York Times, July 10, 1921
"Greeks Escape Turks."
The Sun, May 23, 1922

"100,000 Massacred, Greek Leaders Say."
New York Times, September 17, 1922
"Says Greeks Burned and Pillaged Turkey."
New York Times, September 27, 1922
"Million Must Move."
The Washington Post, January 11, 1923
"Exchange of Populations."
New York Times, January 12, 1923
"Turks Will Free Greek Labor Gangs."
New York Times, January 13, 1923
"Uprooting of Greeks in Turkey a Modern Exodus of Outcasts."
New York Times, January 21, 1923
"Turks Torture Greek Refugees."
Los Angeles Times, December 31, 1922
"2,500,000 in Mad Rush from Turks."
The Washington Post, January 7, 1923
"Turks Hang Christians."
The Washington Post, January 15, 1923