Archbishop Iakovos, who led the Greek Orthodox Archdiocese of North and South America for 37 years from 1959 to 1996 now has a street named in his memory and honor.
A bill in the City Council, introduced by Councilmember Costa Constantinides (D–Astoria), naming 33rd Street between Ditmars Boulevard and 23rd Avenue after Archbishop Iakovos, passed in January.
The ceremony took place on March 28th, complete with the Greek Presidential Guard, or Evzones, present.
He was also a vocal supporter of the civil-rights movement and showed that support by marching with Dr. Martin Luther King, Jr. and other leaders in Selma, AL in 1965. In recognition of his role as a spiritual leader, President Carter awarded Archbishop Iakovos with the Presidential Medal of Freedom in 1980. Iakovos died in 2005 at the age of 93.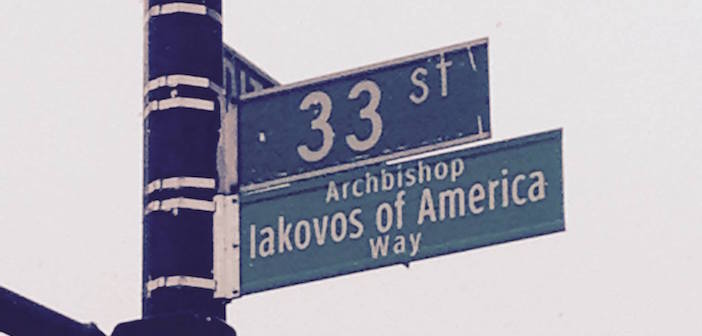 Constantinides said, "I am proud to recognize Archbishop Iakovos' contribution to our city with this street co-naming. He serves as a great role model for this community. Archbishop Iakovos took a courageous stand for freedom by marching with Dr. King in Selma, one of the few non-African-American leaders to do so. Even though his advisers cautioned him against expressing his support of the civil-rights movement, he did what he knew was important. He symbolized freedom to our Greek Orthodox community and to everyone this city."
State Senator Michael Gianaris (D-Astoria) said, "Archbishop Iakovos was a national spiritual leader and an integral part of the Greek-American community. It is appropriate that a street will bear his name in a neighborhood that was so affected by his good works. From marching with Martin Luther King, Jr. to earning the Presidential Medal of Freedom, Archbishop Iakovos made the world a better place, and we can all learn from his example."
"Archbishop Iakovos was a symbol of courage and conviction, not only for those of the Greek-Orthodox faith, but for all Americans," said Assembly Member Aravella Simotas (D-Astoria). "At a time when many were silent, the Archbishop marched against hatred and oppression. It is truly fitting that we honor him ahead of the fiftieth anniversary of the Archbishop and Reverend King's civil rights march on Selma."