As more and more people in Greece face economic uncertainty, pets are usually unspoken victims that also feel the repercussions. A growing number of dogs are being abandoned by families who can no longer afford to keep them, creating a worse stray problem for urban centers in Greece.
One Canadian woman has responded to the call for help by Greece's overcrowded animal shelters that bring in strays from the streets. Dianne Aldan, a 69-year-old animal advocate connects shelters in Greece with potential adopters in Canada and arranging air transport from Greece back to Canada.
To date, she has given 350 dogs a second chance in Canadian homes, through her charity Tails from Greece Rescue.
She works with Greece's handful of private shelters, identifying dogs that would make good pets and saving them from death row. She recruits tourists willing to accompany the dogs to Canada and maintains a network of foster families to keep the animals while they await what rescuers call "forever homes."
Aldan's efforts have saved dogs from throughout Greece, including one named Turbo who became a media star.
Turbo was left for dead on the streets of Thessaloniki back in 2011.
The mutt was struck by a car and the driver did stop, long enough to pick the dog's limp body off the pavement and toss it in a garbage can.
But a bystander, convinced it wasn't dead, called a local animal rescue mission. For three days a veterinarian cared for the unconscious dog until it opened its eyes and began struggling to move. X-rays would later reveal a spinal cord injury, which meant it would probably never use its hind legs again.
While the dog lay there, motionless, the managers of the shelter leapt into action and phoned Aldan in Toronto.
Aldan began making arrangements to bring the dog, now named Turbo, to Canada. She knew it needed a doggie wheelchair, or dogcart, because it couldn't use its back legs. She set up temporary foster care and began looking for a permanent home.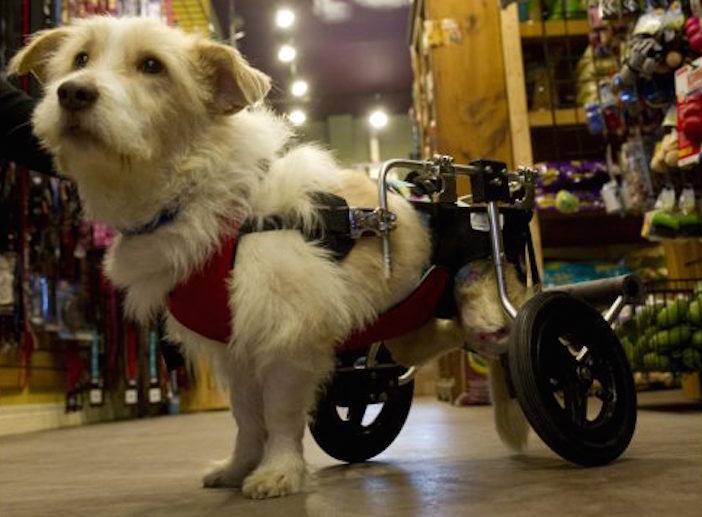 Once it was well enough, Turbo was driven to Athens, then flown to Amsterdam for a connecting flight to Toronto. The terrier arrived April 9, 2011 six weeks after the accident.
The terrier attracted a lot of media attention in Toronto and after numerous newspaper and TV stories, Greg and Leanne Littleton from Brighton, Ontario emerged as the lucky dog's new family.