Bekri meze is one of the most popular Greek recipes. You may not find it in an expensive restaurant, but almost every little Greek tavern has it on the menu.
Why? Because it's easy to make and it tastes awesome! Little pieces of pork meat are first browned with some olive oil (Buy your extra virgin Greek olive oil here) and then slowly cooked in wine, until all of the alcohol gets evaporated and the meat is tender and succulent.
In its plain version, this dish is consisted only of pork, onion, wine and some spices. I like to add some mushrooms and peppers, since I find they compliment the taste of the final dish and make it a bit more interesting!
But what does bekri meze mean? The first word "bekri" stands for "drunk" in Greek, while "meze" means "appetizer," or more accurately, a small dish with the purpose not to saturate our hunger but to serve as something we can nibble on while having a drink (usually wine, ouzo or tsipouro). So, "drunken pork" is actually a pretty accurate translation for bekri meze.
In case you want to host a "Greek tavern" night, just make sure you've got plenty of wine and a few simple appetizer recipes, such as a mediterranean potato salad, some baked feta cheese, a plate of yellow split puree, this stew and some French fries.
As previously said, this pork stew is usually served as an appetizer in Greek taverns, but you can also enjoy it as a main course by serving it over mashed potatoes, rice or even French fries.
Also keep in mind that this recipe is prepared in one pot from start to finish, meaning less effort and clean up in the kitchen.
SOME NOTES/TIPS:
Cook the pork pieces on high heat, in one layer and without stirring them until they get browned from one side. Then flip them over to brown from the other side also.
After you add the mushrooms, stir until they water out completely and let them brown with the pork until they get caramelized and fragrant.
Use a wine you enjoy drinking and not the cheapest one you can find!
As any other stew recipe, this drunken pork tastes even better the day after you make it. So, you certainly can (and probably should) make it the day before, store it in the fridge overnight and reheat it gently before eating.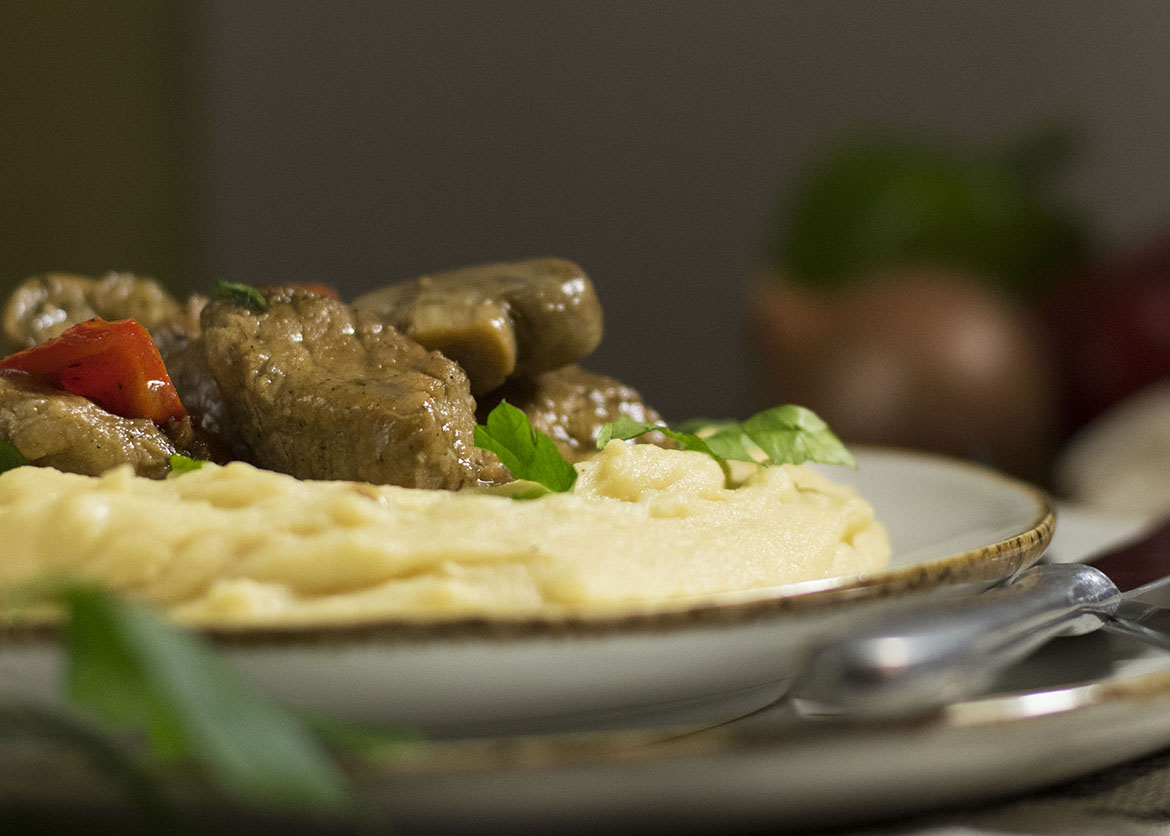 Bekri Meze (Drunken Pork Stew)
Prep Time: 15 mins | Cook Time: 1 hr 10 mins | Total Time: 1 hr 25 mins
Ingredients
3

tablespoons

olive oil (Buy your extra virgin Greek olive oil here) or other vegetable oil

2

pounds

pork meat, chopped in bite sized cubes

1/2

pound

mushrooms, sliced

1

large onion, sliced

2

cloves

garlic, whole

2

bay leaves

1

teaspoon

cumin

1/2

teaspoon

allspice

1

tablespoon

thyme

Salt and pepper to taste

1

cup

dry white wine

1

red bell pepper cut in chunks

1

green bell pepper cut in chunks

some chopped parsley for garnish
Instructions
Heat a large saucepan or a pot and add the olive oil and pork. Let the pork brown from one side and flip to brown from the other (about 7 minutes total).
Add the mushrooms and stir until they water out completely and start to caramelize (about 7 minutes).
Reduce heat and add the onion, the garlic cloves (whole), bay leaves, cumin, all spice and thyme. Cook until the onion is soft and translucent, about 5 minutes.
Add the wine, salt and pepper and simmer covered, under very low heat, for 30 minutes.
Add the peppers and continue cooking covered for another 20 minutes or until pork is very tender and soft and the sauce has reduced and thickened.
Check the stew every now and then. If the sauce has reduced and thickened but the meat isn't ready yet, add a bit of hot water and continue cooking.
Sprinkle with some chopped parsley and serve as an appetizer, or over rice/mashed potatoes for a main dish. Eat!
---
About The Hungry Bites
Born and raised on the Greek island of Crete, Makos Efthimis (aka The Hungry Bites) learned to appreciate the value of the Mediterranean diet from a young age. He grew up watching his mother and grandmother everyday as they went back and forth with spatulas, spoons and knives on hand, tirelessly chopping vegetables, greens and fruits and cooking traditional Cretan foods. His blog includes a bit of everything — one pan recipes, healthy dishes and some gluten-free, vegan or vegetarian recipes — but mainly centers around Mediterranean cuisine. For dozens of other authentic Mediterranean recipes, visit The Hungry Bites here and follow along on social media: Facebook, Instagram, Pinterest, Twitter and Bloglovin.
---
Is The Pappas Post worth $5 a month for all of the content you read? On any given month, we publish dozens of articles that educate, inform, entertain, inspire and enrich thousands who read The Pappas Post. I'm asking those who frequent the site to chip in and help keep the quality of our content high — and free. Click here and start your monthly or annual support today. If you choose to pay (a) $5/month or more or (b) $50/year or more then you will be able to browse our site completely ad-free!

Click here if you would like to subscribe to The Pappas Post Weekly News Update