For many students at American universities, the costs of higher education have become increasingly burdensome with expensive price tags for housing, tuition, meal plans and so on.
Prices have soared so much that more and more students scarcely have any money left to put toward textbooks, which inspired two college alumni from the College of New Jersey (TCONJ) to take to the App Store and create a solution.
In May 2017, Agathoclis "Agy" Serghiou and Neophytos Zambas launched NeoApp, a mobile app that provides a secure and convenient marketplace where only students are allowed to buy and sell textbooks with each other.
Serghiou told The Pappas Post that the duo came up with the idea after they collectively spent more than $1,300 on their own textbooks and other school supplies in 2016.
"I was really just fed up with how expensive textbooks were," the co-founder said. "Sometimes in prior years I got lucky where someone would approach me and buy a book from me."
However, Serghiou added that, in most cases, he had to sell his books back to the store for extremely low prices — an issue NeoBook aims to resolve.
"Instead of me having the book sit there and getting nothing or bringing it to the book store and getting pennies, I can actually resell it to another student and maximize its value," he said.
Every year in the United States, the average college student spends approximately $1,200 on textbooks and as much as $200 for one book alone, according to the College Board.
Students at schools throughout the country have tried tackling the issue by creating 'Buy and Sell' groups on Facebook, but Serghiou called this tactic 'ineffective' due to lack of organization.
The TCONJ alumnus said that NeoBook, by contrast, has a specific structure that securely allows students to complete buy-and-sell exchanges.
After selecting their university and creating a profile, users looking to make purchases enter the app's NeoFeed to search for the item they need. After finding the item, users then buy it for the listed price and immediately enter a chat section in order to arrange a meeting with the seller.
If they want to sell, users select the 'Sell' tab and then use their phone camera to take pictures of the item, afterward adding a brief description for the listing, which posts on the live news feed for other users from their school to see.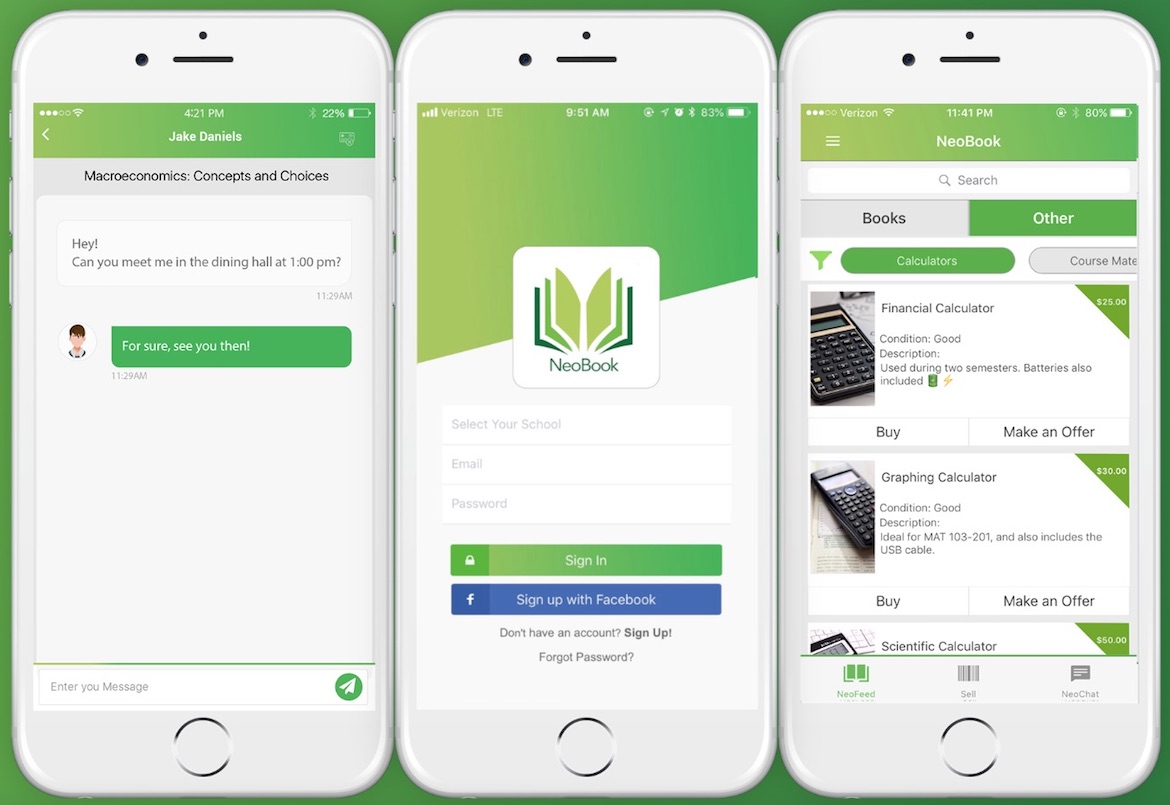 Serghiou said that what makes NeoBook particularly unique is its 'students-only' functionality — a feature that eliminates worries of dealing with unknown users, inconveniences of shipping and 'unstructured' social media groups.
He said the platform is 'semi-anonymous,' meaning that sellers initially post with their username only and later reveal their name once someone buys their item and opens a chat.
"The value of the platform is not really the marketplace aspect of it, but ultimately it's the sense of security that our specific marketplace provides," he said. "In order to be eligible to make a profile, you have to have an '.edu' email, which is only given by the college you attend."
While the app initially launched to facilitate textbook exchanges, Serghiou said it quickly grew and by September 2017 was updated to include a wider variety of items.
"Now we have students brokering tutoring services, ride-sharing, gaming systems, clothes and other things," he said. "We started as a textbook app because that was a paying point for myself and Neophytos, but we very quickly realized that we had to switch our model from just a textbook app to a general marketplace app."
Serghiou said NeoBook is currently available at 125 schools with approximately 3,500 to 4,000 active users, most of which are based both at his alma mater and Rutgers University.
He also explained the app's Greek-inspired name, which implements the word 'neo,' meaning 'new,' as in what he called a "new way to interact with your campus community."
However, the alumnus said the app will soon undergo another major update to incorporate social elements and allow students to communicate about anything happening on campus. The update also includes changing the app's name to 'Fetch,' a reference to the idea of 'fetching' school-related information.
"We ultimately want to be the go-to app for college students where they can interact with their classmates in a secure fashion," Serghiou said. "It's going to be a place where you can securely interact with your campus from a social standpoint as well as from a standpoint of saving and making money."
Now a sales executive at S&P Global in New York City, Serghiou said that developing NeoBook has presented him with immense challenges —  not to mention maintaining a full-time job in the meantime.
"A lot of people are really reluctant to download any app these days. The challenge is really getting the platform off of the ground itself," he said. "It was a slap in the face when I graduated. Balancing the two is extremely difficult."
Serghiou said the main motivation for him and his team is seeing their app attract more users while making a meaningful impact for college students.
"What keeps us going is the incremental positive feedback we've been getting throughout the past year and a half," he said "We can't stop because there's a long way to go. We have to raise more money and we have to penetrate more markets in more schools."
The young entrepreneur also emphasized the importance of his Greek heritage — something both he and Zambas share as first-generation Americans and which brought them together through their school's Hellenic Society.
"A lot of what this business emulates is our fighting Greek spirit. If you look at instances of Greeks who came to America, a lot of us didn't come with much," Serghiou said. "Being part of the Greek community is something that has helped me develop so much over the years."
---
Is The Pappas Post worth $5 a month for all of the content you read? On any given month, we publish dozens of articles that educate, inform, entertain, inspire and enrich thousands who read The Pappas Post. I'm asking those who frequent the site to chip in and help keep the quality of our content high — and free. Click here and start your monthly or annual support today. If you choose to pay (a) $5/month or more or (b) $50/year or more then you will be able to browse our site completely ad-free!

Click here if you would like to subscribe to The Pappas Post Weekly News Update