Celebrity chef, restaurateur, and meat lover Michael Symon—of Food Network's Iron Chef America and ABC's The Chew—shares his wealth of knowledge and more than 100 killer recipes for steaks, chops, wings, and lesser-known cuts in his cookbook "Carnivore." In much of this book, Symon, whose mother is Greek and Sicilian, leans on his Greek heritage.
Fans across the country adore Michael Symon for his big, charismatic personality and his seriously delicious food. But there's one thing Michael is known for above all else: his unabashed love of meat. A devoted carnivore, Michael calls the cuisine at his six Midwestern restaurants "meat-centric." Now, in Michael Symon's Carnivore, he combines his passion and expertise in one stellar cookbook.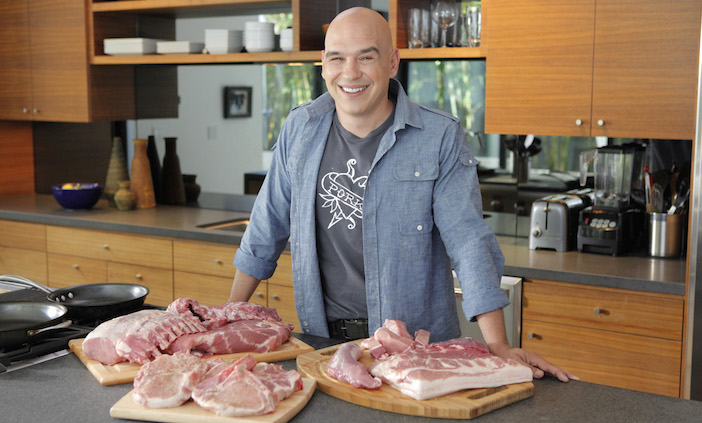 Michael gives home cooks just the right amount of key information on breeds, cuts, and techniques to help them at the meat counter and in the kitchen, and then lets loose with fantastic recipes for beef, pork, poultry, lamb, goat, and game. Favorites include Broiled Porterhouse with Garlic and Lemon, Ribs with Cleveland BBQ Sauce, Braised Chicken Thighs with Kale and Chiles, Lamb Moussaka, and Bacon-Wrapped Rabbit Legs.
Recipes for sides that enhance the main event, like Apple and Celeriac Salad and Sicilian Cauliflower, round out the book.
Get the hard cover cookbook with more than 120 meat lovers' recipes by clicking this link.
Michael's enthusiasm and warmth permeate the text, and with 75 beautiful color photographs, Carnivore is a rich and informative cookbook for every meat lover.