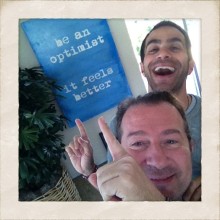 Today, November 16th, is one of the most significant days of my life– if not the most significant in my adult life. Read on and see why.
For years I wasn't ready to learn, or to listen. Everyone who tried to "teach" me failed miserably at breaking through the walls that I had built to "protect myself."
Not a psychologist and clearly not educated enough in the human psyche to understand why, all I knew was that I resisted anyone and everyone who tried to guide me or teach me important life lessons.
There were so many questions I had and so much I wanted to know. But for some reason I wasn't listening— to anyone, especially to myself.
There's a Buddhist proverb that says "When the student is ready, the teacher will appear." This was actually sent to me by a friend in Canada who humbled me with the quote, calling me his teacher.
Today is exactly one year from the date that my own teacher appeared in my life. And the date that I realized I was ready to learn. Since then, my life has changed.
If you would have told me certain things about my existence today, a year ago exactly— I would have told you that you were crazy.
My teacher taught me not to find happiness in other people, projects, shoes or other material items— but inside of me. I had never looked inside my own heart to find it.
My teacher taught me that the accolades of others, the applause, the praise for our work— it means nothing if it isn't fulfilling to us. No matter how much good you are doing for others, if you're not happy doing it, then it is useless— even to those who receive the benefit.
A year ago today, as darkness had overcome my heart and soul, a bright light shined on me, out of nowhere. I was struggling with a lot of things– my "demons" were out full force and it was evident to everyone around me that something wasn't right.
My teacher helped me understand where the darkness was coming from and how I should use my own light that I carried within me— that we all carry inside of each of us— and snuff out the darkness.
Many people walk the journey of life without ever having found their teacher. I've been so lucky to not only have found mine, but to have experienced some of the most significant events in my own life with him— all in the past year.
We've walked the streets of New York City for hours and swam in the bays around the island of Tzia… We've walked the streets of rainy London and have driven from Los Angeles to New York City… And from Bangkok to Saigon.
I've been fortunate to experience some of the world's most significant spiritual sites with my teacher– each time, learning something new. From the Buddhist temples of Angkor Wat in Cambodia to the Ecumenical Patriarchate of Constantinople.
I've seen the the Blue Mosque and the Hagia Sophia in Istanbul in completely different perspectives, thanks to my teacher… And have had transformational moments in a tiny rural Cambodian village and inside the Killing Fields…
Together, we've experienced pain and suffering of the world around us and he's helped me understand that even from this pain, there is extreme goodness that can come from that. Another valuable lesson he's taught me over and over again– that good is everywhere– you just have to look for it. Even in a traffic jam. One of my favorite "lessons"… Once, during a typical LA traffic jam, I was frustrated that we weren't moving. I started complaining. His response: "Well for you it's traffic. For me it means more time together." Simple wisdom.
The lessons I'm most thankful for:
Be an optimist. Life is much better when you think of the glass half full, not half empty.
Don't look to others for your own happiness. You have it deep inside of yourself.
And the magic is far, far away from your comfort zone and your status quo and it will only happen if you aren't afraid to leave your comfort zone.
Thank you Steven Priovolos for changing my life. Today is dedicated to you. November 16th. Thank you, teacher.