Unemployment and other economic factors are the first thing that come to mind when thinking about the Greek financial crisis and how it has impacted so many people and families in Greece. One British filmmaker took a different approach and focused on how love, sex, dating and other tricks of Aphrodite's trade have been impacted by years of recession.
London-based journalist Theopi Skarlatos spent a year on the streets and in the bedrooms of Athens, meeting prostitutes, interviewing couples and finding out first hand how economic turmoil impacts our decisions to love, to date. It's a remarkable socio-economic tale of many taboo subjects— she even covers the politicization of porn in her latest 73-minute documentary "Love in the Time of Crisis" which has its US premier at the New York City Greek Film Festival tomorrow, Wednesday, October 29th.
The film is co-directed by Kostas Kallergis.
The film, shot in Athens and Crete, during 2013, documents the lives of young women and couples, as well as people forced into sex work as a result of poverty.
The idea for the film came while she was in Athens working with BBC Newsnight Editor Paul Mason covering the rise of Golden Dawn for BBC. A fateful stroll through Agios Panteleimonos Square brought back childhood memories of old people sitting on park benches and children running around the square kicking soccer balls around.
The square she saw, however, was a completely different place, filled with racist graffiti and vagrants loitering.
"Greece for Greeks," was one that struck her the most. "It seemed so evil compared to my memory of the square, she said. "Ι went back to my room in the hotel and I broke down in tears as I was taking a shower. Not for myself, but for a country, for everything it used to be and for everything it had become."
Skarlatos masterfully explores the unseen effects of the economic crisis on dating, flirting, marriage, childbirth and family life through interviews with real people that she conducted herself, diving deep into the hearts and souls of people impacted. Surprisingly, she unlocks her subjects to talk about things Greeks don't normally talk about in public.
With further social upheaval predicted following a presidential election in 2015 and an increasingly vulnerable government, Love in the Time of Crisis offers a unique and vibrant insight into ordinary people's responses to Europe's biggest social catastrophe— beyond the riots and poverty that have been prominent in daily news coverage throughout the world.
Meet the adults who are forced to live as teenagers, the couples who never miss a riot, the porn director who wants to change politics, the dreamers who have forgotten what it's like to dream and the professionals who sell their souls for extra cash.
This documentary takes you to some of the darker places of the crisis, but reminds you where you can find the light.
Filled with both heartbreak and happiness, the documentary is a clear look at a human element that touches everyone, love.
In an interview with Vice, a cutting edge online publication, Skarlatos summed up her efforts after finding a simple wall of graffiti on the streets of Athens that said "Love or Nothing" (Erotas H Tipota).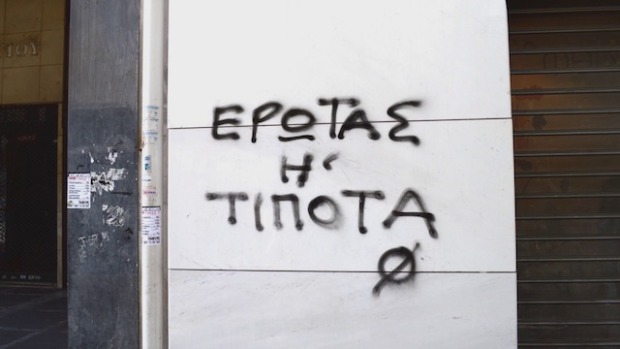 "The graffiti summed everything up for me. Because everything is being slashed – pensions, wages, everything. And at the end of the day, what you're left with is the stuff that doesn't cost anything: love. For the people who have it, it's amazing how that can give you the strength to make it through the crisis. If you don't have it, where is it? Why don't you have it? Has it sunk to the bottom of your list of priorities?"
[youtube id="LNiX-S7V_bw" width="600″ height="350″]
See the film at the New York City Greek Film Festival.